May 31, 2017
Brampton captures George S. Lyon Team Championship; Meek claims Crofton Harvey Shield as top individual
Golf Ontario – BOND HEAD — The George S. Lyon Team Championship return to its annual site of The Club at Bond Head South Course on May 31st for the 81st playing of the event. This year's event saw 21 teams take part, all looking to bring the title home to their club.
Conditions started out favourable for the field but as the round progressed, the wind picked up and threats of rain loomed. Soon those threats became a reality as the skies opened up and caused a two hour and 24 minute delay.
When play resumed, a condensed field returned to the course to finish up their last few holes. When all was said and done it was the team from Brampton Golf Club who finished in top spot. The team of Woodbridge's Dave Bunker, Toronto's Simon Reyers, Brampton's Gary Parker, and Mississauga's Sean Lackey shot a combined 309 to win by a single stroke. Leading the way were Lackey and Reyers who finished four-over (76), Bunker carded a five-over (77) and Parker was eight-over (80).
"Winning this championship is really cool!" Said Lackey, on behalf of the team after the win. "We were pretty excited when we saw how our team shaped up and everyone has been working hard since the start of the season. Some of these guys have already won Golf Ontario events but this is my first, so I am especially excited."
This was the second time that Brampton won the George S. Lyon Team Championship. Their only other win came in 1971.
Finishing in second place were the 2014 champions Cedar Brae Golf Club. Cedar Brae, consisting of Toronto's Joseph Kremer, Thornhill's Ryan Tsang, Toronto's Marc St-Germain, and Toronto's Robert Gibson ended the day at 310. Kremer and Gibson led the way each with a three-over (75), while Tsang and St-Germain each finished with an eight-over (80).
Taking the bronze medal was Kawartha Golf & Country Club at 311. Kawartha received a great effort from Peterborough's Sam Meek who was the medalist on the day with an even par (72). Meek was awarded the Crofton Harvey Shield for being the top individual. Peterborough's Steve Fredericks finished five-over (77), Peterborough's Marc Savard was eight-over (80), and Peterborough's Paul Stevens was 10-over (82).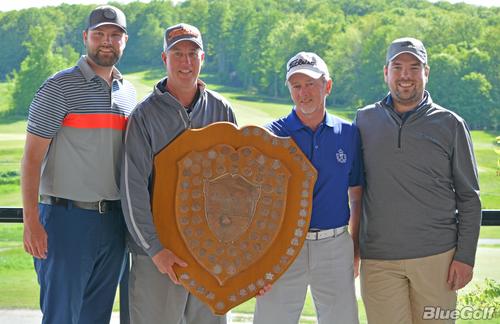 For full results, including the final leaderboards, see the tournament site at: https://gao.bluegolf.com/bluegolf/gao17/event/gao1742/index.htm
Golf Ontario would like to thank The Club at Bond Head, along with their staff, for hosting the event. Thanks also to the Golf Ontario volunteers for their continued support.
About the George S. Lyon Team Championship
The George S. Lyon Team Championship was first played in 1931 and ran consecutively until 2000. Originally an inter-club championship, the event was reinstated in 2006 and is named after 1904 Olympic Golf gold medalist George S. Lyon. Scarboro Golf & Country Club holds the record for most wins with eight.
ABOUT GOLF ONTARIO
Golf Ontario is Ontario's Provincial Sport Organization focused on enhancing participation, elevating performance and supporting the passion of golfers in Ontario. With over 90,000 individual members and 450 member clubs, Golf Ontario is one of the largest golf associations in the world. From rating courses and keeping the integral rules of the game intact, to growing the game at the grassroots level and getting the game of golf into our school systems, to keeping the Ontario golf community aware of all relevant issues and hosting the best amateur tournaments in Canada, Golf Ontario is a passionate group dedicated to making golf better for everyone in Ontario. We share a love and passion for golf, while preserving its past, fostering its future, and championing golf's best interests for everyone who enjoys the sport.
For more information please contact:
Darren Matte, Communications and Marketing Coordinator
Golf Ontario
905-852-1101 ext. 234

============================================================

Results for contest Team:

============================================================

 1   Dave Bunker Simon Reyers Gary Parker Sean Lackey                       309 +21 

 2   Joseph Kremer Ryan Tsang Marc St-Germain Robert Gibson                 310 +22 

 3   Paul Stevens Steve Fredericks Marc Savard Sam Meek                     311 +23 

 T4  Darren McNair Michael Fiorini Dan Partland Ryan Pajak                  314 +26 

 T4  Cam Hreljac Mark Brewer Brendan Dunphy Sean McCullough                 314 +26 

 6   Aaron Pedlar Stephen Brown Eric Pattenaude Ethan O'Meara               318 +30 

 7   John Ward Steven Poulos Justin Allen Adam Migur                        319 +31 

 T8  Daniel DiFrancesco Matthew Farronato Douglas Grodecki Brandon Freeman  325 +37 

 T8  Ryan Stolys Ben Ledbury Noah Oakes Phil Charal                         325 +37 

 10  Mark Laurie Ari Fine Dan Sherman Isaiah Crystal                        332 +44 

 T11 Chris Tortorice Brad Aitken Jonny Piccone Adam Fabian                  339 +51 

 T11 Will Drope Eamonn McConnell Henry Luel Derek Churchill-Smith           339 +51 

 13  Steven Houle Michael Kasprzak Tony Feuz Warren Sye                     340 +52 

     Tim Caine Lucas Pichl Craig Conroy Michael Richards                            

     Nic Mazze Andrew Reid Ryan Peyman Rick Robinson                                

     Paul Gortnar Tim Southcott Kevin Johnstone Galen Sheehan                       

     Matthew Sim David Wodar Jonathan MacDonald Steve Janicki                       

     Mark Armstrong Mark Kalbfleisch Matthew Shubley Rick Baxter                    

     Kevin McLafferty Charles Pal Riley Goss Ryan Lloyd                             

     Rick Cody Stephen Manganaro Darren Morris Thomas Giroux                        

     Scott Kavanagh Kyle MacFarlane Gordon Reinholdt Maxwell Sear                   

============================================================

Results for contest Individual:

============================================================

 1   Sam Meek               72 E    

 2   Isaiah Crystal         73 +1   

 3   Matthew Shubley        74 +2   

 T4  Mark Brewer            75 +3   

 T4  Robert Gibson          75 +3   

 T4  Michael Fiorini        75 +3   

 T4  Joseph Kremer          75 +3   

 T8  Justin Allen           76 +4   

 T8  Sean Lackey            76 +4   

 T8  Warren Sye             76 +4   

 T8  Simon Reyers           76 +4   

 T8  Cam Hreljac            76 +4   

 T13 Steve Fredericks       77 +5   

 T13 Adam Migur             77 +5   

 T13 Dave Bunker            77 +5   

 T13 Steven Houle           77 +5   

 T17 Eamonn McConnell       78 +6   

 T17 Ryan Pajak             78 +6   

 T17 Aaron Pedlar           78 +6   

 T17 Ryan Stolys            78 +6   

 T21 Eric Pattenaude        79 +7   

 T21 Darren McNair          79 +7   

 T21 Daniel DiFrancesco     79 +7   

 T21 Ben Ledbury            79 +7   

 T25 Stephen Brown          80 +8   

 T25 Gary Parker            80 +8   

 T25 John Ward              80 +8   

 T25 Marc Savard            80 +8   

 T25 Ryan Tsang             80 +8   

 T25 Brandon Freeman        80 +8   

 T25 Marc St-Germain        80 +8   

 T32 Jonny Piccone          81 +9   

 T32 Ethan O'Meara          81 +9   

 T32 Rick Robinson          81 +9   

 T32 Noah Oakes             81 +9   

 T32 Dan Sherman            81 +9   

 T32 Brendan Dunphy         81 +9   

 T38 Craig Conroy           82 +10  

 T38 Paul Stevens           82 +10  

 T38 Dan Partland           82 +10  

 T38 Sean McCullough        82 +10  

 T42 Douglas Grodecki       83 +11  

 T42 Chris Tortorice        83 +11  

 T42 Matthew Farronato      83 +11  

 T42 Henry Luel             83 +11  

 T46 Tony Feuz              86 +14  

 T46 Steven Poulos          86 +14  

 T46 Michael Richards       86 +14  

 T46 Derek Churchill-Smith  86 +14  

 T46 Adam Fabian            86 +14  

 51  Phil Charal            87 +15  

 52  Ari Fine               88 +16  

 53  Brad Aitken            89 +17  

 54  Mark Laurie            90 +18  

 T55 Will Drope             92 +20  

 T55 Lucas Pichl            92 +20  

 57  Michael Kasprzak       101 +29 

     Graham Card                    

     Bill Coville                   

     Peter Holland                  

     Darrell Newman                 

     Dan Parrack                    

     Alistair Varley                

     Baylee Wise