SIRC has made education a priority by delivering a range of webinars, easily accessible and featuring thought leaders in a number of subject matters. The Experts in the House series, launched in June 2020, featured a number of experts across the sport sector and showcased valuable takeaways for sport organizations to implement within their teams.
SIRC has partnered with Brock University to deliver the Mastering The Art of Evaluation mini-series. The series brought together researchers from across the sport sector to teach sport organizations how to prioritize evaluation within their projects and overal practices.
In partnership with Sport North, SIRC delivered a three-part series of webinars featuring community leaders as well as researchers from across Canada. This series covered topics such as being a good sport parent, mental wellness considerations for coaches and coaching the multisport athlete.
---
Upcoming Webinars
Engaging Girls and Women in Sport Mini Series
Brought to you by SIRC and Canadian Women & Sport
Part 2: Data – Why you need it & How to collect it
To plan quality sport programs with gender equity in mind, data collection needs to be part of your process from the get-go. So what are the best tools to make this happen, and how should you implement them?
In this webinar you'll hear from academic experts and sport practitioners on the importance of data collection and evaluation; where to look for and find data, tips for mining data for insights and how to leverage data to improve your programs.
Same Game is a free, step-by-step online toolkit to help sport leaders at all levels bring their gender equity vision to life. Data collection, step two in the tool, has emerged as an extremely important step for organizations hoping to make efficient, effective decisions with strong organizational buy-in. Step 7 of the toolkit dives into measurement and evaluation, in alignment with SIRC's Mastering the Art of Evaluation webinar series; which brought together experts who discussed how best to consider evaluation when planning your sport programs.
Wednesday, December 15, 2021
1:00-2:00pm EST
Speaker Bios
Dr. Shannon Kerwin, PhD
Dr. Shannon Kerwin teaches and conducts research in the areas of organizational behavior and human resource management in sport. Specifically, Dr. Shannon Kerwin has explored the structure of sport organization boards to determine HRM practices that contribute to (and inhibit) gender equity, how personal and organizational values align to enhance important organizational outcomes, and the role of conflict in the effectiveness of volunteer board of directors. Dr. Kerwin is a research affiliate with the e-Alliance Gender+ Equity in Sport Research Hub and the Wasserman Media Group Collective Think Tank.
Crystal Watson
Crystal Watson is a volunteer board member with the Alberta Sport Development Centre (ASDC) based out of Red Deer, Alberta. She has recently had the opportunity to participate in the Canadian Women and Sport Same Game Challenge where on behalf of ASDC she was able to collaborate with a number of local organizations to help bring awareness to gender equity issues within sport. When not volunteering Crystal is a College Instructor, and a Strength and Conditioning Coach. She holds a BKin and BComm from the University of Calgary as well as an MA in Kinesiology, Sport and Recreation from the University of Alberta where her studies focused on coach education.
Paula McKenzie
Paula Mckenzie has an extensive background in sport administration and has been involved in track and field for over 25 years. As a former high-performance athlete, she competed in the 2002 Olympics in women's bobsleigh. She is currently the Executive Director of Caltaf Athletic Association (CALTAF), one of the largest track and field clubs in Canada. CALTAF serves athletes from beginner to Olympic level and has the largest integrated para-athletics groups in the country. She is passionate about the long-term participation of women and girls in athletics and hopes to draw upon her experience as a coach, athlete, and parent to make significant change in this area. She holds a Bachelor of Arts (Honours) from the University of Calgary. Paula sits on several Boards and is currently the VP of Programs for Athletics Alberta.
---
Past Webinars
Part 1: Getting Girls Back in the Game
Did you know 1 in 4 Canadian girls are not committed to returning to sport after the pandemic? (COVID Alert: Pandemic Impact on Girls in Sport). That means over 350,000 girls could end up sitting on the sidelines in the post-COVID-19 world. This webinar will look at the impact of COVID-19 on women and girls in sport. Panellists will explore research on the current situation and share strategies to help girls feel comfortable and confident to get back into the game.
Wednesday, November 17, 2021
1:00-2:00pm EST
Speaker Bios
Dr. Ann Pegoraro, PhD Bio (She/Her)
Ann Pegoraro is the co-director of E-Alliance, the national research network for gender equity in Canadian sport.  Dr. Pegoraro is also the Lang Chair in Sport Management in the Gordon S. Lang School of Business and Economics and the Director of the International Institute for Sport Business and Leadership, an industry focused research centre at the University of Guelph. A holder of BA, MBA, and PhD degrees, Ann is an active researcher, who has presented at international conferences and published in in the areas of marketing, communications, digital media, gender equity and sport management. Her research primarily focuses on gender, marketing, and communication with specific interest in the digital world. Ann is also a life-long sports enthusiast, transitioning from playing to coaching and now teaching and sharing her knowledge and experience where possible. She is a board member of True Sport Foundation and Ontario Soccer and has consulted with amateur sport organizations in Canada and abroad. Ann is passionate about contributing to sport in Canada and ensuring access for future generations.
Raine Paul
Raine Paul is the current Athletic Director of the Edmonton Tsunami (high performance) and Edmonton Riptides (grassroots) water polo clubs. For the past six seasons Raine has worked with the clubs and seen a membership growth of over 200% during this time. In addition to Raine's involvement as a coach and administrator at the club level she is a former NCAA Division 1 athlete, six-time Team Alberta coach, and currently coaches with Team Canada at the youth and junior levels.
Melanie Bradley
Melanie formally played and coached in various programs across Ontario Soccer at a young age, and transitioned to the operations of grassroots soccer 9 years ago with a vision for equitable and accessible programming for girls and women. Melanie is currently the General Manager for Brams United Soccer Club, in Brampton, where she works closely with her colleagues to provide a holistic development model for girls and women in Peel Region, including but not limited to leadership workshops, and mentorship programs.
About Brams United
Founded in 1978 with the goal to provide girls and women in Brampton equal opportunities and soccer programming, Brams United is proud to offer diverse, inclusive and accessible soccer programs across Brampton and Peel Region. Brams United's values are to provide DEVELOPMENT opportunities for all ages and abilities, while fostering LEADERSHIP skill sets throughout our various levels of membership, and connect with the COMMUNITY through shared passions and interests.
Past Webinars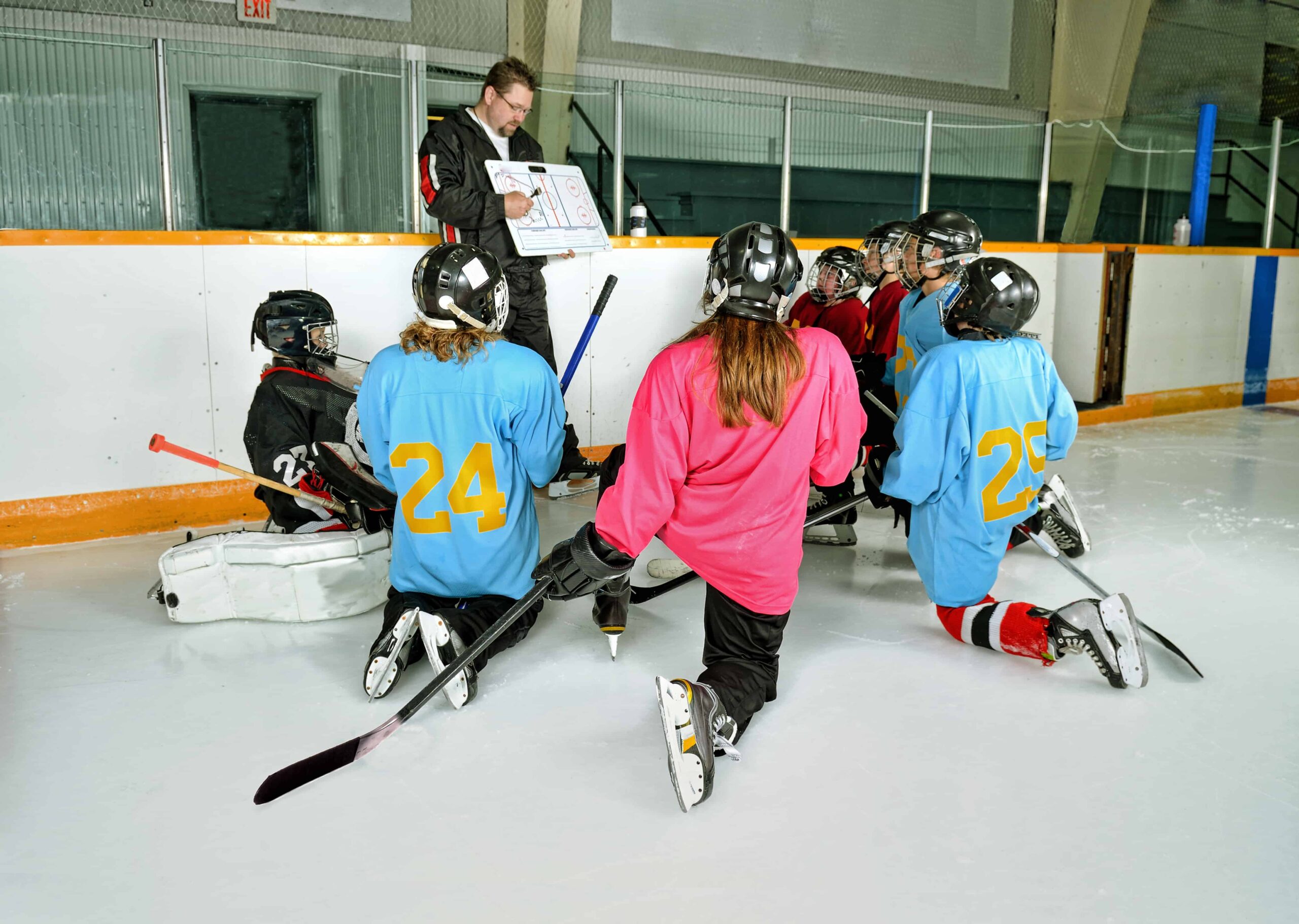 When talented athletes come together to represent a nation, some must inevitably accept different roles than they have on their respective league teams. This was the case when Steve Yzerman, the architect of Canada's 2014 Men's Olympic Ice Hockey roster, based role assignments of selected athletes on positional need, player style and teamwork, rather than on reputations and previous accolades. Despite assembling a team of all-stars, the members' egos were cast aside, culminating in Canada winning 3‑to‑0 over Sweden and […]