Being Smart about Concussions
June 27, 2017
Concussion continues to be a very hot topic in sport these days. In fact, the Governor General spent a full day in December 2016 hosting a conference with former professional athletes, Olympic and Paralympic athletes, the medical community, and the sport community at large, discussing concussions in sport and how we can do better for Canadian youth to play safe and continue to get involved in sport and physical activity. The recording of the day's sessions can be accessed through the CPAC broadcast of the Conference on Concussions in Sport.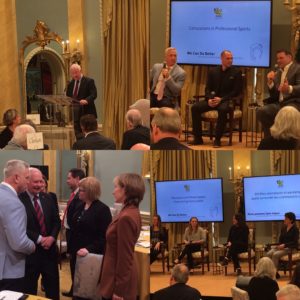 What do we need to know about concussions?
A concussion is an injury that is caused by the brain being shaken around inside the skull after a hit, bump or blow to the head, or a sudden jerking of the head or neck when the body is hit. There is a misconception that you have to be knocked out to sustain a concussion, when in fact any contact to the head or body that causes rapid head movement can cause a concussion.
Common symptoms may include (but aren't limited to): headache, dizziness, being in a daze, nausea, sensitivity to light/noise, confusion, memory problems, and/or loss of consciousness. Any athlete who is suspected to have a concussion should be removed from play and seen by a medical professional. Treatment of concussion may take some time and will include medical treatment, rest and a gradual progression of returning to school/work and to physical activities. Athletes should be symptom free before returning to activity.
SIRC resources on Concussion:
After Concussion: Student-athletes Return-to-Learn (Blog)
Need to Know Facts about Concussions (Blog)
Concussion Resources page
Apps on Concussion Education/Awareness
The best defence is to keep yourself knowledgeable about head impacts and concussions. There are many resources out there that can help educate and promote awareness. The following apps are great Canadian resources that can help athletes, parents, teachers, coaches and the public at large better understand concussions and their impacts on daily life.
Created by Parachute, Concussion Ed is designed to give Canadians free access to critical concussion resources. This free mobile app was primarily
developed for youth, parents and educators, but covers concussions throughout different scenarios for a wide audience. Available in English and French, Concussion Ed is organized into Prevent, Recognize, Manage and Track.
Parachute worked under the guidance of its Expert Advisory Committee and with selected members from the Canadian Concussion Collaborative to select relevant, evidence-based material for Concussion Ed. The development of Concussion Ed was supported by the Public Health Agency of Canada.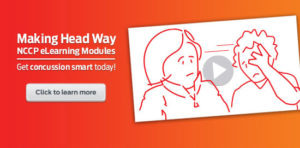 The Coaching Association of Canada (CAC) is committed to ensuring all sport organization partners and coaches have access to concussion awareness resources. With funding from the Public Health Agency of Canada's Active and Safe Initiative, and in collaboration with the Canadian Centre for Ethics in Sport, Hockey Canada, and Parachute Canada, the CAC created the award-winning Making Head Way eLearning series.
These FREE Making Head Way modules educate coaches, parents, athletes, teachers, and officials on concussion prevention, signs and symptoms, management, and internationally recognized return to play protocol. The Making Head Way series was developed in consultation with medical experts Dr. Jamie Kissick, Dr. Mark Aubry, and Dr. Charles Tator and is available for small or large-scale use immediately via coach.ca. Information regarding identifying and managing concussions is constantly evolving. The CAC is committed to ensuring that our Making Headway eLearning modules are current and reflect the latest research in the area of concussion management. Proof of completion of these NCCP Professional Development modules is available publicly through the CAC's national database upon successful completion. To date, the Making Head Way eLearning modules have been completed mo re than 22,800 times. Get Concussion Smart Today!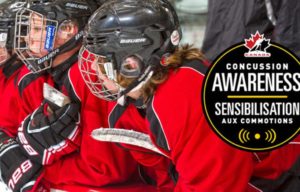 Hockey Canada has worked hard to eliminate head contact from the game, preventing concussions and keeping players on the ice. For us, keeping players safe is just as important as teaching players to skate, pass and shoot. To help in the prevention of concussions, Hockey Canada has created a concussion app, giving players, parents, coaches and volunteers instant access to concussion symptoms and information on how to manage a concussion.
The Hockey Canada Concussion Awareness app is a great tool for parents, coaches, trainers, players, administrators and anyone interested in learning about the prevention, recognition and response to concussion injury, including responsible return-to-play protocol.
The Hockey Canada Concussion Awareness app for kids is a great tool for parents to teach young players how to prevent concussions through respect and playing by the rules. The app explains important concussion information in an easy-to-follow manner for young players and contains an interactive game around respect starring Puckster, the official mascot of Hockey Canada. Download the app and help keep our game safe!
Developed through the BC Injury Research and Prevention Unit, the Concussion Awareness Training Tool (CATT) includes three toolkits providing training in the recognition, treatment and management of concussion for: 1) Medical Professionals; (2) Parents, Players, and Coaches; and (3) School Professionals.
CATT is free, accessible and regularly updated with evidence-based information and resources. Each toolkit includes a self-paced learning module as well as tailored resources relevant to the specific audience.
---
---
The information presented in SIRC blogs and SIRCuit articles is accurate and reliable as of the date of publication. Developments that occur after the date of publication may impact the current accuracy of the information presented in a previously published blog or article.