Mom's Got Game! Stories of world-class athletes and gold-medal moms
March 2, 2022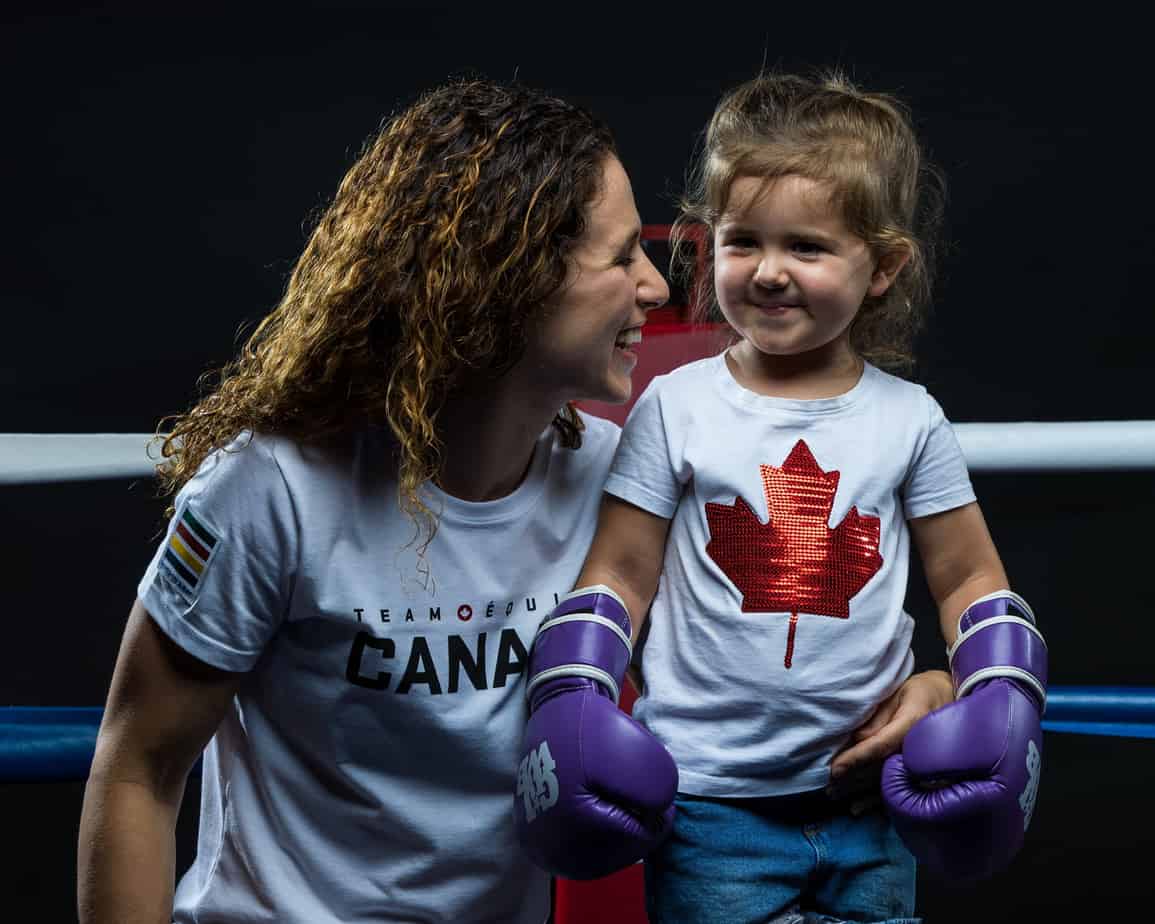 Fourteen months ahead of the 2014 Olympic Winter Games, curler Jennifer Jones had a nasty accident, tearing a major ligament, the ACL in her knee. She was pregnant with her first child and hoping to represent Canada at the Olympics.
"Because I was pregnant, a lot of people never thought that I would be able to have a baby, be a mom, and come back and rehab after the knee surgery," she said during an interview in early 2022. "A lot of people wrote us off."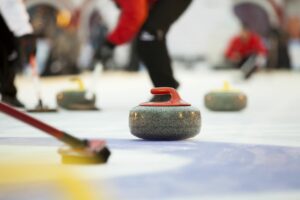 But Jones' Winnipeg-based team overcame the adversity to win the qualification tournament and the right to represent Canada in Sochi. There, they became the first-ever women's team to go undefeated through an Olympic curling competition. They won 11 straight games on the way to the gold medal for Team Canada.
New mom. Reconstructed knee. Day job as a lawyer. Olympic gold medalist. Jennifer Jones has game.
"Just because you're a mom doesn't mean that you can't rehab an injury or you can't have a successful career or you can't do all of these things and still be a great mom," she adds. "It may not be how other people envision you being a great mom, but you can still find a way to achieve all the things you want in your life."
Getting moms in the game, and why it matters
Through an extraordinary athletic career that has seen her recognized by peers as Canada's greatest female curler of all time, Jones is equally proud of her role as a mother. Her story involves determination and resilience. But, as many moms will relate, Jones is quick to point out that it hasn't always been easy.
Women report significant decreases in their physical activity levels after giving birth to their first child (McIntyre & Rhodes, 2009). Moms tend to be less active than dads and women of a similar age without children (Bellows-Reicken & Rhodes, 2008). Despite the fact that many moms want to participate in physical activity and sport (CFLRI, 2020), often feelings of guilt, parenting duties and limited access to fitness facilities and organized activities create extra challenges to being active, especially during a global pandemic.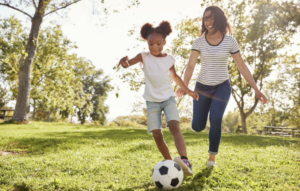 These challenges prevent moms (and their families) from experiencing the many benefits that sport and physical activity have to offer. Being active in sport isn't just for elite athletes as there are benefits for every mom. For example, physical and mental health benefits, an active and connected family unit, and more.
Encouraging and supporting moms to play sports and be physically active are among the main goals of a Sport Information Resource Centre (SIRC) public awareness campaign. With support from the Government of Canada, SIRC developed the Mom's Got Game (Vas-y, Maman!) campaign and launched it as a pilot in 2021. Mom's Got Game (Vas-y, Maman!) is a bilingual initiative to encourage, celebrate and support mothers in physical activity and sport.
An expanded campaign featuring digital, radio and television ads is rolling out in spring 2022, ahead of Mother's Day. It will be amplified by AthletesCAN, the association of Canada's national team athletes. The campaign will feature an updated web hub offering resources and support to help families and sport organizations support mothers' sport and physical activity participation. There's also a new grant program to help sport organizations get moms in the game.
"I had to make every moment count": Getting over mom guilt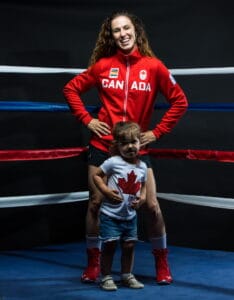 Few new mothers face the kind of challenges that Mandy Bujold had in the lead-up to the Tokyo 2020 Olympic Summer Games. The Canadian boxer was in a highly publicized legal battle to earn a spot in the Olympic competition after the pandemic caused a key qualification event to be cancelled. The International Olympic Committee based its selections on earlier events that had happened while Bujold was pregnant and when she was preparing her body to return to high-level competition.
Just weeks before the Tokyo Games began, the Court of Arbitration for Sport in Lausanne ruled that qualification decisions must include an accommodation for women who were pregnant or post-partum. Following this ruling, Bujold fought hard for the chance to represent her country as a two-time Olympian.
"It was a completely new experience for me," recalls Bujold, whose career includes podium performances at both the Pan Am and Commonwealth Games.
"My whole world shifted. As an athlete, you're always thinking about yourself. Then my daughter, Kate, comes along and that whole perspective totally changes. I had to make every moment count, whether I was being a mom with Kate, or training at the gym."

Mandy Bujold
Mountain biker Catharine Pendrel decided to wait until later in her competitive career to start a family. The Olympic bronze medalist and former world champion gave birth to daughter Dara in January 2021. Pendrel was back on the international mountain bike circuit when World Cup competitions resumed in May 2021. A couple of months later, she joined Bujold in Tokyo to represent Canada at her fourth Olympic Games.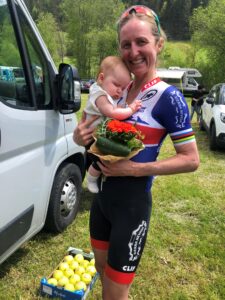 "The reaction has been really positive from so many of the women that I compete with because it shows them that you don't have to retire to have a family," says Pendrel. "But that doesn't mean I haven't struggled with feelings of guilt when I'm away from Dara for training or competition."
Pendrel has discovered that she's actually a better parent when she makes time for physical activity. Shortly after her daughter was born, she got into the habit of leaving the baby with her partner and getting out of the house for a workout.
"It felt good to have time to myself and to be really focused on my training. And I could do it guilt-free."

Catharine Pendrel
The experiences of these Olympic moms aren't unique. Studies confirm that when mothers take time for themselves, they often experience feelings of guilt and selfishness. They feel as though their own physical activity takes time away from their children, partner, or household duties (Bean & Wimbs, 2021; Dixon, 2009; Hamilton & White, 2010; Ritondo, 2021). On the flip side, physically active mothers report feeling healthier and happier, which in turn makes them feel like better parents (Hamilton & White, 2010).
"Sport has helped me become a better mom": Connecting sport with family life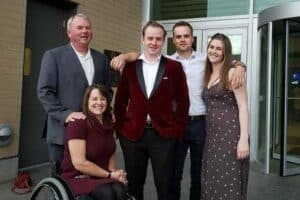 Paralympian Ina Forrest became a hall of famer in her sport after her children were well beyond diapers and midnight feedings. But that doesn't mean she hasn't felt guilty whenever she's on the road, which in her case, is quite often. After discovering a unique aptitude for wheelchair curling, Forrest has competed in 12-straight world championships and has earned 3 Paralympic medals (including gold in 2010 and 2014).
"I guess I justified it as sometimes I'm all-giving to others and sometimes I'm selfishly taking," she says during an interview in the lead-up to her fourth Paralympic Games in Beijing. "But I set a clear boundary on the taking part, so that if it began to be detrimental to the family, I would quit. Having that boundary was my way of reconciling my personal guilt."
Over the years, Forrest has come to appreciate how her involvement in sport has helped her children, Evany, Marlon, and Connor, view her not just as "Mum," but as a person with life goals. During her time as an athlete, her children have also learned the value of family supporting one another.
"My daughter once told me, 'Mum, you do everything for us. You should do something for yourself."

Ina Forrest
Fellow curler Jennifer Jones has also struggled with feelings of mom-guilt that were made worse by judgement from people on social media.
"I was competing at the Olympics 13 months after my first child was born, and everybody seemed to have an opinion about that," she recalls. "I learned to deal with it by being in the moment. Whether I'm with my kids, or on a curling rink, I am committed 100% to that moment."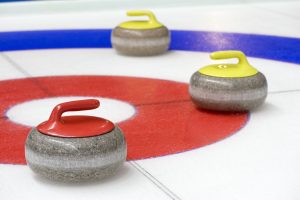 But like Forrest, Jones also sees the benefits of her active lifestyle and competitive sport career for the entire family. She says her active daughters, Isabella and Skyla, have seen that anything is possible if you work at it and believe in yourself. Jones' husband Brent Laing is also an elite curler.
The experiences of these gold-medal moms bear out what research tells us: Physically active parents foster an active family culture in which children are influenced by healthy role modeling. Studies have also confirmed that physical activity contributes to a happy and connected family unit (Hamilton & White, 2010). In other words, when parents are happy, kids are happy too.
"I've talked to the girls many times about whether they'd like me to retire, and they always say 'No,'" says Jones, who competed for Canada at the recent Beijing Olympics.
"They see firsthand the many benefits of an active lifestyle. And I think they also know that sport has helped me become a better mom."

Jennifer Jones
"You don't have to do it all yourself": Embracing support from family and friends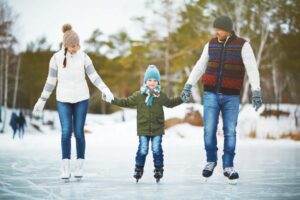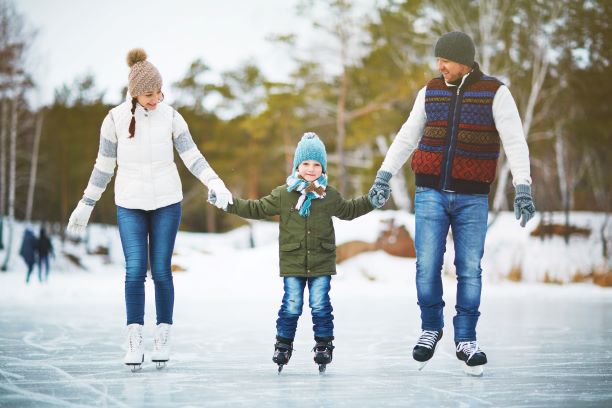 Jones is also aware of the expectations she sets for herself, particularly as a mother. Society promotes the "Super Mom" ideal, which she says can put unreasonable expectations on new moms.
"I tell new moms to celebrate all the little accomplishments. Did you have a shower today? Did you eat well? That's great!"
It's equally important, she says, for those around the new mom to acknowledge small victories.
"So, when there's laundry everywhere and the kitchen isn't clean because it's been a tough day, you probably don't need to point it out," she offers with a smile. "Help her to see all the things she's actually doing, no matter how small."
Social support is one of the most important facilitators of a mom's physical activity and sport participation, according to the research. When partners help with childcare and household duties, moms are more likely to find time to be active (Bean & Wimbs, 2021; Dixon, 2009; Hamilton & White, 2010). Having the partner bring the kids to a game to cheer for mom can also support her participation (Bean & Wimbs, 2021; Dixon, 2009).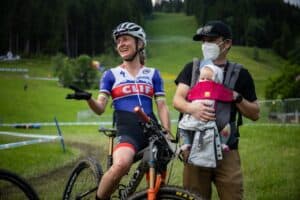 Bujold's husband Reid brings little Kate to the gym from time to time to watch mom work out or he'll show her videos of mom in training. Pendrel's husband Keith stayed home from work for a year so she could resume her training and get back on the international circuit, while still fulfilling her role as a mom. Pendrel is quick to add that Keith also carved out his own workout time.
Support from teammates has helped Jones be a better parent. "We bring out the best in each other, through thick and thin, good and bad," she says. "I know firsthand how good it feels to be uplifted by them, and so I try to be that for my children."
The wider circle of extended family and friends are also important sources of childcare and emotional support (Bean & Wimbs, 2021; McGannon et al., 2018).
"You have to get beyond the mindset of having to do it all yourself," advises Bujold.
"There are people out there – family members, neighbours, friends – who would love to help even for an hour so you can get out for a walk. You just need to ask them."

Mandy Bujold
"Movement is medicine": Supporting physical and mental health
Each of the 4 elite athletes interviewed say the upsides are as much mental as they are physical. SIRC's expanded Mom's Got Game! (Vas-y Maman!) campaign shines a spotlight on research confirming that regular physical activity can help improve new and expecting mothers' mental health; in turn, this can have positive impacts on both mom and baby (Davenport et al., 2020; Atkinson et al., 2020).
"Movement is medicine," according to Pendrel, who says that even 15 minutes of walking can do wonders for her mental state.
Working moms report feeling better, sleeping better, have personally fulfilling goals, and are able to unwind from work when they take the time to be active (Dixon, 2009). And those benefits extend to their families as well (Limbers et al., 2020).
An analysis of the Canadian Fitness and Lifestyle Research Institute's 2014-2015 Physical Activity Monitor (CLFRI, 2020) found that 83% of mothers believe physical activity helps to manage their stress.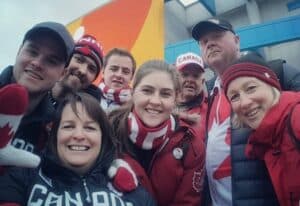 "Sport is part of who I am," notes Forrest. "As a kid, I played everything I could and loved it. I came to appreciate it even more after the accident."
A head-on crash with a drunk driver left Forrest paralyzed at age 21. For more than 2 decades afterward, she focused on her studies and her family. A chance encounter and an invitation to try wheelchair curling was, quite literally, a game changer.
"I love being a mother, but I also love being an athlete," says Forrest.
"The opportunity to do both is tremendous. I wish for every mom who has the desire to be an athlete that they can find the support they need to make it happen."

Ina Forrest
About Mom's Got Game
The Mom's Got Game! (Vas-y Maman!) campaign aims to serve as both a catalyst and a resource for women looking to find ways to remain active after having children. The campaign runs from International Women's Day (March 8) through Mother's Day (May 8).
Discover more about Mom's Got Game! (Vas-y Maman!) and access a suite of helpful materials to get you started or keep you motivated. On the site, you'll find compelling testimonials from active mothers who are proving every day that you don't have to be a Paralympian or Olympian to reap the limitless benefits of regular physical activity and sport.
About AthletesCAN
AthletesCAN, the association of Canada's national team athletes, is the only fully independent and most inclusive athlete organization in the country. It is the first organization of its kind in the world. As the voice of Canadian national team athletes, AthletesCAN ensures an athlete-centered sport system by developing athlete leaders who influence sport policy and, as role models, inspire a strong sport culture.
---
About the contributor(s)
Derek Johnston is a communications strategist, writer and executive coach with more than 30 years of experience working and volunteering at all levels of the sport system: from coaching 5‑year‑old soccer to serving as Press Chief for Team Canada at the 2006 Commonwealth Games in Melbourne, Australia. As President of Face Value Communications Inc., he has provided a range of professional communications and coaching services to over 2 dozen national sport and multi-sport service organizations and is a regular collaborator with SIRC. Derek is also a proud "Papa" who marvels at the ways his daughter and daughter-in-law are adapting to life as active new moms.
References
Atkinson, L., De Vivo, M., Hayes, L., Hesketh, K. R., Mills, H., Newham, J. J., Olander, E. K., & Smith, D. M. (2020). Encouraging physical activity during and after pregnancy in the COVID-19 era, and beyond. International Journal of Environmental Research and Public Health, 17(19), e7304. https://doi.org/10.3390/ijerph17197304
Bean, C., & Wimbs, R. (2021). Running from (with) mom guilt: Exploring experiences of being a mother and training for and running marathons. Leisure/Loisir, 45(2),1- 23. https://doi.org/10.1080/14927713.2021.1874831
Bellows-Riecken, K. H., & Rhodes, R. E. (2008). A birth of inactivity? A review of physical activity and parenthood. Preventive Medicine, 46, 99-110. https://doi.org/10.1016/j.ypmed.2007.08.003
Canadian Fitness and Lifestyle Research Institute (2020). 2014-2015 Physical Activity Monitor [custom analysis].
Davenport, M.H., Meyer, S., Meah, V.L., Strynadka, M., & Khurana, R. (2020). Moms are not ok: COVID-19 and maternal mental health. Frontiers in Global Women's Health, 1(1). https://doi.org/10.3389/fgwh.2020.00001
Dixon, M. (2009). From their perspective: A qualitative examination of physical activity and sport programming for working mothers. Sport Management Review, 12(1), 34-48. http://doi.org/10.1016/j.smr.2008.09.002
Hamilton, K., & White, K. M. (2010). Understanding parental physical activity: Meanings, habits, and social role influence. Psychology of Sport and Exercise, 11(4), 275- 285. https://doi.org/10.1016/j.psychsport.2010.02.006
Limbers, C. A., McCollum, C., Ylitalo, K. R., & Hebl, M. (2020). Physical activity in working mothers: Running low impacts quality of life. Women's Health, 16, 1-9. https://doi.org/10.1177/1745506520929165
McGannon, K., McMahon, J., & Gonsalves, C. (2018). Juggling motherhood and sport: A qualitative study of the negotiation of competitive recreational athlete mother identities. Psychology of Sport and Exercise, 36, 41-49. http://doi.org/10.1016/j.psychsport.2018.01.008
McIntyre, C. A., & Rhodes, R. E. (2009). Correlates of leisure-time physical activity during transitions to motherhood. Women and Health, 49(1), 66-83. https://doi.org/10.1080/03630240802690853
Ritondo, T. (2021). A critical examination of postnatal women's community team sport participation: "Playing for team motherhood". [Unpublished Master's Thesis]. Brock University.
---
The information presented in SIRC blogs and SIRCuit articles is accurate and reliable as of the date of publication. Developments that occur after the date of publication may impact the current accuracy of the information presented in a previously published blog or article.