How 2 sports came together to enhance player development in the North
October 6, 2021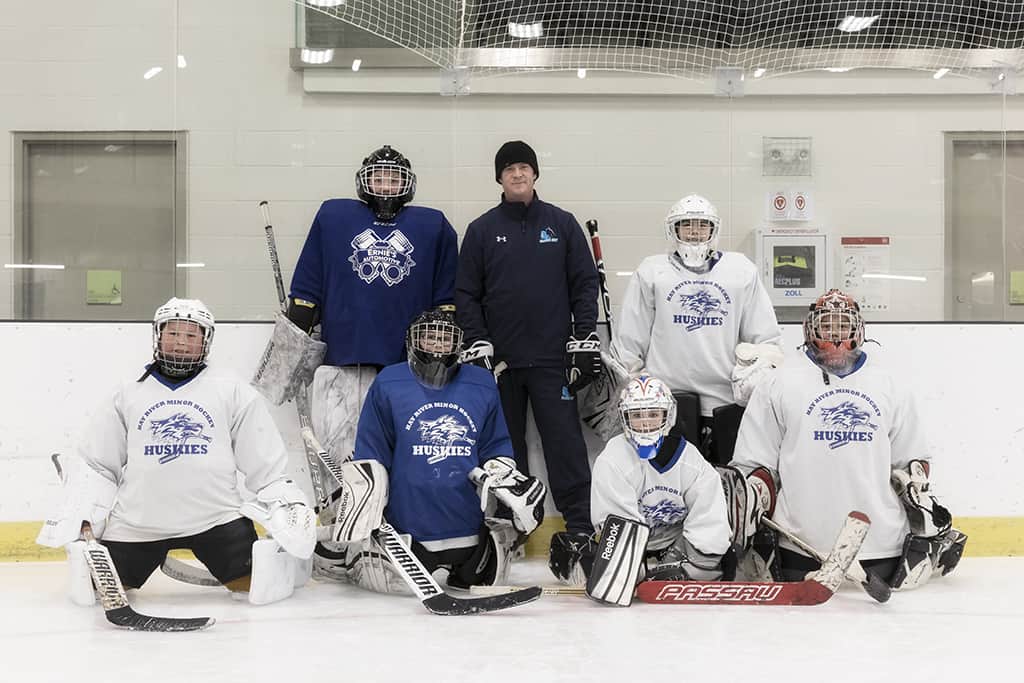 From February 23 to April 4, 2021, in Hay River, Northwest Territories, 7 minor hockey goalies traded in their hockey sticks for table tennis rackets. In an exciting collaboration between Table Tennis North, Table Tennis Canada, Hockey NWT, Hockey North, Hay River Minor Hockey and the Sport Information Resource Centre (SIRC), the goalies participated in a 6‑week table tennis training program designed to improve their on-ice performance.
In Canada's northern territories, sport participation and development opportunities for youth can be few and far between. Small population sizes, large distances between communities, limited resources and competing priorities create barriers to sport programming. But partnerships between different sports offer a unique opportunity for youth to reap the benefits of participation in multiple sports. Additionally, such partnerships increase participant pools and limit the burden placed on individual sport organizations.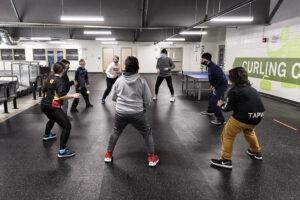 This is important because youth who participate in multiple sports early in their development as an athlete often have fewer injuries, enhanced movement skills and a greater likelihood of long-term sports participation (Côté & Vierimaa, 2014; LaPrade et al., 2016). In addition, skills developed in 1 sport have the potential to transfer into other sports (Baker, Cobley, & Fraser-Thomas, 2009), which could improve overall sport performance.
SIRC evaluated the effectiveness of the table tennis training program on goalie performance as well as on the participants' experience. In this blog, we describe the program and its impact on goalies' reaction time, hand-eye coordination and on-ice save percentage. We also discuss goalies' thoughts about the program, and the benefits of a collaborative approach to athlete development.
Trading in hockey sticks for table tennis rackets
This pilot project's goal was to determine if, and how, non-hockey training could lead to on-ice improvements for youth hockey goalies. Specifically, the program focused on helping goalies improve and acquire visual skills through table tennis before transferring them to ice hockey. This practice is known as perceived visual training, or PVT (Formenti et al., 2019; Hülsdünker et al., 2019; Panchuk et al., 2017).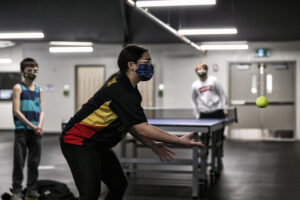 The program included 7 minor hockey goalies from the ages of 9 to 15. Before even touching a table tennis racket, the youth goalies completed benchmark testing. They were tested for reaction time, hand-eye coordination, and on-ice save percentage. Once a baseline was established, they spent 6 weeks learning table tennis skills and transferring them onto the ice.
Under the supervision of Table Tennis North's Thorsten Gohl, participants initially learned the basics of table tennis, such as how to hold the racket and the rules of the game. Then, they took part in table tennis drills and games. These focused on skills such as footwork, agility, and reaction time.
In the first week, 100% of the sessions focused on table tennis. Then, the focus gradually shifted to ice hockey with each passing week. Emphasis was placed on a transfer of physical literacy from the table to the rink. By the end of the program, only 30% of the training was table tennis, while 70% was on the ice. This allowed young goalies to transfer their new table tennis skills, bit by bit, to their on-ice performance.
Improved confidence and performance on the ice
At the end of the program, when the goalies repeated the benchmark testing, they showed significant improvements in 2 out of 3 key performance metrics. On average, their hand-eye coordination improved by 20.5% and their on-ice saves improved by 15.8%. Although considered less significant, their off-ice reaction time also improved, by 9.7%.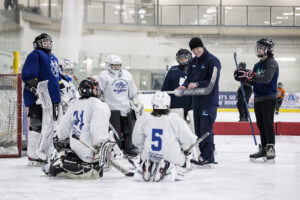 Most participants said that the program also increased their confidence in their hockey skills. More specifically, the ability to track, catch, and react to pucks during gameplay.
"I feel better knowing that I can react to pucks better."
The program surpassed the expectations of another participant who said, "I thought that it would slightly improve my hand-eye coordination and reflexes, but it helped a lot actually." Perhaps most importantly, every participant said that they had fun participating in the program.
"It was a safe space and we're here to learn something. So, if you make accidents, that was fine. And it was honestly just really fun."
This joint table tennis and hockey program went beyond improving the performance and confidence of youth goalies. It also represented a new opportunity for young athletes in the Northwest Territories. Specialized opportunities for training and coaching are usually concentrated in the southern areas of Canada, so this program stood out in Hay River.
"In the North, there's not a lot of special training. So, the fact that we had a program here to give us goalies a little bit of help, it was just an opportunity that I didn't want to miss."
Continued collaboration and next steps
The program demonstrated the positive effects of collaborative partnerships in sport, not just for the athletes, but for the sport organizations as well. Table Tennis North and Table Tennis Canada conceived the program along with local and territorial ice hockey partners. Then, SIRC was brought in to help design and evaluate the program. This allowed the sport organizations to quantify, study, and realize the positive impact of the program, while also laying the groundwork for it to continue and grow.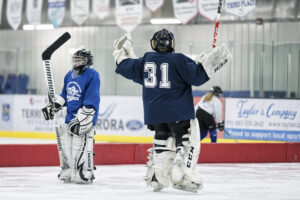 Given its success, the joint program for table tennis and hockey is set to return in an expanded form later in 2022. There are plans to host the full 6‑week program in 3 or 4 communities in the Northwest Territories. Additionally, there will be intensive one-week programs in the northern part of the territory as well as in the central region.
While opportunities for specialized sport development may be few and far between in the Northwest Territories, partnerships between sport organizations have the potential to enhance youths' development in sport. Turns out everybody wins by creating opportunities for kids to try different sports, learn new skills, and have fun!
For more information about the project or to see the complete report, please contact Veronica Allan at vallan@sirc.ca. 
All photography by Thorsten Gohl
---
About the Author(s)
Adam Steiner was a content assistant at SIRC in the summer of 2020, during which time he wrote about Canada's sport sector. He's currently an undergraduate student at McGill University, studying political science and statistics. His interests in data, policy and health carry over into his love for sport. He was a rower and now enjoys running, biking and reading in his spare time.
Veronica Allan, Ph.D., is the Manager, Research and Innovation at SIRC. She leads SIRC's research and evaluation initiatives. She also solicits, supports and curates content from researchers, experts and thought leaders to mobilize knowledge for Canada's sport and physical activity sector. Her experience as a researcher, journalist and athlete have equipped her with a unique skill set and passion for data, storytelling and sports.
References
Baker, J., Cobley, S., & Fraser‐Thomas, J. (2009). What do we know about early sport specialization? Not much! High Ability Studies, 20(1), 77-89. https://doi.org/10.1080/13598130902860507
Côté, J., & Vierimaa, M. (2014). The developmental model of sport participation: 15 years after its first conceptualization. Science & Sports, 29, S63-S69. https://doi.org/10.1016/j.scispo.2014.08.133
Formenti, D., Duca, M., Trecroci, A., Ansaldi, L., Bonfanti, L., Alberti, G., & Iodice, P. (2019). Perceptual vision training in non-sport-specific context: effect on performance skills and cognition in young females. Scientific Reports, 9(1), 1–13. https://doi.org/10.1038/s41598-019-55252-1
Hülsdünker, T., Ostermann, M., & Mierau, A. (2019). Standardised computer-based reaction tests predict the sport-specific visuomotor speed and performance of young elite table tennis athletes. International Journal of Performance Analysis in Sport, 19(6), 953–970. https://doi.org/10.1080/24748668.2019.1688071
LaPrade, R. F., Agel, J., Baker, J., Brenner, J. S., Cordasco, F. A., Côté, J., … & Provencher, M. T. (2016). AOSSM early sport specialization consensus statement. Orthopaedic Journal of Sports Medicine, 4(4), 2325967116644241. https://doi.org/10.1177%2F2325967116644241
Panchuk, D., Vickers, J. N., & Hopkins, W. G. (2017). Quiet eye predicts goaltender success in deflected ice hockey shots. European Journal of Sport Science, 17(1), 93–99. https://doi.org/10.1080/17461391.2016.1156160
---
The information presented in SIRC blogs and SIRCuit articles is accurate and reliable as of the date of publication. Developments that occur after the date of publication may impact the current accuracy of the information presented in a previously published blog or article.