Online Group Workouts
October 7, 2014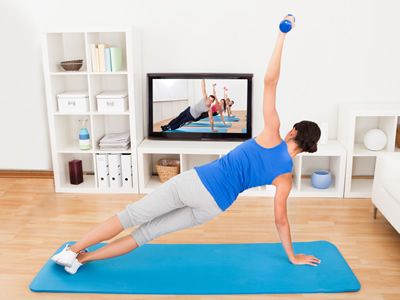 Find it hard to get of your house and get exercise? Maybe you're a new mother that finds it difficult to find time for physical activity, you think gym memberships are too pricey, or you simply have a busy lifestyle that doesn't leave room for regular exercise. There is a new fitness trend emerging that allows you to squeeze in a workout with a fitness instructor from the comfort of your own home – group workouts online. Anyone can try an online fitness class, anywhere in the world.
How does it work?
Participants pay per class or sign up for monthly memberships, log in at pre-arranged times and follow their instructors in real time. Since the cost of setting up a fitness class is so low, most classes are relatively cheap at around $10-$15 a session. There a few different types of methods for connecting to a class: Skype, Powhow, Trainerly, Wello and ooVoo, to name a few. Many of the classes offered are available to beginners and require little to no equipment. Running shoes, a yoga mat, some 5 or 8 pound weights and occasionally a kitchen chair are all that's needed.
Popular classes include:
Through what is essentially video conferencing, online fitness classes allow the participant to get personalized training advice since you have the ability to communicate with the instructor. If you don't feel comfortable with a 2-way cam in a group setting, there is the option of having one way video where you see the instructor and class but they can't see you. If you wish to have personalized instruction, that option is available as well for an extra cost. Most instructors will meet with you online to discuss your training goals, determine where your fitness level is, and then create a specialized class just for your needs.
Some downsides to online classes include technology glitches, echoes, feedback and delayed responses, but these are relatively minor. The major disadvantage is that there is not instructor physically present correct your form or position which can increase the risk of injury.
Overall, online fitness classes are a great opportunity to get some extra physical activity, offers a good variety of options and for a relatively cheap price, all without having to leave your living room. What more could you ask for?
References from the SIRC Collection:
1. BORNSTEIN A. The Future of Fitness. Men's Fitness. December 2013;29(11):90-95.
2. Brandt R. VIRTUALLY FIT. Outside. October 2006;31(10):46;48;50.
3. Brown M. Believe the Skype. Outside. February 2013;38(2):40.
4. Keller J. Creative Ideas That Inspire: Bring people together with classes that spark purpose and passion. IDEA Fitness Journal. September 2011;8(8):71.
5. Workout trends: 'Destination classes' an attractive option for busy exercisers. Active Living. July 2002;11(4):N11.
---
---
The information presented in SIRC blogs and SIRCuit articles is accurate and reliable as of the date of publication. Developments that occur after the date of publication may impact the current accuracy of the information presented in a previously published blog or article.