Making #HERstory: Girls who play on boys' teams and supporting the lone girl in sport
October 20, 2021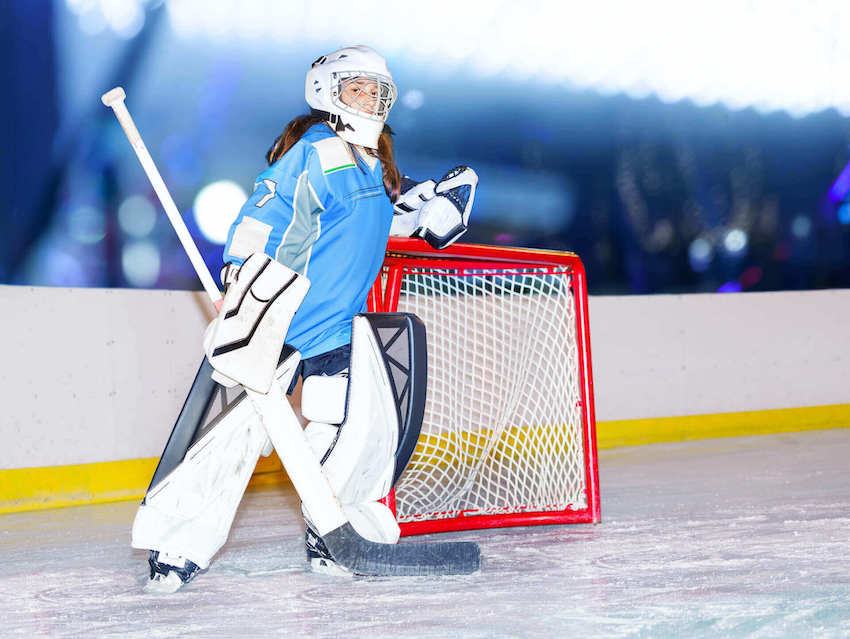 On October 7, the Ontario Hockey League (OHL) kicked off its 2021-2022 season. After having a season cut short and another cancelled altogether, this season looks different for the OHL. And it isn't because of the COVID‑19 pandemic.
In June, Taya Currie became the first female athlete drafted to the OHL. Selected in the 14th round by the Sarnia Sting, the 16-year-old goaltender from Parkhill, Ontario, joins the Sting's 2021-2022 roster. Currie will compete as the only girl in the league.
Undoubtably, Currie's selection by the Sting is a massive advancement for the league, the sport of ice hockey, and girls and women in sport generally. Although a first for the OHL, girls and women competing exclusively with boys and men isn't new to hockey. Currie is following the likes of Manon Rhéaume, the first and only woman to play in the NHL, and Shannon Szabados, the first woman to play in the Western Hockey League.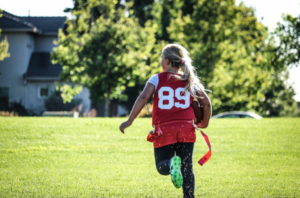 At the youth level, girls competing in boys' leagues happens often and across numerous sports. In fact, for the past 7 years (and for much of her hockey career), Currie had been playing with the Elgin-Middlesex Chiefs, a triple-A boys' hockey team. Whether it be hockey, soccer, baseball, football or basketball, many youths compete as the only girl on their sports team.
The term "lone girl" has been used to describe this exact scenario in analyses of children's sport fiction books (Heinecken, 2015). Girls in sport are often perceived as outsiders because they're participating in an environment historically dominated by boys (Bevan et al., 2020). Being a lone girl further amplifies this outsider status.
For my master's thesis, I explored the experiences of lone girls in team sports. I interviewed 14 individuals who had participated in sport as a lone girl and asked them about their experiences. In this blog, I share my findings and propose ways that coaches and organizations can enhance the sport environment for lone girls.
What we know about the lone girl
If you type "lone girls in sport" into Google, you'll find several newspaper articles and social media posts about girls creating #HERstory competing alongside boys. But on the academic front, there are few studies focused on girls who play in boys' leagues, and none exploring the lone girl.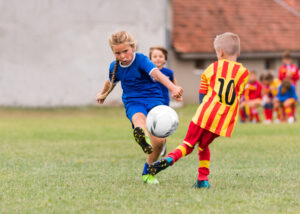 The limited research that has explored girls' experiences playing on boys' teams has shown the lone girl often results from limited access to a girls' team or league (Velija & Malcolm, 2009). In my research, I also found that stereotypes surrounding girls sport and the lack of a clear pathway to professional sport can deter girls from competing in girls' leagues. For example, girls reported joining a boys' team because their parents thought the girls' team wasn't competitive enough. Or, because the girls themselves believed they would have more opportunities for skill development and access to better resources by playing on boys' teams.
Regardless of their motives for competing, lone girls expressed unique challenges to their sport participation. These challenges spanned physical and social spaces, leaving many girls to feel both left out and singled out because of their gender. Lone girls also described feeling pressure to perform, despite facing limited opportunities for advancement in sport.
Left out: The physical space
"Having to change in a different space… it's like, 'Oh, I'm on my own.' I have to walk into the gym alone, from a different door than everyone else, across the court to our bench. It gives everyone an opportunity to notice you. That definitely built up pressure and expectation."

Phyllis, Basketball
Features of the physical setting created barriers for lone girls to experience quality relations with teammates. For example, having to change in a separate dressing room was isolating and limited opportunities to connect. Girls described missing out on pre- and post-game talks and often processed wins and losses alone. Sometimes, the team would enter the playing field without them, leaving them to enter alone and drawing increased attention to their otherness.
What coaches can do:
If the sport requires a changing room, make sure the changing room key is ready or easily accessible for the lone girl upon her arrival to the playing field. Ensure there's a safe and equitable place to change (in other words, not a janitor's closet).
Consider having the lone girl enter the team change room once everyone is appropriately dressed.
Enter the playing field as a team; wait until everyone is ready and leave no one behind.
Singled out: The social space
"It was hard to create friendships. There's this feeling of being completely alone. It felt like no one had the same experience as me. We could go through the same game and I could come out with a completely different experience than one of my guy teammates."

Denise, Baseball
Girls struggled to develop connections with their teammates because of physical barriers, but also social barriers. Girls expressed having to tolerate gendered "locker room" talk and behaviours. They also frequently experienced interactions like opposing players letting them have the ball or puck, asking for their phone number, players' parents discussing their desire for her to be cut from the team, and spectator surprise ( "You're good for a girl!"). Such interactions contributed to a social environment that made them feel uncomfortable and that their abilities and gender couldn't be mutually exclusive.
What coaches can do:
Integrate purposeful activities that are inclusive of all members. Design activities to connect the lone girl and her teammates on a deeper level by focusing on shared values and attitudes.
Create experiences for team bonding that require teammates to work or play together (Paradis & Martin, 2012). Rather than team dinners, try doing an escape room with your team.
Consider participating in educational courses with your organization to enhance and encourage diversity, inclusivity and understanding.
Pressure to perform
"Just having the ponytail come out of your helmet, the players, the people watching, people are going to notice and keep an eye on you to see if you're holding your own, 'Can the girl keep up, or does she fit the stereotype of not being as good as the boys?'"

Mary-Lou, Football
Girls often felt pressure to perform when they competed. They described feeling like they were representing more than themselves, but all girl athletes. Therefore, they felt they had to put in extra work to not reinforce stereotypes. Engaging in more structured practice (Côté et al., 2007) to prove themselves often led to burnout, injury, and decreased enjoyment in their sport. Despite this, they were denied opportunities to advance in their sport or earn leadership roles because of their gender. They also described missing out on university scholarship opportunities because being in a boys' league hid them from scouts.
What coaches can do:
Coaches and parents or guardians need to support girls in their participation by holding them to the same expectations as any other team member.
Provide lone girls with opportunities to advance in sport. For example, consider inviting women's varsity coaches and scouts to games.
Consider how you can provide lone girls with more leadership roles or connect them with role models and mentors in sport. Role models help promote participation, connection and leadership for girls in sport (Bevan et al., 2020; Meier, 2015).
Making #HERstory the norm
While these tips may help to improve sport outcomes for lone girls, it's easy to see that many of the challenges reported by lone girls stem from old-fashioned stereotypes and expectations of girls and women.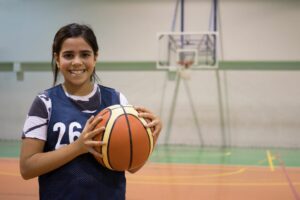 Modifying the environment to improve lone girls' experiences is certainly a start, but clearly bigger change is needed. That is, people of every gender should be given the same opportunities and resources to be able to participate, enjoy and succeed in sport.
Ultimately, we want girls to make #HERstory not because they've overcome barriers, but because the barriers have been removed entirely.
---
About the Author(s)
Jennifer Coletti, M.Sc., recently completed her Master's degree in the field of sport psychology. Her love of sport and aspiration to provide positive sport experiences for all participants stems from her personal experiences as a competitive soccer player. As of fall 2021, she's continuing to pursue her love of learning and sport by beginning her PhD at Queen's University's Performance Lab for the Advancement of Youth in Sport.
References
Bevan, N., Drummond, C., Abery, L., Elliott, S., Pennesi, J. L., Prichard, I., Lewis, L.K., & Drummond, M. (2020). More opportunities, same challenges: adolescent girls in sports that are traditionally constructed as masculine. Sport, Education and Society, 1-14. https://doi.org/10.1080/13573322.2020.1768525
Côté, J., Baker, J., & Abernethy, B. (2007). Practice and play in the development of sport expertise. Handbook of Sport Psychology, 3, 184-202. https://doi.org/10.1002/9781118270011.ch8
Heinecken, D. (2015). Pretty tough sports and the promotion of female empowerment in young adult sports fiction. The Lion and the Unicorn, 39(1), 23-41. https://doi.org/10.1353/uni.2015.0006
Meier, M. (2015). The value of female sporting role models. Sport in Society, 18(8), 968-982.https://doi.org/10.1080/17430437.2014.997581
Paradis, K. F., & Martin, L. J. (2012). Team building in sport: Linking theory and research to practical application. Journal of Sport Psychology in Action, 3(3), 159-170.
Velija, P., & Malcolm, D. (2009). 'Look, it's a girl': cricket and gender relations in the UK. Sport in Society, 12(4-5), 629-642. https://doi.org/10.1080/17430430802702905
---
The information presented in SIRC blogs and SIRCuit articles is accurate and reliable as of the date of publication. Developments that occur after the date of publication may impact the current accuracy of the information presented in a previously published blog or article.