Athlete Perspective: My reality as a clean athlete in a not so clean sport
January 22, 2019
SIRC's Athlete Perspective series provides insight and recommendations on key issues from an athlete's perspective. The collection of blogs and SIRCuit articles profiles Canada's Olympic and Paralympic athletes and taps into their lived experience.
I started weightlifting in a small, remote city in northern Quebec when I was nine years old. It was, and still is, an unknown sport in the region and I got into it by chance, following my sister into the gym. When I was twelve, I was the best lifter for my age in the province, not that there was much competition – few girls were competing in the sport at the time. Regardless, I was hooked. I continued to train with the objectives of competing in other competitions.
My Introduction to Doping Control
When I was 14, I competed at the Eastern Canadian Championships, my first big meet. As a junior competing at a Senior level competition, I was nervous to compete against so many adults and my performance suffered. That is why I was so surprised when a woman came to me right after my last lift. I naively though she was coming to congratulate me. Instead, that was my first contact with an anti-doping agency – the Canadian Centre for Ethics in Sport.  I was too young to go through the testing alone, so my older sister came with me. Her job was to watch the lady who was watching me as I peed… It was a hard concept for my 14 year old brain to comprehend!
I learned after that weightlifting is a targeted sport by the anti-doping agencies due to the predominance of doping and that regular testing helps ensure a level playing field. I understood and agreed with all of this, and anti-doping testing became a normal part of my life.
When I was 16, I left Canada for the first time to compete at the Junior World Championships in Greece. I was one of the best on the team, but also one of the youngest! Everything was impressive, including the physiques of the other athletes. It was then that I realized that weightlifting is for other countries what ice hockey is for Canadians – their national sport!
Planting the Seeds of Suspicion
One night, during dinner in the hotel cafeteria, our team was looking around and talking about how impressive the other athletes looked. I was confused by one of my teammates speculating about which athletes were clean, and which were doping. Eventually I asked, "Everyone here goes through doping control, just like we do, so why do you keep seeing doping athletes everywhere?" That opened the door for my teammate. What followed was a rant about how some athletes can cheat tests, how a few years before my time was the best years for doping, how Canada made lots of changes in the anti-doping world but how testing remained different from one country to the next.  His passion was captivating…and alarming. I let him talk, and definitely restrained myself from asking any more questions.
That evening, alone in my room, I made a promise to myself. I had no idea if everything I just heard was true or not, but I decided that I wouldn't get caught up in the drama and conspiracy theories – I had to trust the process of doping control. He was passionate enough about the subject to plant a seed of doubt in my mind, but I didn't wanted to loose myself in questions for which we didn't have answers. Rather than waste energy wondering, I decided the best I could do in this situation was to keep my head down and become the best I could be while staying true to my values, true to myself. Which I did, the best I could…at least until I went to the 2008 Beijing Olympics.
The 2008 Beijing Olympics
I finished fourth in Beijing, 3 kilograms away from a medal. Despite my best efforts, I never felt as much a failure as I did then. Lots of people had doubts about the integrity of some of the athletes on the podium and quite frankly so did I. We had all heard the rumours, and being so close to the podium increased my doubts about the other athletes. It was impossible not to wonder what it would be like if we knew for sure which athletes were clean, or to wonder what my real ranking would have been. But I didn't let myself go there for long, deciding to focus on what I was sure of – I knew for sure that I was clean, and that I was 3 kilos away from an Olympic medal.
Even if it was taking me longer, I knew I could be the one to prove that it is possible to own a "clean" spot on the podium in a sport so well known for doping. I had four years to gain 3 kilos. I could be the first female Canadian to have a medal in my sport. I could and would be the one opening doors to all the other girls and women competing in weightlifting in my country.
The Realities of Training
The following four years were the hardest of my life. I had to face many challenges – depression, burn-out, five different coaches including one that ended up in jail, and a move across the country to follow my husband, an RCMP officer who was transferred. I ended up training for the Olympics in a garage with little heating, coaching myself, building my own programs and analyzing my own technique.  It took time, but by the end of 2011 I had everything I needed to perform, including a strong support team, added one by one throughout my journey.
The six months before the 2012 London Olympics was the best time of my career. I felt so ready. At the last World Championship before London, I was competing with the best athletes in the world, one of the best females competing in the 63kg weight class. I remember thinking at the athlete presentation that I might have been the only clean athlete in the group. I then reminded myself of my teammate's rant and my decision at my first World Junior Championships – I decided that even if I had some reason to wonder, it didn't matter to me anymore. I made peace with that fact years ago. Now, I was owning my place as a clean athlete in a not so clean sport.
The 2012 London Olympics
In London, I reached my goal and became the first female to win an Olympic medal in weightlifting for Canada. It was an amazing feeling! Soon after my event, an Australian athlete asked to take a picture with me. I looked at him, confused – as happy as I was to be the bronze medalist, the gold and silver medalists were standing about one meter from me. I asked him, "Are you sure you want a picture with me? The other winners are right there." He laughed and said he didn't want pictures with cheaters. He told me, "You have no idea what your medal means for people like us! It means a lot more than those two other ones together."
This moment remains close to my heart today. I realized at that moment that by keeping my head down and working hard, I actually reached my goal. I opened doors, not just for people in my country, but for everyone believing in clean sport. I proved that it was possible, not just for Canadians, but for, "people like us" to be amongst the best.
The 2016 Doping Scandal
In 2016, the World Anti-Doping Agency (WADA) exposed endemic cheating and corruption in Russian sport, including weightlifting.  Despite retiring in 2014, my husband and I followed everything carefully. We weren't really surprised about the findings, unfortunately, but we were surprised and devastated to realize the extent of my sport's doping problem. In one wave of re-tests of Olympic samples, 15 came back positive. Of those, eleven were from weightlifting. Complete Olympic podiums were dismissed. Athletes that finished eighth or ninth at the Games were now the future medalists of past Olympics.
Once again I thought of my teammate from the World Junior Championships. His suspicions were likely warranted. With the results of those retests, we were in a position to wonder about the impact of doping. Across all the World Championships, how many athletes actually deserved to be on the podium? What would have been my world ranking throughout those year? Could I have been World Champion without never knowing it? Me, who's best result was only seventh? I realized then that I would never be able to know how good of a weightlifter I actually was.
Climbing up the Podium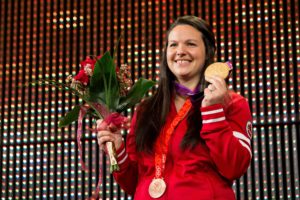 As the results of the re-tests were revealed, my medal from the 2012 London Olympics went from bronze to silver, and then to gold. I couldn't believe that my years training alone in a garage actually led me the highest results at the Olympics! But I also wondered what it would have felt like to have received the gold medal at the Olympic Games. How would it have felt to hear the Canadian national anthem and to be the first gold medal in weightlifting for my country? How much more attention and support would I have received with one of Canada's two gold medals from the Games, instead of one of many bronzes? I joked that perhaps I could have been on a cereal box.
A few weeks later, I learned that I would be receiving a medal from the Beijing Olympics as well. My fourth became a bronze. Eight years too late, my failure was becoming a success. This turn of events was harder to swallow. That was when I really started to think about the lost opportunity. In 2008, I would have received the first medal for Canada at the Games. How would that have impacted me? How would that have impacted my sport, my country? The years between the Beijing and London Games, the hardest in my life, would have been completely changed. How much support, from my sport or the Canadian sport system or the media, should I have received, but didn't? I doubt that I would have had to train in a garage…or at least, I'm pretty sure I would have found a way to heat the space! Assessing the impact is impossible, but we can assume it would have been substantial.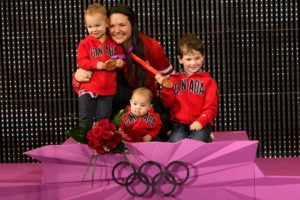 On December 3, 2018, I received my Gold medal from the 2012 London Olympics and Bronze medal 2008 Beijing Olympics at a ceremony in Ottawa. It was a moving and emotional event, one that myself and my family will never forget. It was particularly moving to watch the Canadian flag rise in the presence of my children, while a high school choir was singing the Anthem. My opinion is that my medals and my story mean nothing if it doesn't serve to make the sporting world better for this future generation.
Words of Advice
I still think back to the Australian athlete who asked to take a picture with me in 2012.  He made me wonder how "people like us" become Olympic Champions. The unfortunate reality is that the nature of sport, the pressure to win, and the culture of some national programs can lead some athletes doping. For athletes dedicated to staying clean, here are some words of advice:
Stay true to your values – Stand up for what you believe and make decisions that are right for you. Surround yourself with people that will support this journey.
Focus on being the best you can be – There are no shortcuts to becoming a champion. Dedicate yourself to the necessary training, competition and recovery. Focus on what you can do and what you can change. Don't be distracted by those things that are out of your control.
Have faith in the system – It can be frustrating and defeating to lose to athletes suspected of doping. However, what my experience teaches is that what goes around, comes around. While it can be easy to spiral down into thoughts of what might have been, I hope that my experiences will improve the system for other athletes. Plus, I know the gold and bronze medals now at my house will never be taken away.
---
About the Author(s)
Christine Girard was born in Elliot Lake, Ontario and moved to Rouyn-Noranda, QC at the age of ten. It was there that she took up the sport of weightlifting. Christine is Canada's first Olympic champion, and only multiple medal winner, in weightlifting. She now lives in Gatineau, QC with her husband and three children.
---
The information presented in SIRC blogs and SIRCuit articles is accurate and reliable as of the date of publication. Developments that occur after the date of publication may impact the current accuracy of the information presented in a previously published blog or article.