Are compression garments effective for exercise recovery?
April 29, 2015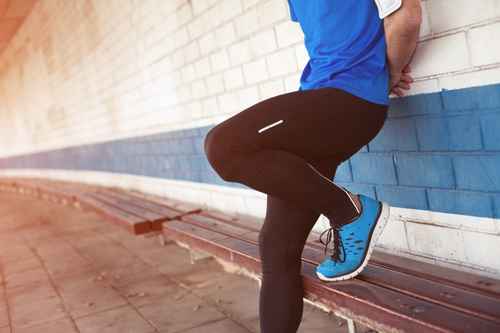 The use of compression garments has become increasingly popular in recent years, mostly in a post-exercise role where compression tights, arm sleeves, socks and boots are used as a means to speed up recovery.  Types of compression garments vary where they can be worn via the upper, lower or full-body and are generally made from nylon or spandex.
Originally used in the medical profession, compression garments apply mechanical pressure to the body, compressing and supporting the underlying tissue. Studies have shown that when used in this context, they are effective in improving functional movement in patients, particularly those suffering from circulatory conditions. Over the years researchers have come to observe that there could be benefits to wearing compression garments after exercising and participating in sports.
The possible effects for recovery include:
Are compression garments the right fit for me?
A review of the literature shows that compression garments may have a place in endurance sport, particularly for athletes who train and compete on a regular basis. While there is some research available that suggests that compression garments assist with recovery, weekend warriors and recreational athletes may want to skip out due to the cost of these products.
The good news is that no study to date has found any negative physiological effects from wearing compression clothing, Dr. Stickford said. So if you do decide to experiment, "there is not much to lose besides $40 or so. – Can Compression Clothing Enhance your Workout?
I already use them and found it makes a positive difference.
Research shows that the placebo effect may play a large role in how we view the benefits of compression garments. The belief that a product works has no overall harm and you may see an improvement in how you feel after training – so if it's already working for you, there's no problem with sticking to your regular routine. Although a more important consideration would be to ensure that you are implementing good recovery strategy after a hard workout or training session.
The Verdict
More questions need to be answered before researchers can say for sure that these garments work, for example: do different materials have different effects, what are the implications of long term wear and tear and what would the ideal pressure be for maximum recovery? Since studying the effects of compression garments is so subjective, the jury is still out until more research is done.
References from the SIRC Collection:
Beliard S, Chauveau M, Moscatiello T, Cros F, Ecarnot F, Becker F. Compression Garments and Exercise: No Influence of Pressure Applied. Journal Of Sports Science & Medicine. March 2015;14(1):75-83.
Bieuzen F, Brisswalter J, Easthope C, Vercruyssen F, Bernard T, Hausswirth C. Effect of Wearing Compression Stockings on Recovery After Mild Exercise-Induced Muscle Damage. International Journal Of Sports Physiology & Performance. March 2014;9(2):256-264.
HAMLIN M, MITCHELL C, WARD F, DRAPER N, SHEARMAN J, KIMBER N. EFFECT OF COMPRESSION GARMENTS ON SHORT-TERM RECOVERY OF REPEATED SPRINT AND 3-KM RUNNING PERFORMANCE IN RUGBY UNION PLAYERS. Journal Of Strength & Conditioning Research (Lippincott Williams & Wilkins). November 2012;26(11):2975-2982.
Hill J, Howatson G, van Someren K, Leeder J, Pedlar C. Compression garments and recovery from exercise-induced muscle damage: a meta-analysis. British Journal Of Sports Medicine. September 15, 2014;48(18):1340-1346.
KAZUSHIGE G, TAKUMA M. Compression Garment Promotes Muscular Strength Recovery after Resistance Exercise. Medicine & Science In Sports & Exercise. December 2014;46(12):2265-2270.
Pruscino C, Halson S, Hargreaves M. Effects of compression garments on recovery following intermittent exercise. European Journal Of Applied Physiology. June 2013;113(6):1585-1596.
---
---
The information presented in SIRC blogs and SIRCuit articles is accurate and reliable as of the date of publication. Developments that occur after the date of publication may impact the current accuracy of the information presented in a previously published blog or article.