Active mothers = Active kids
July 24, 2014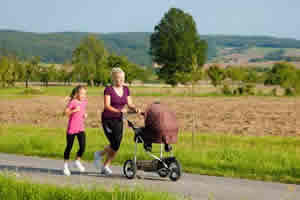 Being physically active has many benefits such as controlling risk factors for heart disease, managing stress and generally improving our quality of life. In recent years, childhood obesity, a key predictor of obesity in adulthood continues to increase. This health issue has garnered a significant amount of attention from the Canadian government and health care officials and the attention is not unwarranted. In 2011, the BMI of youth ages 12-17 indicated that 24% of boys and 17% of girls were overweight or obese.
Childhood obesity can lead to:
Heart disease
Type-2 diabetes
Depression
Low self –esteem
Being bullied
The Canadian Food Guide is a campaign to educate parents and children on how to eat properly and the Canadian Physical Activity Guide includes strategies to assist Canadians in getting more active. Following these guides is a great way to seek out a healthy lifestyle in the fight against childhood obesity.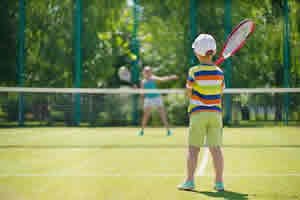 Although these guides are great examples, there is also plenty of research to broaden the picture. One such study released in the Journal of the American Academy of Pediatrics investigated the activity levels of mothers and their preschool children. The study tracked the physical activity of 554 mothers and their 4-year-olds. They concluded that children in the study were moderately or vigorously active when their mother followed an active lifestyle. However, it was not clear whether the mother influenced the child or if the child's playfulness influenced the mother.
Getting a mother and child involved in promoting physical health can lead to better overall health. Parental and sibling support has also been shown to have an influence on the physical activity behavior of children and can encourage the whole family to get active.
References from the SIRC Collection:
1. Greendorfer S, Lewko J. Role of family members in sport socialization of children. Research Quarterly. May 1978;49(2):146-152.
2. Kusy K, Osinski W. Relationship between children's exercise and the perceived influences of significant others. Acta Kinesiologiae Universitatis Tartuensis. 2001;6(Suppl):140-143.
3. Lewko J, Greendorfer S. Family influences in sport socialization of children and adolescents. 1988;
Mothers Today Less Physically Active Than 1960s Moms. Physical Therapy. March 2, 2014;:10.
4. Olvera N, Smith D, Kellam S, et al. Comparing High and Low Acculturated Mothers and Physical Activity in Hispanic Children. Journal Of Physical Activity & Health. September 2, 2011;8:S206-S213.
5. Pahkala K, Heinonen O, Lagström H, Hakala P, Sillanmäki L, Simell O. Leisure-time physical activity of 13-year-old adolescents. Scandinavian Journal Of Medicine & Science In Sports. August 2007;17(4):324-330.
---
---
The information presented in SIRC blogs and SIRCuit articles is accurate and reliable as of the date of publication. Developments that occur after the date of publication may impact the current accuracy of the information presented in a previously published blog or article.