Tips for an Active Spring Break!
March 8, 2017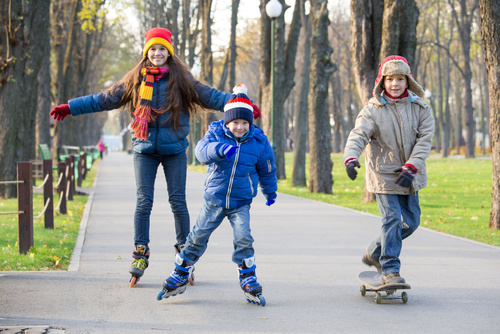 With many school systems across the country going into Spring Break, families are looking for ways to keep their kids active and engaged. Whether they are at home for the week or you decide to go on the road, there are many ways to incorporate fitness and fun into the break. Want to avoid hearing "I'm boooored!" and head off a week of "I don't know what to do!"? Check out these fun activities you can use to keep the kids interested and active:
Mini Olympics – Depending on whether you have access to indoor or outdoor spaces you can design and stage "events" for the children to compete in.
Amazing Race or Scavenger hunt – Older kids can into the game by setting out in teams to perform tasks/activities at different stations or search for hidden objects. Get them all involved by getting their help in brainstorming some ideas for stations. Older kids can be paired with younger ones if everyone wants to play. Or have the older ones plan the course for the younger ones and provide them with some leadership opportunities too.
March Break Sport Camps – Check out your municipal listings, local clubs, universities, pools, etc. Many of them have organized sport-specific or multi-sport camps for parents looking to find ways to keep their kids moving during the break.
Family room fitness – Check out YouTube for videos teaching you something you've never tried before like belly dancing, yoga for kids or even some new dance moves.
Check out the local trails – If there is still snow, try some cross-country skiing or take a hike whether there's snow or mud! Make it a full day and pack a snack or picnic lunch. You can even add in a scavenger hunt or I spy game to spice things up.
Indoor Exergaming – If the weather is not cooperating, why not phone a few friends and do a Wii/Xbox throwdown. Whether it's bowling, tennis, or dance there are some great options that appeal to the videogamer and sport enthusiast alike.
Sport-centric vacation – If you've decided to take the family on the road for the holidays, why not incorporate sport and/or fitness into the itinerary. Whether it's a trip to a snowy getaway or hitting the beach there are tons of things to get active around. Skiing, sledding, skating, dog-sledding, snorkelling, swimming, or setting up games on the beach are all options when it comes to active holidays.
While some of these activities may require a little bit of planning, staying active during the school break can be as easy as calling your local pool or calling a friend. It doesn't have to be an expensive proposition either. If you are worried about buy in, the best way to get everyone on board is to get them involved by providing opportunities to suggest and/or choose activities to do and making everyone part of the planning. Have a great and active break!!
Resources:
Baskin, A. (2014). 26 ways to glide through March Break. Today's Parent.
ParticipACTION. (2017). Active (and free!) ideas for March Break.
Pevzner, H. The Best Active Video Games for Kids. Scholastic Parent Resources.
Reader's Digest. (2017). 5 Things to Do with the Family during March Break
---
---
The information presented in SIRC blogs and SIRCuit articles is accurate and reliable as of the date of publication. Developments that occur after the date of publication may impact the current accuracy of the information presented in a previously published blog or article.