Team Norms and Playing Through Injury in Sport
June 17, 2020
This blog is the first in a series in collaboration with Queen's University. As an assignment to build knowledge mobilization skills, Dr. Luc Martin, Associate Professor in the School of Kinesiology and Health Studies, tasked students in his third year team dynamics course to write a SIRC blog. The top five were submitted to SIRC, and will be published over the next few months.
During the 2017 NHL playoffs, San Jose Sharks player Joe Thornton competed through a torn anterior cruciate ligament (ACL) and medial collateral ligament (MCL) in his left knee. According to Thornton, his injuries were simply "the normal stuff that hockey players deal with" (Dubow, 2017). Thornton's teammate, Tomas Hertl, played through a broken foot that same season, and even increased his average ice time during the playoffs despite the injury (RotoWire Staff, 2017). Their coach, Peter DeBoer, described this willingness to play through injury as courageous (Dubow, 2017).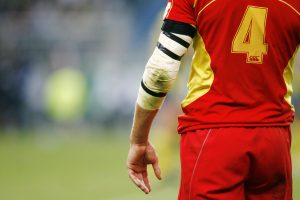 Thornton and Hertl are examples of so-called "tough" athletes who play through injury for the sake of sport. Such athletes are commended for their determination and grit, and their stories serve to glorify the willingness to play hurt (Malcom, 2006). As a result, playing through injury can become normalized, distorting what it means to be a fierce competitor and committed teammate, and putting athletes at risk (Stafford et al., 2013).
What are group norms?
Group norms represent a set of assumptions held by members of a group concerning acceptable and unacceptable behaviours. Albert Carron (1981) was among the first to investigate group norms in the context of sport, emphasizing their importance for understanding why teammates behave in particular ways and how those behaviours subsequently influence the behaviours of others. Generally, norms are established over a period of time and are typically informal in nature (Kukreja, 2020). Within a team, norms typically reflect expected behaviours, such as showing up on time for practice, supporting one another, giving maximum effort, and controlling your emotions (e.g., Prapavessis & Carron, 1997). Importantly, as a team becomes more cohesive, the pressure to comply with group norms also increases (Prapavessis & Carron, 1997). Further, depending on the level of competition, relevant social agents (e.g., parents, coaches, trainers, media personnel) may also play a role in promoting athletes' adherence to sport norms (Malcom, 2006).
Groups norms and risky behaviour
Norms provide a glimpse into the inner workings of a group and insight into what members deem important. One type of norm that has generated research interest is teammate sacrifice behaviour, defined as voluntarily doing or giving up something for the sake of another person without the expectation of reciprocity (Prapavessis & Carron, 1997). According to Prapavessis and Carron (1997), sacrifice is associated with increased cohesion because an individual who gives up something valuable for their group—for example, their physical heath—is also likely to feel more connected to that group.
If we use concussions as an example, an estimated 1.6-3.8 million athletes suffer from this type of injury annually in the United States (Langlois et al., 2006). According to recent research, concussions are particularly problematic because signs and symptoms are not usually observable, which results in a greater likelihood of underreporting (Caron et al., 2018). Researchers argue that athletes who play through injury do so to protect their athletic identities and to preserve or improve relationships or social status with teammates and coaches (Stafford, 2013). Unfortunately, excessive over-conformity to such norms can escalate to other risky behaviours, such as the use of performance enhancing drugs (Hughes & Coakley, 1991).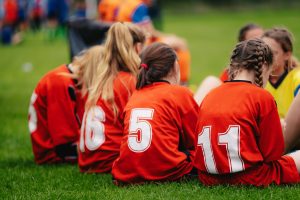 It is also important to consider the implications that stories about elite athletes playing through injury can have in youth sport. The more such stories are celebrated in the media, the more young athletes and social agents will feel as though they should play through injuries to be considered a "real" athlete (Malcom, 2006). Group norms are especially relevant to impressionable youth given desires for social approval from peers and the significance of status issues within teams (Crozier & Benson, 2020). Further, although girls are more apt to talk about their injuries and criticize the unrealistic expectations of sport than boys (Malcom, 2006), research shows that all youth athletes—regardless of gender, the type of sport, and size of the team—are likely to be influenced by norms (Bruner et al., 2014).
Recommendations for Coaches
When considering how to establish healthy norms and address potentially negative behaviours, it is important that coaches acknowledge the power they have in modelling and promoting a safe sport culture for athletes (e.g., Stafford et al., 2013). Coaches should:
Encourage athletes to speak up in conversations concerning their health and wellbeing. Create an environment in which athletes feel safe to report an injury or feelings of pain, or tell you when their bodies are nearing or close to being injured (e.g., overuse/overtraining, burnout).
Take the necessary precautions or measures to ensure the athlete's condition does not progress to something worse. For example, following injury protocols, reinforcing advice from healthcare professionals, allowing time off, careful monitoring, etc.
Be responsible to not promote risky styles of play or encourage athletes to play through injury or pain.
Final Thoughts
We need to change sport norms that glorify the experience of playing through injury. Across all levels of sport—recreational to elite—athletes are too often expected to suffer through pain as the ultimate show of commitment and athleticism. What more people need to realize, is that a moment of victory is temporary, but the long-term consequences of physical harm and stress on our bodies can be permanent.
---
About the Author(s)
Halle Bailey is a recent graduate from the School of Kinesiology and Health Studies at Queen's University (Spring 2020). She is currently working toward a Certificate of Business and plans to pursue a career in medical device sales.
References
Bruner, M. W., Carreau, J. M., Wilson, K. S., & Penney, M. (2014). Group norms in youth sport: Role of personal and social factors. The Sport Psychologist, 28(4), 323-333.
Caron, J. G., Rathwell, S., Delaney, J. S., Johnston, K. M., Ptito, A., & Bloom, G. A. (2018). Development, implementation and assessment of a concussion education programme for high school student-athletes. Journal of Sports Sciences, 36(1), 48-55.
Carron, A. V. (1981). Processes of group interaction in sport teams. Quest, 33(2), 245-270.
Crozier, A., & Benson, A. (2020). Group norms in youth sport. In M. W. Bruner, M. A. Eys, & L. J. Martin (Eds.), The Power of Groups in Youth Sport. London, UK: Elsevier.
Dubow, J. (2017). Sharks' Joe Thornton played with torn ACL and MCL in playoffs. Retrieved from https://www.cbc.ca/sports/hockey/nhl/sharks-joe-thornton-played-through-torn-acl-and-mcl-in-playoffs-1.4083533
Hughes, R., & Coakley, J. (1991). Positive deviance among athletes: The implications of overconformity to the sport ethic. Sociology of Sport Journal, 8(4), 307-325.
Kukreja, S. (2020). What are group norms?. Retrieved from                                                        https://www.managementstudyhq.com/types-of-group-norms.html
Langlois, J. A., Rutland-Brown, W., & Wald, M. (2006). The epidemiology and impact of traumatic brain injury: A brief overview. Journal of Head Trauma Rehabilitation, 21, 375–378.
Malcom, N. L. (2006). "Shaking It Off" and "Toughing It Out" Socialization to Pain and Injury in Girls' Softball. Journal of contemporary ethnography, 35(5), 495-525.
Prapavessis, H., & Carron, A. V. (1997). Sacrifice, cohesion, and conformity to norms in sport teams. Group Dynamics: Theory, Research, and Practice, 1(3), 231-240.
RotoWire Staff. (2017). Sharks' Tomas Hertl: Played with broken foot. Retrieved from                            https://www.cbssports.com/fantasy/hockey/news/sharks-tomas-hertl-played-with-broken-foot/
Stafford, A., Alexander, K., & Fry, D. (2013). Playing through pain: Children and young people's experiences of physical aggression and violence in sport. Child abuse review, 22(4), 287-299.
---
The information presented in SIRC blogs and SIRCuit articles is accurate and reliable as of the date of publication. Developments that occur after the date of publication may impact the current accuracy of the information presented in a previously published blog or article.