Women's hockey under the radar: What's driving participation?
April 20, 2022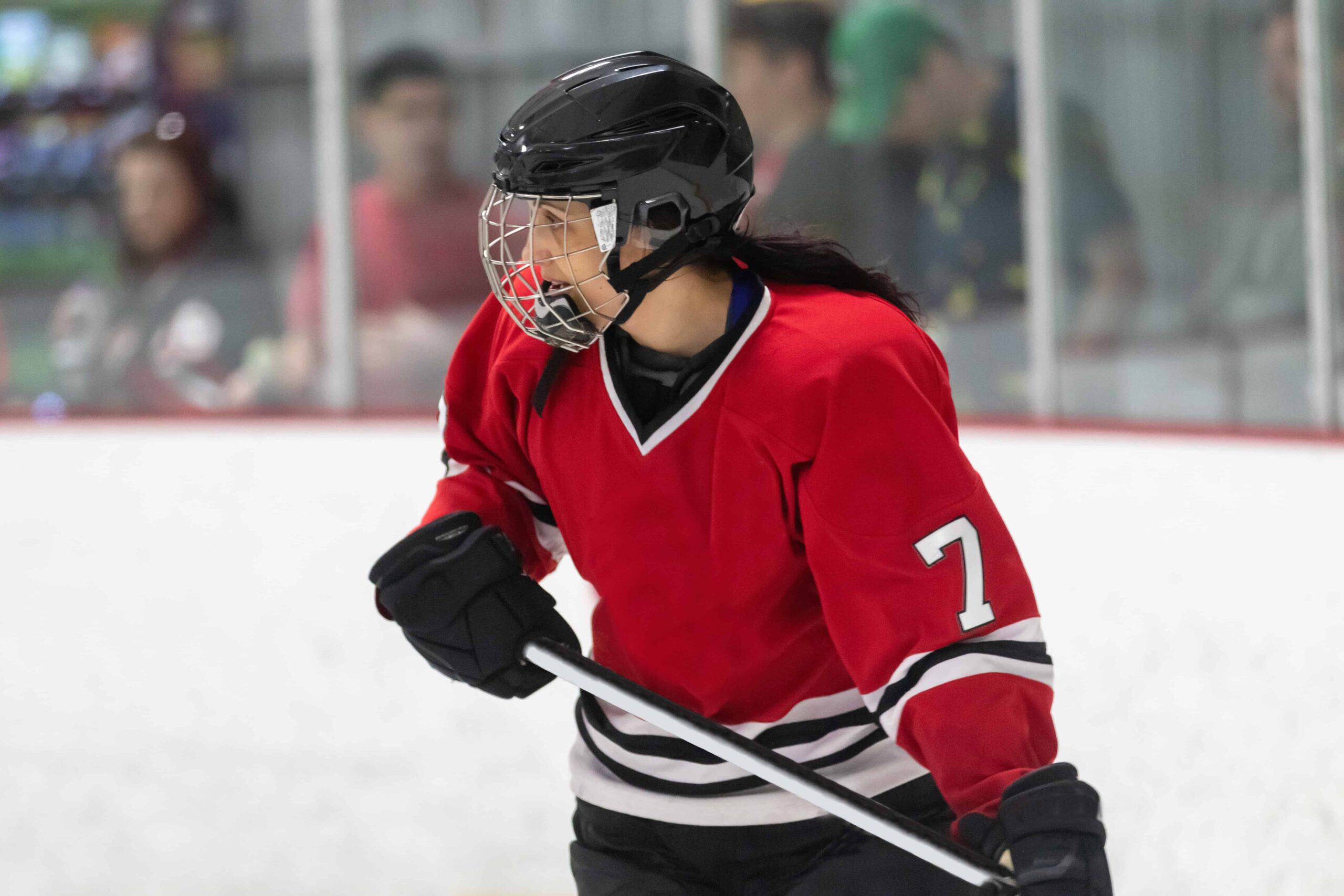 It has been almost a quarter of a century since women's ice hockey debuted at the Olympic Games in Nagano, Japan. Despite a heartbreaking loss for Team Canada in the final of the first Olympic women's hockey competition, it was a big step forward for women's hockey on the international stage. Since then, Canada has established itself as a powerhouse of women's hockey, earning a place in every Olympic final to date and earning 5 gold medals, with the recent Beijing Olympic gold (2002, 2006, 2010, 2014, 2022).
But what's driving participation in women's hockey? Despite the success of our national women's hockey team, the fact remains that women make up less than 20% of the players in Canada. To maintain our status as a world leader and continue promoting our national sport, we must better understand the motives and factors that influence girls' and women's participation in hockey
To this end, we conducted a study of women hockey players in Quebec with the support of a SIRC Match Grant. We received survey responses from 290 women and interviewed 10 of those women who were involved in different levels of hockey. In this blog, we provide an overview of the findings. We'll discuss what's motivating women in Quebec to participate in hockey, the factors that drive or limit their participation, and possible solutions to increase the number of girls and women in hockey.
Barriers to girls and women's hockey participation in Quebec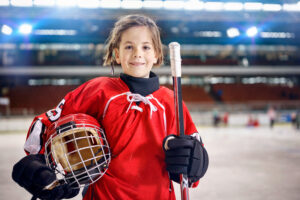 In 2021, it was reported that Ontario had 8 times more girls on its hockey teams than Quebec. Girls' registrations represent 21% of all registrations in Ontario, while they represent around 10% in Quebec. One possible reason for this discrepancy is that hockey is more difficult to access for girls and women in Quebec.
For example, in Quebec, many girls who want to reach the highest levels must play with boys. Let's take the most recent example of an athlete who made the news with her achievements on the ice: goaltender Ève Gascon. Gascon is the first woman in 22 years (since Charline Labonté in 2000) to not only lace up her skates, but also record a win, in the Quebec Major Junior Hockey League (QMJHL). Ève played hockey with boys her entire life, eventually progressing to the men's NCAA Division 1 college network where she currently plays. In 2020, she signed her first women's hockey contract with the University of Minnesota, which she committed to join in 2022 or 2023, once she graduates from college. Her journey is remarkable, but it also shows how difficult it is for girls and women to progress to the highest levels of the sport.
In the study conducted in Trois-Rivières, we found that accessibility to the sport of women's hockey is a very real problem. Participants who reported playing in men's leagues did so primarily because there weren't women's leagues in their area or because the calibre of men's hockey was more appropriate for their development. Our findings indicate that girls and women's hockey in Quebec isn't only difficult to access, but also doesn't offer enough variety of competitive levels to meet the needs of all girls and women. Athletes who did play in women-only competitive networks were often forced to move away from home or travel long distances to practices and games. Consequently, many girls and women abandoned the sport.
Key factors driving girls and women's hockey participation in Quebec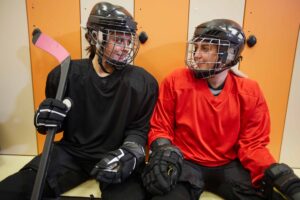 So, what motivates or inspires girls and women in Quebec to jump on the ice, despite the challenges they face? The Quebec women who responded to our survey identified 3 primary sources of motivation for their participation in hockey:
Desire for self-accomplishment (to progress, to improve)
Enjoyment
Acquisition and mastery of new skills
Some women also identified positive emotions, stimulation from being exposed to something new, learning and recognition (winning) as additional motivators. In our sample, these trends were similar regardless of the athlete's competitive level.
In addition, the women in our study cited the importance of having role models who inspired them in hockey. While the term "role model" might bring to mind professional athletes like Marie-Philippe Poulin or Kim St-Pierre, our study revealed that Quebec women hockey players, whether at the recreational or competitive level, tend to consider their parents, guardians and coaches as the most influential role models. Nonetheless, respondents indicated that they would also welcome opportunities to connect with elite players by attending international games and having the opportunity to practise with champions.
If girls and women's participation in hockey is to be encouraged, coaches and sport leaders need to be sympathetic to girls' and women's needs and motivations. Access to supportive environments with positive role models is crucial. So, how can we ensure that women and girls have access to a healthy environment where they experience success, fun, excitement and learning? We offer suggestions to help bridge the gap between the concerns of researchers and practitioners who care about girls and women's participation in hockey.
Thinking outside the box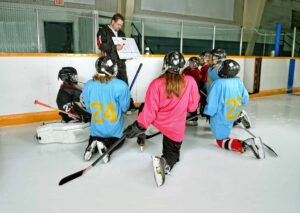 Knowing that girls and women in Quebec are motivated by having fun and learning new skills, one solution might be to consider alternatives to how hockey programming is delivered in the rest of Canada. Indeed, it may not be necessary to divide girls' teams into age categories like the boys. For example, teams of girls with wider age ranges and programs that focus on individual skill development could create a competitive model that encourages girls and women's development in Quebec's hockey environment. Such a model could also help to create a competitive environment for girls and women at higher levels of the sport.
We also know that the social environment is critical for promoting girls and women's sport participation. With this in mind, regular social events could be integrated into girls and women's hockey programming to recruit and retain participants. For example, women's leagues could organize practices where athletes and participants are encouraged to bring their families and friends. Such events would help to expose a wider population to girls and women's hockey, and potentially recruit new participants.
These are only a few suggestions to increase girls' and women's participation in hockey. It remains to be seen whether such measures will be implemented in Quebec or in the rest of Canada, even though they draw attention to an important issue for our national sport. Canadian women's hockey has seen significant success on the international stage, but there's still a long way to go to grow the sport in Canada.
Acknowledgements
The authors would like to thank the direction of Hockey Québec (female hockey) for their collaboration in the development of this project. The authors also thank all players who participated in this study.
---
About the Author(s)
Christine Cyr is currently completing a Bachelor of Education in Physical and Health Education. As a former hockey player herself, her master's project focuses on the determinants of women's hockey practice, in which she is developing her research skills through different methodologies.
Vincent Huard Pelletier is a doctoral student in biomedical sciences at the Université du Québec à Trois-Rivières. Vincent is also a sports enthusiast, having participated in several sports at the competitive level. Interested in sports development from several angles, his doctoral project focuses on the self-perception of field hockey players during adolescence.
Camille Ménard-Lebel has a master's degree in human kinetics. A former competitive ice hockey player, she is currently coaching at the women's college level. She is interested in ways to motivate and make the sport experience positive for young girls involved in field hockey.
Jean Lemoyne, Ph.D, is a professor in the department of human kinetics at Université du Québec à Trois-Rivières. His research focuses on motivational models for sport and exercise and on positive approaches to youth sport. Professor Lemoyne has received a research grant to study minor hockey in Canada and is conducting multiple research projects in applied sports sciences.
---
The information presented in SIRC blogs and SIRCuit articles is accurate and reliable as of the date of publication. Developments that occur after the date of publication may impact the current accuracy of the information presented in a previously published blog or article.