Kinesiology Taping – Is it worth the hype?
August 12, 2015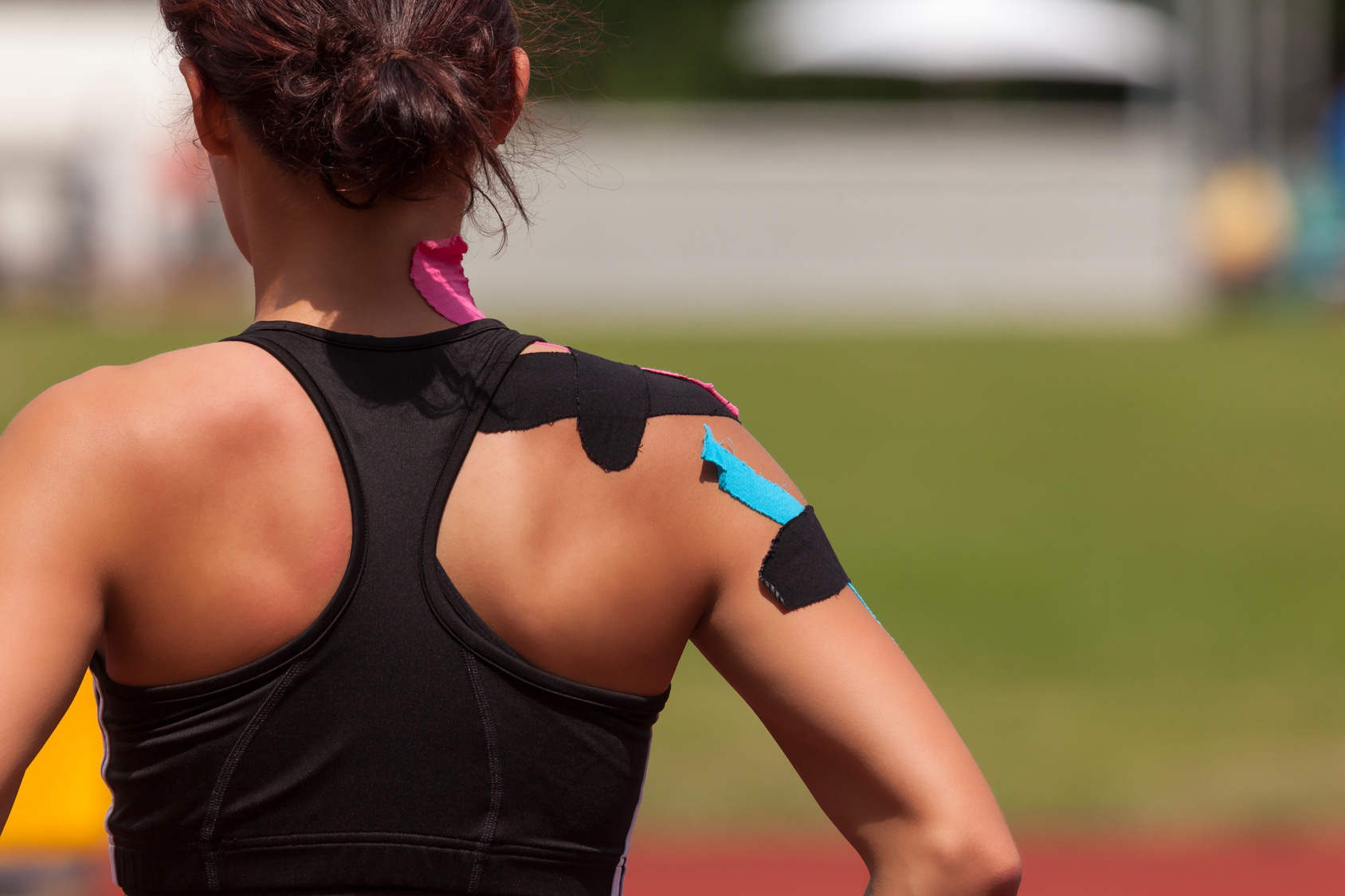 If you watch sports regularly, you've likely seen the brightly coloured tape that commonly adorns athletic bodies. Of course these colourful patterns aren't just for show, many athletes are using kinesiology tape (KT) primarily to treat and prevent musculoskeletal injuries or increase performance.
First of all, what is it and what does it do?
Kinesiology tape is made of a thin, light stretchy fabric, usually a combination of cotton and elastic that sticks to the skin in order to give stability to the surrounding muscles and joints. It tends to be waterproof so it won't peel or slide off of an athlete's body when they start to sweat or train in water. Proponents of kinesiology tape claim that it can assist with a multitude of functions of the body:
circulation,
pain and injury management,
anatomical support,
range of motion,
and performance, just to name a few.
Some of the issues you may run into using KT are allergic reactions, stretching the tape too much or leaving it on the skin too long.
Yes, but does it work?
Part of the problem of proving that it works is that the claims cover so many areas of the body that it will take time to test all of the possible applications. Currently there is no conclusive scientific evidence that proves that kinesio tape works for the management or prevention of sports injuries. While it's not clear that kinesio tape will assist you physically, there have been indications that it may help athletes psychologically.
The power of belief
The placebo effect or belief effect is the use of an inactive treatment that can sometimes improve a person's condition simply by the belief that the treatment has worked. It does not have a direct physiological effect but psychologically it can be beneficial if an athlete associates the benefits with a better outcome.
Despite the fact that there is minimal evidence to support that KT prevents or treats injuries, many athletes continue to use it. Before using KT, make sure you get it applied with proper technique by a trained professional or get KT application training yourself. Ultimately, as long as you avoid any unreasonable expectations of what the tape can do, it's easy to use, it won't hurt you, is cheap to obtain and may help you perform better simply on the belief that it's working.
References from the SIRC Collection:
COKER P. KINESIOLOGY TAPE: THE LOW DOWN. Sportex Dynamics. April 2012;(32):7-9.
Farquharson C, Greig M. TEMPORAL EFFICACY OF KINESIOLOGY TAPE VS. TRADITIONAL STRETCHING METHODS ON HAMSTRING EXTENSIBILITY. International Journal Of Sports Physical Therapy. February 2015;10(1):45-51.
GIIBBONS J. KINESIOLOGY TAPING: THE BRIGHTLY COLOURED TAPE THAT'S MAKING A BIG STATEMENT. Sportex Dynamics. July 2014;(41):8-12.
JIN TAE H, JUNG-HOON L. Effects of Kinesiology Taping on Repositioning Error of the Knee Joint after Quadriceps Muscle Fatigue. Journal Of Physical Therapy Science. June 2014;26(6):921-923.
WHAT IS IT? KINESIOLOGY TAPE. Road Bike Action. January 2013;7(1):78-79.
---
---
The information presented in SIRC blogs and SIRCuit articles is accurate and reliable as of the date of publication. Developments that occur after the date of publication may impact the current accuracy of the information presented in a previously published blog or article.