Is massage effective for exercise recovery?
June 13, 2014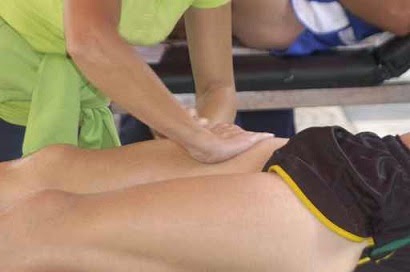 For most coaches, trainers, and athletes, massage is an integral part of a training and competition program. Sports massage can be used to improve athletic performance, speed recovery, and can be used by all individuals, professional or recreational athletes, to help improve conditioning and maintain peak performance.
What is sport massage?
Sports massage is the assessment and hands-on treatment of the soft-tissues and joints of the body. It can be used as a means to enhance pre-event preparation and reduce recovery time for maximum performance during training or after an event. There are various types of massage therapy, each utilizing different techniques, some examples include: Swedish, Shiatsu, Sports Massage, and Lymphatic Massage.
What are the benefits of therapeutic massage?
Reduces muscle tension
Reduces muscle swelling, pain, inflammation
Increases blood flow to strained muscles
Aids in relaxation
Injury prevention
What are the differences/benefits of pre-event and post-event massage?
Pre-event massage – stimulates circulation, calms nervous tension, and prepares the athlete for optimal performance while reducing the chances of injury.
Post-event massage – helps to quicken recovery from hard training and competition.
While there is a lot of anecdotal evidence that tout the benefits of sports massage, studies that actually test its effects on the muscles are hard to come by. A recent study suggests that performing therapeutic massage within 10 minutes of exhaustive exercise may reduce swelling and decrease signs of inflammation. While more research is needed to determine conclusively that massage is an effective recovery tool, it safe to say that it will not have any adverse effects on your training.
References from the SIRC Collection:
1. Argus C, Driller M. Performance Recovery. Modern Athlete & Coach. January 2013;51(1):21-23.
2. Best T, Gharaibeh B, Huard J. Stem cells, angiogenesis and muscle healing: a potential role in massage therapies?. British Journal Of Sports Medicine. June 2013;47(9):556-560.
3. Pinar S, Kaya F, Bicer B, Erzeybek M, Cotuk H. DIFFERENT RECOVERY METHODS AND MUSCLE PERFORMANCE AFTER EXHAUSTING EXERCISE: COMPARISON OF THE EFFECTS OF ELECTRICAL MUSCLE STIMULATION AND MASSAGE. Biology Of Sport. December 2012;29(4):269-275.
4. Robertson A, Watt J, Galloway S. Effects of leg massage on recovery from high intensity cycling exercise. British Journal Of Sports Medicine. April 2004;38(2):173-176.
5. Weerapong P, Hume P, Kolt G. The Mechanisms of Massage and Effects on Performance, Muscle Recovery and Injury Prevention. Sports Medicine. 2005;35(3):235-256.
6. Zainuddin Z, Newton M, Sacco P, Nosaka K. Effects of Massage on Delayed-Onset Muscle Soreness, Swelling, and Recovery of Muscle Function. Journal Of Athletic Training. July 2005;40(3):174-180.
---
---
The information presented in SIRC blogs and SIRCuit articles is accurate and reliable as of the date of publication. Developments that occur after the date of publication may impact the current accuracy of the information presented in a previously published blog or article.