How do you choose a medicine ball?
November 11, 2014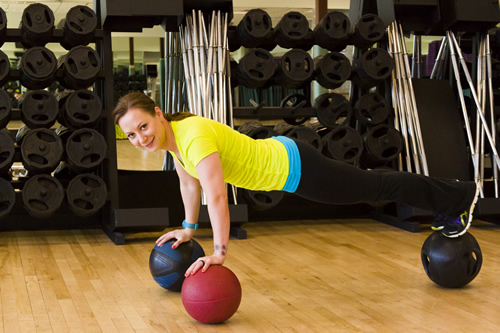 Many variations of medicine balls have come and gone throughout history but one thing remains constant, they are an excellent training tool for athletes. Medicine balls are essential for building the explosive strength that many athletes need to perform at their best. It's a unique tool that has the ability to force the body to work as a total unit rather than specifically focusing on one area. Its value lies in its' versatility, there are many exercises that can be applied for use with a medicine ball that high performance and recreational athletes can use for physiological adaptation.
Medicine ball training can be used to:
Build muscle strength and power
Develop coordination and agility
Improve balance
Increase speed
How do you choose a medicine ball?
Medicine balls can be found in many weights and sizes typically ranging from the size of a baseball to that of basketball. What you want to look for is a ball that is enough to slow down movement, but not so slow that it hinders the ability to maintain form, accuracy, and range of motion.
When choosing a medicine ball, consider:
Athletic build – tall, muscular, short, etc.
The fitness level of the individual.
The individual goals of the athlete – generally the smaller, lighter balls work well for developing speed whereas the heavier balls are used for more explosive plyometric training.
The athletes sport – if there are specific exercises that will work for that sport you need to pick the type of ball that would complement their training.
It's common for people choosing a medicine ball to pick the heaviest ball they manage hoping for maximum results. If the goal is to increase strength, a heavier ball is a good choice but keep in mind the benefits a smaller, lighter ball can bring to developing speed, conditioning and coordination.
Working with a medicine ball may require some extra space since many times the exercises require throwing and catching, so be sure to have clear area to perform workouts. As with any new type of workout or workout equipment, medicine ball training works best when an individual starts slowly and gradually increases speed and intensity.
References from the SIRC Collection:
1. Clayton M, Trudo C, Laubach L, Linderman J, De Marco G, Barr S. Relationships Between Isokinetic Core Strength and Field Based Athletic Performance Tests in Male Collegiate Baseball Players. Journal Of Exercise Physiology Online. October 2011;14(5):20-30.
2. MAYHEW J, BIRD M, FLETCHER K, et al. COMPARISON OF THE BACKWARD OVERHEAD MEDICINE BALL THROW TO POWER PRODUCTION IN COLLEGE FOOTBALL PLAYERS. Journal Of Strength & Conditioning Research (Allen Press Publishing Services Inc.). August 2005;19(3):514-518.
3. Nagy J. MEDICINE BALL EXERCISES "RELOADED". American Swimming. September 2011;2011(5):18-22.
4. Rivilla-García J, Navarro F, Grande I, Ignatova A, Sampedro J. DIFFERENCES IN THROWING CAPACITY BETWEEN SENIOR AND U-18 MEN HANDBALL PLAYERS. Serbian Journal Of Sports Sciences. December 2010;4(4):145-151.
5. Rosania J. DRYSIDE TRAINING: 6 GREAT MEDICINE BALL EXERCISES. Swimming World. May 2012;53(5):28-29.
6. Szymanski D, Szymanski J, Bradford T, Schade R, Pascoe D. EFFECT OF TWELVE WEEKS OF MEDICINE BALL TRAINING ON HIGH SCHOOL BASEBALL PLAYERS. Journal Of Strength & Conditioning Research (Allen Press Publishing Services Inc.). August 2007;21(3):894-901.
---
---
The information presented in SIRC blogs and SIRCuit articles is accurate and reliable as of the date of publication. Developments that occur after the date of publication may impact the current accuracy of the information presented in a previously published blog or article.