Flow State: In the zone for optimal sports performance!
June 13, 2014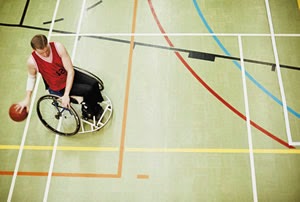 For basketball fans and sports enthusiasts this is a great time of year. March Madness is upon us. In tournaments such as this, when the outcome of a single game determines who plays on and who goes home, a single player hitting their peak can make all the difference. When an athlete can seem to do no wrong in their play, they are often referred to as being "on fire" or being in "the zone". The technical term for this state is known as flow.
Flow or the zone is a mental state where an athlete is completely focused in the present moment. As a coach, you want your athletes to be in the state of flow because they are completely focused on the task at hand. For the athlete everything seems to be easy and time ceases to exist.
What does it feels like to be in the state of flow?
Though state of flow cannot be attained at will, an athlete can train and improve on their skills so that when they experience this state they can fully immerse in the moment. An athlete in the state of flow does not lack intensity, have self-doubt or low confidence. They do not fear failure, intimidation or expectations. They have a set goal and a focus that makes being in the zone seem as if they are super human.
References Available from the SIRC Collection:
1. Alla J, Ajibua M. ACHIEVING "FLOW" STATE IN SPORT THROUGH PERIODIZATION OF TRAINING PROGRAMME. International Journal Of Sports Sciences & Fitness. July 2012;2(2):315-328.
2. Bakirtzoglou P, Ioannou P. GOAL ORIENTATIONS, MOTIVATIONAL CLIMATE AND DISPOSITIONAL FLOW IN GREEK SECONDARY EDUCATION STUDENTS PARTICIPATING IN PHYSICAL EDUCATION LESSON: DIFFERENCES BASED ON GENDER. / CILJEVI, MOTIVACIJA I STAV PREMA NASTAVI FIZIČKOG OBRAZOVANJA SREDNJOŠKOLACA U GRČKOJ: RAZLIKE BAZIRANE NA POLU. Facta Universitatis: Series Physical Education & Sport. December 2011;9(3):295-306.
3. Judge L, Bell R, Bellar D, Wanless E. Developing a Mental Game Plan: Mental Periodization for Achieving a "Flow" State for the Track and Field Throws Athlete. Sport Journal. October 2010;13(4):1-10.
4. Kaida K, Takeda Y, Tsuzuki K. The Relationship between Flow, Sleepiness and Cognitive Performance: The Effects of Short Afternoon Nap and Bright Light Exposure. Industrial Health. May 2012;50(3):189-196.
5. Koehn S. Pre-Performance Confidence as a Predictor of Flow State. Medicine & Science In Tennis. February 2012;17(1):16-21.
6. Pates J, Cowen A. The Effect of a Hypnosis Intervention on Performance and Flow State of an Elite Golfer: A Single Subject Design. International Journal Of Golf Science. August 2013;2(1):43-53.
---
---
The information presented in SIRC blogs and SIRCuit articles is accurate and reliable as of the date of publication. Developments that occur after the date of publication may impact the current accuracy of the information presented in a previously published blog or article.