Fall Foods for the Athlete
November 8, 2017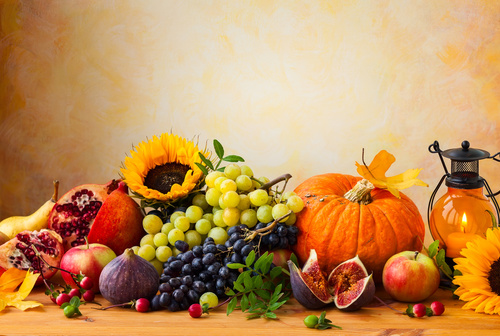 With the miracle of growing techniques available these days, many foods are available all year 'round. But most foods usually taste better when they are in season and are a great source of vitamin and nutrients that will keep your body in good working order. So take advantage of the Fall season and see what your local farmer's market or store has in season for you to boost your training.
Apples
While apples are available all year round, they are at heart a fall food and at their best this time of year. Apples are also a good source of antioxidants, and they help protect your heart and inhibit inflammation. Additionally, apples can help keep blood sugars stable and give athletes a boost during workouts.
Beets
Great for their fibre content, nitrates and ability to help replenish glycogen stores when eaten post-workout or the night before a training session, beets also help keep the gastrointestinal system running on track. Try them roasted, or join the crowd drinking beet juice for its reported benefits like "improved stamina, better blood flow, lower blood pressure, and increased speed and endurance".
Brussel Sprouts
Many of us get a bad taste in our mouth when we think about adding Brussel sprouts to our meal plan, but these vegetables are high in vitamin C to help your immune system and Vitamin B for energy. And like many fall veggies they pack a good punch in the fibre and potassium department. Try them sautéed, steamed or roasted with garlic and olive oil, or add them fresh to your salads.
Cabbage
This veggie comes in many shapes and colours and it is easy to cook it in a stir fry or chop it raw in your salad. Roughage from this vegetable helps keep your gut in good working order and they are high in vitamin K for strong bones and vitamin C for the immune system.
Cranberries
These tart little berries are a great way to help reduce post-training inflammation and support your immune system. Try it as a juice or in a smoothie, bake them in muffins or add cranberry sauce to your turkey or pork.
Dates
A great little sweet treat on a long run, dates are a great source of quick energy. They also package a punch of potassium, fibre, calcium, iron, and magnesium. Add them to energy bars, cookies, your morning oatmeal and see where it takes you.
Garlic
You don't think much about throwing this ingredient in to add flavour to many of your meals, but garlic is an anti-inflammatory, aids in post-workout recovery and boosts you immune system. That's a lot of punch in a small package.
Mushrooms
Mushrooms are those quiet foods that can be added to just about any meal, and they are a great source of vitamin D and antioxidants. Why not make them the star of the show as a Portobello burger or add them into any pasta sauce.
Pumpkin
Great for Vitamin A, one cup has more than your daily recommended amount. It's a great source of carotene, fibre and antioxidants, and high in potassium that aids in post-exertion recovery.  Also try roasting the seeds as a great source of protein.
The cornucopia of fruits, veggies and other foods available for your athlete's table is in abundance this time of year. Dare yourself to try something new or go back to so old favorites to get the best nutrition out of some healthy foods. Don't know what to do with them all? Talk to a dietician or sports nutritionist to find out the best way to incorporate them into your diet.
Sources:
(2013). 4 Healthy Fall Food Ideas for Athletes. Stack.
Montefiore, S. (2017). 9 Seasonal Foods Athletes Should Load Up on This Fall. Outside.
Reino, N. 10 seasonal foods and recipes for athletes. Active.
---
---
The information presented in SIRC blogs and SIRCuit articles is accurate and reliable as of the date of publication. Developments that occur after the date of publication may impact the current accuracy of the information presented in a previously published blog or article.