Beach Running – Your Summer or Vacation Workout
July 6, 2016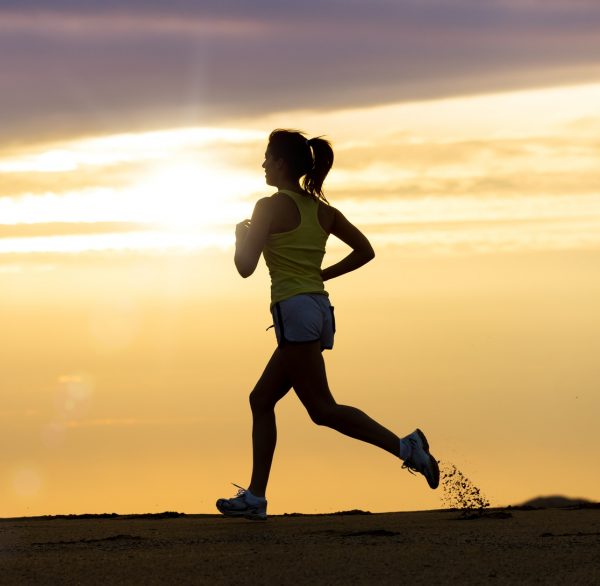 Now that summer is officially here, our thoughts are with sunshine, barbeques, and days spent on the beach. Beach running offers many benefits to a runner that wants to up the challenge a bit. Breathing the air, taking in the scenery and the people, not only does it feel good, it can be a great way to boost your fitness levels.
Running on sand requires 1.6 times the energy that running on a hard surface requires, and your body has to work harder to respond to "external modifications," – Dr. Thierry M. Lejeune, of St. Luke's University Clinics in Belgium, New York Times
Start Slow – Like any other form of training, if you've never run on sand before, ease into it. While it's an exercise that has less impact than road or trail running, running in sand (wet or dry), offers up more resistance and uses more energy. Start with a 15-20 minute walk/jog and gradually build up the strength in your calves, ankles, and feet until you can run consistently. If needed, invest in some ankle support bandages to protect your muscles until they strengthen.
Form – Know that you'll be moving at a slower pace – up to 30% – and that shorter, quicker strides work best with the changing surface. Beaches are on a slope so try to find and area with the least amount of slope, pick a turning point and reverse your run half way through. This will help avoid injuries from occurring due to one-sided stress.
Strength Training – Running on sand is difficult but it can be a great way to build strength, especially in the smaller muscles in the foot and ankle. Since these stabilizing muscles will be getting a new workout, expect your ankles and tendons to be sore the first few times out.
Protect yourself – Pay close attention to potential hazards, such as jellyfish, wood, shells, small dips in sand, etc. Sunscreen is a must at any time in the summer but the sun's rays are intensified from the sand and water; sunglasses, a hat and appropriate clothing are also essential.
Barefoot or Running Shoes – Ultimately the choice to go barefoot or wear shoes is up to each individual. As mentioned above, a lot will depend on the beach you are running on; sand with a lot of debris is not a good idea for bare feet. The length of time you will be training on sand is another factor – if you are on vacation for a week or two, you will not build up the strength required for barefoot running in the time available. If on the other hand, you are committed for the summer, start running with shoes and transition slowly to barefoot.
Going on vacation doesn't have to mean foregoing all your training. Running on a beach is a perfect mix of scenery and exercise and is an excellent way to incorporate a workout routine during your travel plans while still taking the time to relax.
---
About the Author(s)
Michelle is an information management specialist with many years focusing on sport and fitness research and education. Michelle has been sharing her expertise with SIRC for over 3 years.
References
Alcaraz P, Palao J, Elvira J, Linthorne N. EFFECTS OF A SAND RUNNING SURFACE ON THE KINEMATICS OF SPRINTING AT MAXIMUM VELOCITY. Biology Of Sport. June 2011;28(2):95-100.
Barrett R, Neal R, Roberts L. The dynamic loading response of surfaces encountered in beach running. Journal Of Science & Medicine In Sport. January 1998;1(1):1-11.
DeNecochea D. Beach Off-Season Training. Volleyball (10584668). January 2007;18(1):50.
Pinnington H, Dawson B. The energy cost of running on grass compared to soft dry beach sand. Journal Of Science & Medicine In Sport. December 2001;4(4):416-430.
The challenges of beach running. Sports Medicine Bulletin. August 21, 2012;:6.
Yigit S, Tuncel F. A comparison of the endurance training responses to road and sand running in high school and college students.Journal Of Strength & Conditioning Research (Allen Press Publishing Services Inc.). May 1998;12(2):79-81.
---
The information presented in SIRC blogs and SIRCuit articles is accurate and reliable as of the date of publication. Developments that occur after the date of publication may impact the current accuracy of the information presented in a previously published blog or article.