Addressing Under-reporting of Concussion in Para Sport
August 14, 2019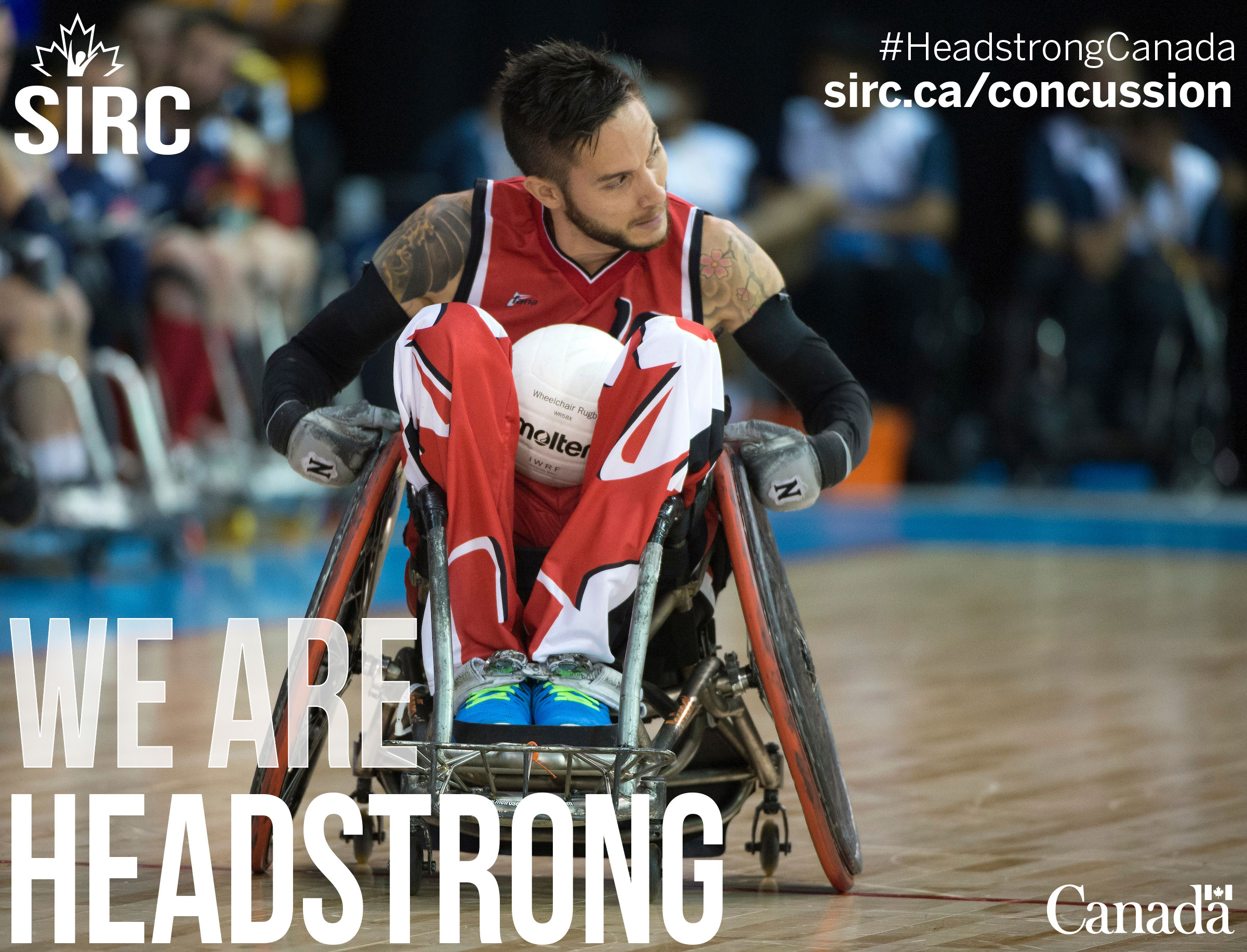 Given the high-impact nature of many Para sports, concussions may seem like an inevitability.
According to Dr. Andy Marshall, Chief Medical Officer of the Canadian Parapan Am and Paralympic Team, stronger data has elevated the national dialogue around this fact – and the Para sport community itself has made leaps and bounds in a short time period.
"Injury data for Para athletes is something that's been around for a while, but until 2016 there was no concussion-specific injury data," said Dr. Marshall in an interview with SIRC. "It's so important to know the data, know the voids, and how can we improve."
A 2018 review published in the journal Physical Medicine and Rehabilitation Clinics, and co-authored by Drs. Jamie Kissick and Nick Webborn of the International Paralympic Committee Medical Committee, revealed that concussions were consistently under-reported at international games. And in certain sports, reports of concussions were non-existent. For example, at the Rio 2016 Paralympic Games, zero concussions were reported in five-a-side blind football—despite it being one of the Para sports identified as "high risk" for concussion occurrence.
Findings from the paper made the Para sport community rethink concussion management and prevention from the top down.
"It used to be 'take a break, pour a little water on the head, and go back'—the classic soccer mentality —and that's not OK. But education is starting to pay off. Now we study concussions with Para athletes, look at film to study signs, symptoms and indicators, and we can see the culture shifting," said Dr. Marshall.
Since then, progress on concussion prevention and management has been visible across the Para sport community.
This will be evidenced at the upcoming Lima 2019 Parapan American Games, where Canada's Para athletes will compete for the first time with a rigid concussion protocol in place. Co-developed by medical experts at the Canadian Olympic and Paralympic Sport Institute Network, Own the Podium, the Canadian Olympic Committee, and the Canadian Paralympic Committee, the new Concussion Guidelines for High Performance Sport help protect Canadian high-performance Para athletes at major multisport games.
Dr. Marshall said "remove" and "return" to sport – tenets of SIRC's 4 Rs of concussion management – are central to Para sport's approach.
With the high performance guidelines in place, and national Para sport organizations developing sport-specific protocols, proactive concussion prevention and management strategies are being implemented across the Para sport community. Para sports are becoming safer.
"What we're seeing now is education at the higher levels and a gradual trickle-down effect," said Dr. Marshall. "Ultimately what we want is for these policies and practices to be integrated from the national and international levels, right down to the community level for house league athletes, where concussions are part of the discussion when accidents and injuries and falls happen."
With concussion management and prevention education underway, data continues to inform the discussion. And the more Para sport-specific research that can be developed, the better.
"Knowing where the biggest problems are will help fix the problem. We know data is key – and we know that para-specific research will need to play a central role."
This blog is part of SIRC's #HeadstrongCanada concussion awareness, prevention and management campaign. The campaign features tools, resources, and best practices in managing and preventing concussions in sport in Canada. Developed in partnership with Sport Canada, Public Health Agency of Canada and other organizations, the toolkit offers credible information and templates recognized by stakeholders throughout the sport system.
Check out the concussion website for concussion information and tools to help your sport be concussion smart. For concussion information directly to your inbox, sign up for SIRC's concussion newsletter.
Recommended SIRC Resources
Innovative Research is Reducing Concussion Risks for Artistic Swimmers
Is accessibility enough? How to create quality experiences in parasport
---
About the Author(s)
Peter Morrow is SIRC's Knowledge Mobilization and Communications Specialist, leading the dissemination of SIRC's resarch, information and resources into the sport community level. He is a multi-sport athlete, currently enjoying soccer, hockey, softball, golf and tennis.
---
The information presented in SIRC blogs and SIRCuit articles is accurate and reliable as of the date of publication. Developments that occur after the date of publication may impact the current accuracy of the information presented in a previously published blog or article.