2020 Arctic Winter Games: How Uneven Competition Led to Significant Change in Northern Sport Development
June 21, 2019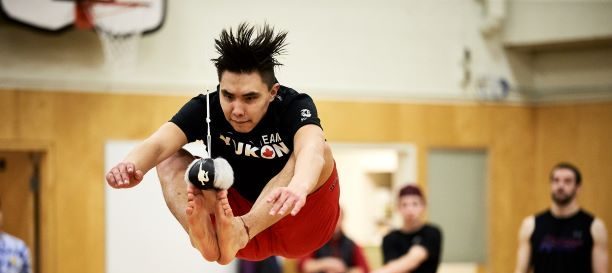 This is the first blog in a series leading up to the 2020 Arctic Winter Games that will be hosted by Whitehorse, YT March 15-21, 2020. Subsequent blogs will focus on the logistical challenges of hosting in a smaller centre, engaging remote northern and First Nations communities, and the incorporation of Circumpolar culture.
Living in the North certainly brings unique challenges, and for athletes who grow up far from larger centres, the opportunities at home can be limited. With a population base of just 36,000 in the entire Yukon Territory as an example, local youth can't always find strong and engaging competition.
That challenge was evident in 1967, when the first Canada Winter Games were held in Quebec City. Teams from the Yukon and Northwest Territories were struggling to keep up with their provincial counterparts. After witnessing some of the lopsided scores, Yukon financial advisor Cal Miller came up with what he would later refer to in media interviews as "the best idea since the invention of 7-Up".
Miller suggested that the Circumpolar North create their own Winter Games, where athletes could experience a similar level of competition among their peers. Two years later, the Arctic Winter Games (AWG) were born and the Arctic Winter Games Corporation, later changed to the Arctic Winter Games International Committee, was formed to oversee the Games.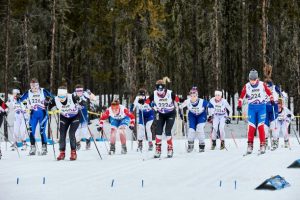 The first AWG were held in Yellowknife, NT in 1970, engaging 500 athletes from Alaska, Northwest Territories, and Yukon. In March of 2020, an estimated 2,000 participants from nine contingents will be in Whitehorse as the Games mark their 50th anniversary. Participants now come from Greenland, Nunavik (northern Quebec), Northern Alberta, Sápmi (Norway, Sweden, Finland) and Yamal (Russia), as well as Alaska, Northwest Territories, Nunavut, and Yukon.
Held every two years, the AWG feature 21 sports in four categories: traditional sports, Nordic sports, indoor sports, and ice sports. Traditional sports are highlighted through Arctic Sports and Dene Games, some of the most popular events for spectators. Arctic Sports consists of several feats of athletic strength and endurance such as the Alaskan high kick, kneel jump, airplane, head pull and knuckle hop. Dene Games events include finger pull, snowsnake, hand games and pole push. Both the Arctic Sports and Dene Games are intertwined with traditional and cultural values. Nordic, indoor and ice sports include more mainstream sports such as basketball, curling, cross-country skiing, hockey and snowboarding.
The AWG have become a significant part of northern sport development over the past 50 years, and they have produced some formidable athletes. Six northern athletes who represented Canada in the 2018 Olympic Winter Games competed in the Arctic Winter Games on their way to the world's biggest athletic stage, including Dahria Beatty (cross-country skiing), Brendan Green (Biathlon), Knute Johnsgaard (cross-country skiing), Kevin Koe (curling), Graeme Killick (cross-country skiing), and Emily Nishikawa (cross-country skiing).
Former NHL player Jordin Tootoo (NU) and NBA player Carlos Boozer (AK) are also AWG alumni. Yukon Olympian Jeane Lassen, who was an Athlete Mentor in PyeongChang 2018 and competed at the 2008 Summer Olympics, attended two AWG as an athlete. She's now the Ambassador for Whitehorse 2020.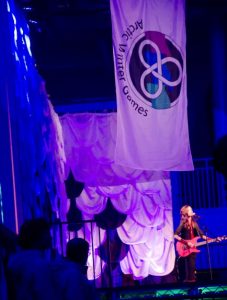 But perhaps most importantly, the Arctic Winter Games offer residents in the Circumpolar North a chance for cultural exchange and social interaction. Cultural programming at the AWG includes participants from all contingents who come together to learn from one another and demonstrate their unique artistic talents.
The vision for 2020 puts emphasis on First Nations culture and community inclusion. A historic Memorandum of Understanding was recently signed between the 2020 AWG Host Society and Yukon First Nations committing to meaningful engagement in the celebration of sport, culture, languages and traditions. A statement of welcome will be posted in Pride House that speaks to inclusion and acceptance of all participants, similar to that used at the 2019 Canada Games.
What began as an idea to level the playing field for northern youth has turned into an international multi-sport Games that continues to provide an extraordinary social and economic impact on the region.
Of course, hosting a multi-sport Games in the Circumpolar North can be logistically complicated. Imagine trying to get 1,800 mattresses shipped 2,100 kilometres up the highway to a northern remote community. We'll explore the ways communities address those challenges in subsequent posts – follow SIRC's Daily News Hub to stay up to date on postings!
The 2020 Arctic Winter Games will be hosted by Whitehorse, Yukon March 15-21, 2020. Follow the action leading up to and during the Games on Facebook, Instagram, Twitter and YouTube.
---
About the Author(s)
Echo Ross is the Marketing and Media Manager for the 2020 Arctic Winter Games. Echo has a background in journalism, and covered two previous Arctic Winter Games as a member of the media. She has also worked in marketing and communications for several national and international events, including three World Softball Championships, the 2019 National Aboriginal Hockey Championships, 2012 Arctic Winter Games, and the annual Yukon Quest International Sled Dog Race. Outside of her work for the 2020 AWG, she manages the sport tourism program for Sport Yukon as a contractor.
---
The information presented in SIRC blogs and SIRCuit articles is accurate and reliable as of the date of publication. Developments that occur after the date of publication may impact the current accuracy of the information presented in a previously published blog or article.