THE DEVELOPMENT OF PARALYMPIC ATHLETES IN CANADA
April 12, 2017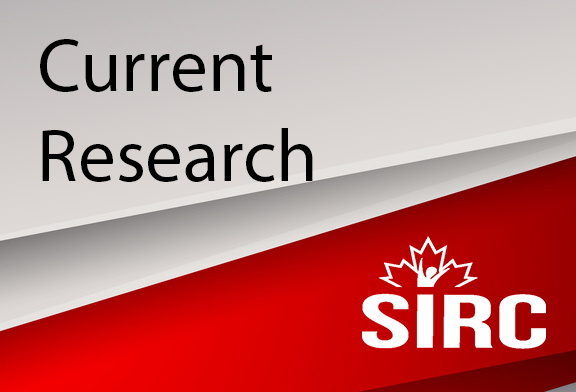 SIRC is pleased to be working together with Sport Canada to share current research on topics informing policy and promoting quality sport programming. This week we are sharing highlights of a recent article examining THE DEVELOPMENT OF PARALYMPIC ATHLETES IN CANADA.
How Countries Identify, Recruit, and Prepare Future Athletes for the Paralympics: Case Study – Canada.
Higgs C and Legg D. (2016). Palaestra, 30(3), 23-30.
SIRC Highlights from the article
Canada has played a significant role in the development of the Paralympic movement and due to a social and economic culture that supports persons with a disability and disabled sport we have done well at the Paralympic Games. While Canada still maintains a high international standing in the Winter Games, it has been noted that our standing in the Summer Games has dropped significantly since the 2004 Games. In order for Canada to return to a higher the authors suggest through this paper how Canada can show renewed, or even new, focus on the identification, recruitment and preparation of future high performance athletes with a disability.
The authors identify several potential explanations as to why Canada's medal performance has dropped over the last 3 Summer Games:
Greater international engagement in Paralympic sport with more nations taking home medals commensurate with their population size. Canada starts with a smaller population size with a lower population of persons with a disability and a large number of that population over 65 years of age.
Higher levels of Health and safety regulation in industry and safer cars on the roads in Canada have resulted in a reduction in serious injuries from vehicle and industrial accidents over the long-term. Therefore the population of persons with a disability from which to recruit and train athletes is smaller.
Canada' significant commitment to drug free sport means that our culture does not support getting ahead by any means.
Canada's participation in military conflict is less than other countries and often focuses on peacekeeping meaning that Canadian soldiers may be less likely to be exposed to higher risk and thus experience fewer traumatic injuries that would be commonly found amongst Paralympic athletes.
More countries are committed to Paralympic success and are investing more heavily in Paralympic sport than before.
Also advanced as a possible reason for perhaps higher than normal success between 2000 and 2008 is a single cohort of exceptional high performance athletes that had a high success rate throughout this time period.
The evolution of athlete development for athletes with a disability in Canada
Whereas sport for persons with disabilities were administered by Disability Sport Organizations (DSO) who had access to the athletes but weren't necessarily strong in the capacity to train the physiological and psychological skills for high performance, by the mid 1990's National Sport Organizations (NSO) took over this program to support programming for ALL athletes. While this satisfied the need for high performance training support at the national level, it did not readily filter down to the provincial/territorial or community level. This also signaled a change of focus from disability first and sport second, to a primary focus on sport over disability. The success of athletes with a disability in the early stages of this may be due "serendipity, luck or accident", but the next generation of athletes was not successfully being developed, resulting in more current lack of medal success.
Building of a long-term athlete development (LTAD) plan supporting the specific sport needs of athletes with disabilities (No Accidental Champions) came out of the 2002 Canadian Sport Policy and has been widely supported by national sport governing bodies and programs funded by the Canadian federal government. "LTAD identifies 10 key factors for effective athlete development and recognizes where adaptations are needed for athletes with a disability". Ten changes that would boost recruitment and development of athletes with a disability – including improvements in coaching, competition, funding, equipment, facilities, training and competition partners, sport science, officials' support, athlete support, and talent development – were also identified. It is noted that this model has not been tested and empirical evidence of its effectiveness is currently lacking.
The authors then question if the move towards inclusive sport administration at the national level and implementation of an LTAD model has been the correct move. In a benchmark survey of NSOs in 2012, findings showed that almost half of NSOs still did not have either a stand-alone LTAD framework for athletes with a disability or include it as part of their existing LTAD model. Some of these NSOs indicated that frameworks/adaptations to frameworks were in process or were desirable but capacity to build it was lacking.
Other initiatives for improving identification and development of athletes with a disability:

Own the Podium – This organization focuses on providing technical support to NSOs with the goal of more Olympic and Paralympic medals. Their 2015 recommendations to reverse the decreasing trend of medals were for parasport in Canada to focus on "having more world-leading coaches and technical leaders, world-leading daily training environments, deliberate centralization of national teams, para-specific high performance pathway managers, and more sport science and sport medicine practitioners with parasport knowledge". The suggestion was also to create specific parasport pathways to track and monitor athlete development, and to improve talent transfer, identification and development.
Canada Games – Measures have been put in place within the hosting protocols of the Games to support opportunities for athletes with disabilities (e.g. 5% quota for Parasports within the Games and increased standards for accessibility.)
Canadian Paralympic Committee's (CPC) Athlete ID Camps – These talent identification camps were created in 2016 after an environmental scan of other countries' programs. Run by Canadian Sport Institutes across the country tested potential athletes' capacity for high performance sport based upon protocols developed in partnerships with sports with a high performance focus. While current numbers are initially small this is the first attempt to create a longitudinal study into "performance Progression of Canadian Paralympic Athletes", to understand benchmarks in skills/traits contributing to high performance parasport success.
Canadian Armed Forces – Solider On – "The goals of this program are to empower and inspire ill and injured service members to overcome adversity through sports and other physically challenging activities". While the focus is mainly on community-based programming, it has also served as an avenue to identify and recruit athletes.
CPC System Development Fund – Through grants the CPC invests in system improvements such as developing coaching, recruitment, equipment, etc. It is allocated based upon targeted stages of LTAD and goes towards new programs or expansion of existing programs that provide opportunities for parasport introduction or making equipment/training more accessible.
Improvements to the talent identification and development system in Canada has been noted for both able-bodied and persons with a disability. It is particularly important in the Paralympic context if the goal is to improve our international standing. Seven recommendations are put forward by the authors:
1)NSO should develop LTAD plans for athletes with a disability at the same time as those for able-bodied athletes.
2)Better system alignment at all levels for a seamless progression from sport entry to podium performance.
3)Sport organizations receiving government funding should be required to develop parasport programs as core programs not as separate if there are additional funds.
4)Talent ID programs should expand to include parasport and should include a focus on talent transfer between and among sports
5)Negotiate media coverage incorporating sport for athletes with a disability to increase awareness.
6)Encourage sponsors to showcase athletes with a disability.
Celebrate successful Paralympic athletes at the same level as able-bodied athletes.
---
---
The information presented in SIRC blogs and SIRCuit articles is accurate and reliable as of the date of publication. Developments that occur after the date of publication may impact the current accuracy of the information presented in a previously published blog or article.