Supporting the Remote Worker – What Leaders Need to Know
September 21, 2016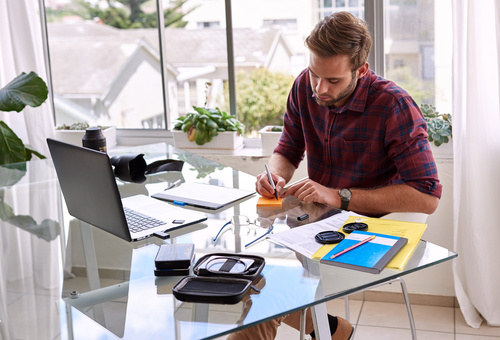 Telecommuting or remote work is steadily on the rise with its low cost, flexibility, and appeal to work-life balance. While in the past, working from home was seen as a special request, granted only for particular circumstances, in today's world, many employees now see remote work as a perk and sometimes even an expectation when hunting for a new job.
"[A] study by Stanford Economics Professor Nicholas Bloom found that employees who worked from home were 13.5% more productive than those performing the same jobs in an office." – Leaving the Office Behind: A Guide to Remote Work
Remote work has many benefits for employers and employees and while many organizations are starting to implement telecommuting, they may not always know how best to set up their employees to thrive.
So what does a remote worker look like?
Remote workers consist of any employees that complete work outside of the regular office environment. Generally people who telecommute are between the ages of 25-44 and include people on travel status, evening or overnight workers, employees that work from home, or independent contractors.
How can a manager best support remote employees?
Open communication – While work environments and employees vary from place to place, there a few guidelines everyone can easily implement that can make the transition to remote work easy for both parties. From the beginning it's a good idea to ensure that communication lines are open. Have a frank conversation with remote employees, to discuss the ways they work best. That may mean periodic check-ins (daily, weekly, monthly, as required) as well as encouraging open feedback that goes both ways.
Provide and Use Technology – For an employee to be successful, it's up to the employer to provide the necessary equipment they will need to do the job. Items to provide may include: a laptop or desktop computer, reliable internet access, secure remote access to the company's internal network, access to corporate messaging systems (for example, SMS, IM, voicemail, email), and a phone.
Emotional Connectivity – A number of telecommuters can experience loneliness or feel disconnected from their peers, particularly in the first year on the job. To help address this issue, managers can organize quarterly get-togethers with the entire company or team, enable a chat function between employees, or use video-conferencing tools when having a meeting.
Organization – To be successful when hiring a new remote worker, it's a good practice to have a strong onboarding system in place. This will help to ensure engagement right at the start, build trust between the new hire and management, and assist with forging relationships with team members. From the beginning, outline clear objectives, timelines and goals with check-ins scheduled and equipment provided from the beginning.
Building Trust – This issue is a big one when a manager is allowing an employee to work unseen. The best way to ensure that a person is accomplishing their tasks is to monitor their results. Set specific goals and timelines and if they aren't met, communicate with them to find the source of the problem. There is software available that tracks keystrokes, time away from the computer, etc. but an employer runs the risk of breaking the employee relationship with such invasive monitoring.
Many studies show that when an organization embraces telecommuting: production increases, costs go down, and retention goes up. If properly supported, remote workers can be an invaluable asset to small and large organizations alike.
References:
Crunden N. Help mobile workers feel less remote. Occupational Health. June 2016;68(6):11.
JEE YOUNG S. PERSON–ORGANIZATION FIT, FAMILY-SUPPORTIVE ORGANIZATION PERCEPTIONS, AND SELF-EFFICACY AFFECT WORK–LIFE BALANCE. Social Behavior & Personality: An International Journal. July 2016;44(6):911-922.
Look after the health of mobile workers. Occupational Health. June 3, 2016;:5.
VINK J, Armstrong M. How to (actually) work from home. Men's Fitness. March 2016;32(2):54-55.
About the Author: Michelle is an information management specialist with many years focusing on sport and fitness research and education. Michelle has been sharing her expertise with SIRC for over 3 years.
---
---
The information presented in SIRC blogs and SIRCuit articles is accurate and reliable as of the date of publication. Developments that occur after the date of publication may impact the current accuracy of the information presented in a previously published blog or article.