Striving for Athletic Perfection
October 16, 2014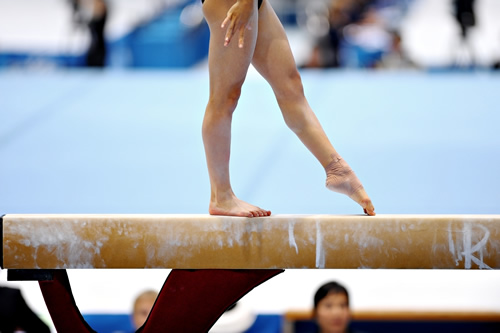 When stepping onto the field of play, every athlete wants to have the perfect performance. Being a perfectionist may allow you to set high standards and be meticulous about your routine or craft until it is flawless. The pursuit of perfection can also give you the drive to improve, be disciplined and detail-oriented; characteristics that are highly valued by athletes. Sometimes the dangers in perfectionism are that the standards set by perfectionists may be too difficult. When a perfectionist falls short, they may devalue the work that they have put in or the accomplishment they have achieved.
The Multidimensional Conceptualization of Perfectionism recognizes that there are three factors that can affect an individual's personal and social perspective:
Self-oriented perfectionism – unrealistic standards and perfectionism towards one-self.
Other-oriented – unrealistic standards and perfectionism towards others (e.g., spouse, parents, teammates etc.)
Socially prescribed – belief that others expect oneself to be perfect
Research has also looked at the positive benefits of adaptive perfectionism. The general conclusion is that perfectionism can be positive if the athlete is able to control the negative impulses which may come about when falling short of perfection. In doing so, the athlete will be able to cope when they are unable to meet their goals, thus allowing them to learn and develop from failure.
Make realistic goals that are attainable
Set time limits to allow you to attend to other things.
Learn to deal with criticism
Though this is of course relative to each athlete, anything less than perfection to a perfectionist is considered unacceptable. Realistically, the perfect performance for a perfectionist is unattainable, since they are never fully satisfied with the results they achieve. On the other hand, an athlete at the elite level, where the difference in ability is very miniscule, perfectionism might be the difference between being on the podium and winning it all.
Perfectionism can go either way. It can impact an athlete's confidence and depending on how well the athlete is performing, it can either boost it or hinder it. Although the maladaptive aspect of perfectionism can negatively effect an athlete's perception, balancing the lessons of disappointment and victory can have a positive effect. Being able to apply a level of discipline and control can lead to positive outcomes, which after all is the currency of success for any competitive athlete.
References from the SIRC Collection:
1. Hill A. Perfectionism and Burnout in Junior Soccer Players: A Test of the 2 × 2 Model of Dispositional Perfectionism. Journal Of Sport & Exercise Psychology. February 2013;35(1):18-29.
2. Hill A, Stoeber J, Brown A, Appleton P. Team Perfectionism and Team Performance: A Prospective Study. Journal Of Sport & Exercise Psychology. June 15, 2014;36(3):303-315.
3. Molnar D, Sadava S, Flett G, Colautti J. Perfectionism and health: A mediational analysis of the roles of stress, social support and health-related behaviours. Psychology & Health. July 2012;27(7):846-864.
4. Nordin-Bates S, Hill A, Cumming J, Aujla I, Redding E. A Longitudinal Examination of the Relationship Between Perfectionism and Motivational Climate in Dance. Journal Of Sport & Exercise Psychology. August 2014;36(4):382-391.
5. Ulu I, Tezer E. Adaptive and Maladaptive Perfectionism, Adult Attachment, and Big Five Personality Traits. Journal Of Psychology. July 2010;144(4):327-340.
6. XUETING Z, HONG Z, BIN Z, TAISHENG C. PERCEIVED SOCIAL SUPPORT AS MODERATOR OF PERFECTIONISM, DEPRESSION, AND ANXIETY IN COLLEGE STUDENTS. Social Behavior & Personality: An International Journal. August 2013;41(7):1141-1152.
---
---
The information presented in SIRC blogs and SIRCuit articles is accurate and reliable as of the date of publication. Developments that occur after the date of publication may impact the current accuracy of the information presented in a previously published blog or article.