Let them lead: The benefits of shared athlete leadership
January 5, 2022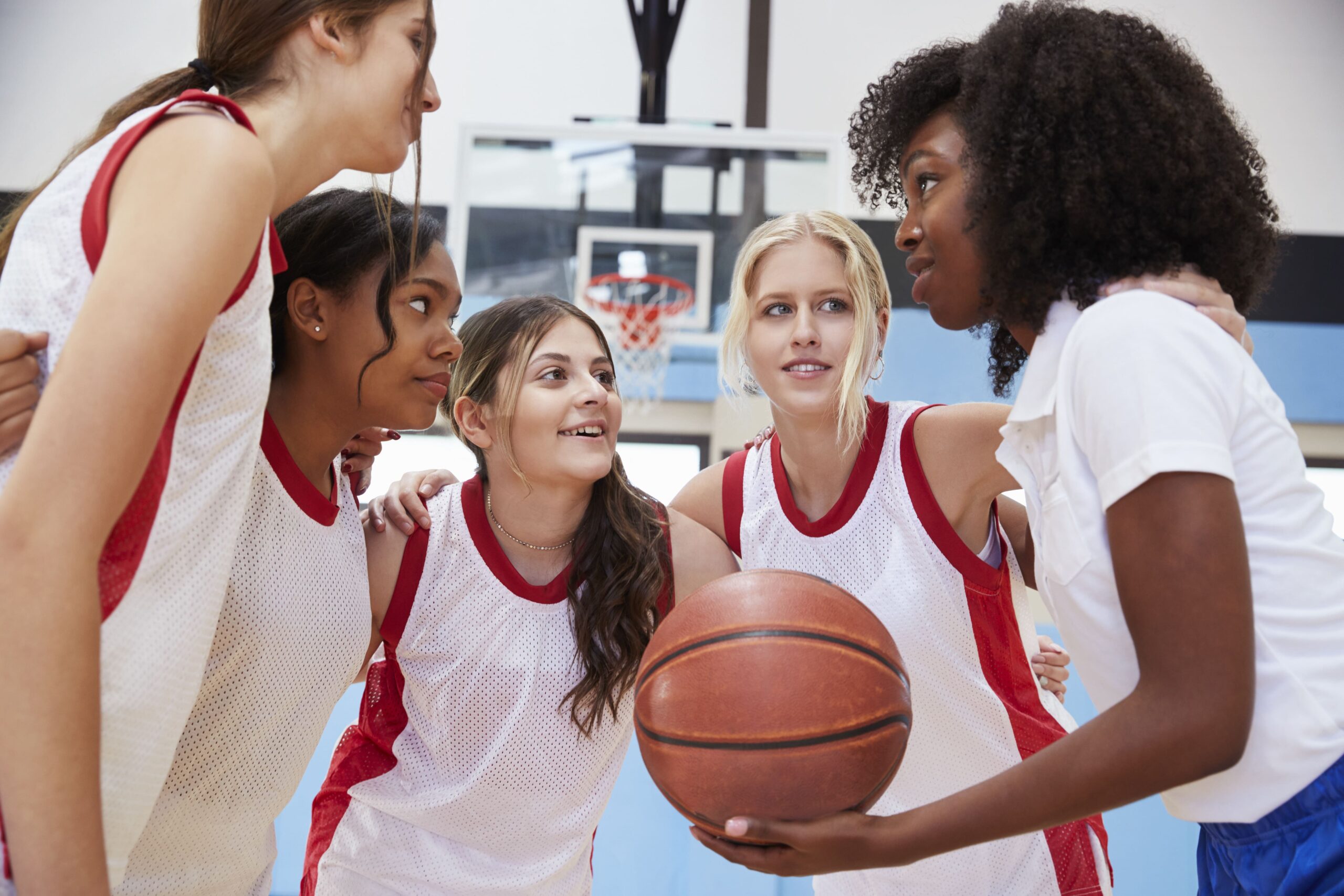 In its inaugural season, the Las Vegas Golden Knights, a team of so-called "misfits" patched together from 30 other National Hockey League (NHL) teams, reached the Stanley Cup finals. One reason for their success was that they didn't assign traditional on-ice captains. Instead, the team philosophy was that there were "23 captains." According to Golden Knights forward Reilly Smith (as quoted in the Washington Post):
"We needed 23 different leaders to be able to come together and build a team… it [took] all of us."
The benefits of enhanced athletic leadership should be of great interest to coaches, athletes, and teams alike. Those benefits make leadership development for all team members a worthwhile area to devote effort. In reading this blog, coaches will be able to identify and apply many ways in which athletes can fulfil a leadership role and a shared leadership structure. And ultimately, they can attain benefits of athlete leadership in team functioning and success.
Shared athlete leadership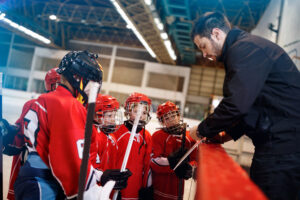 Head coaches have long been recognized as the foundation for leadership in sports teams. However, athletes can, and must, occupy leadership roles to support a group's functioning and achieve team success (Duguay et al., 2016). Athletes themselves have expressed that over 85% of teammates should display some type of leadership role, whether those roles are formally or informally recognized (Duguay et al., 2016). Studies have shown that improving the number and effectiveness of athletic leadership on a sports team enhances team motivation, communication, cohesion, role clarity, satisfaction, and ultimately, performance (Fransen et al., 2015; Price & Weiss, 2013). As the Golden Knights exemplified, an effective way to increase team dynamics and success is by structuring shared leadership among teammates, instead of assigning formal team leaders (Leo et al., 2019).
The Golden Knights aren't alone in establishing a shared leadership model and reaping its rewards. In the 2018 to 2019 season, Canada's Vancouver Canucks appointed 4 alternate captains in place of sole captaincy (Sportsnet, 2018). Bo Horvat, Chris Tanev, Alexander Edler, and Brandon Sutter shared the leadership responsibility of the team, and head coach Travis Green made it known that the Canucks culture and identity centered on this collective leadership model (Sportsnet, 2018). This shift in leadership structure resulted in significant progress for the team as they not only clinched a playoff spot but also had their highest point total since 2015 (Trettenero, 2019). It appears that these described advantages aren't anomalies, and that improving and sharing athletic leadership across members may be key to unlocking team success.
So, who are these athlete leaders?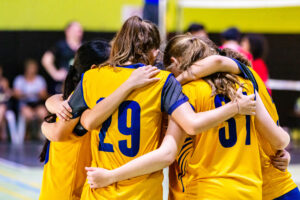 Duguay et al. (2016) defined athlete leadership as "an athlete occupying a formal or informal leadership role within a team who influences a group of team members to achieve a common goal." In this sense, formal leaders receive their assigned role from the coach or as an outcome of the team's selection. By contrast, informal leaders emerge based on their interactions and behaviours with teammates (Duguay et al., 2016).
Athlete leaders take on different roles on a team (Fransen et al., 2015):
Task-oriented leaders: Provide strategic advice and make decisions to help the team achieve objective goals (for example, athletes who can identify a relevant play in a game situation and rally their teammates to execute the plan).
Motivational leaders: Encourage teammates to perform their best and give their full effort during games and practices (for example, an athlete who is first to congratulate or recognize their teammates success and improvement).
Social leaders: Promote and develop relationships and defuse conflict between teammates outside of practice or game times (for example, athletes who relate to and have good relations with all teammates and bring the team together).
External leaders: Take the lead in communicating with outside sources such as management, sponsors, and the media (for example, athletes whom teammates trust to liaise with the coaches and referees).
The diversity of roles athletes undertake allows many players to fulfil a leadership position in some capacity (Fransen et al., 2015). Additionally, the more athletes who take on leadership roles, whether they're task-oriented, motivational, social, or external roles, the more the leadership load is distributed and the more benefit the team receives. Specifically, having more athletes act as leaders improves group identification and confidence, and achieves both task-oriented and social cohesion. Combined, these improvements contribute to team functioning, performance and success. As such, it's essential that team management and coaches work to instill a culture of multiple leaders within a team. Promoting a shared leadership structure among the group is more than essential, it's critical to organizational success (Leo et al., 2019).
Creating a team of leaders, not a team leader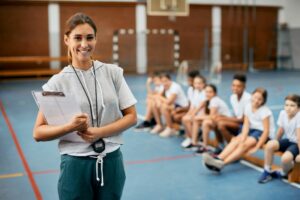 Understanding the many ways athletes can be leaders on a team, Leo et al. (2019) described a "shared leadership" structure in which there are multiple leaders within a team. This structure allows for the distribution of leadership positions among the players based on their behaviours and alignment with leadership roles. When it comes to establishing a shared leadership structure, it's been suggested that having 3 task-oriented leaders, 2 social leaders, 2 external leaders, and multiple motivational leaders was ideal for improving team effectiveness (Leo et al., 2019).
Increasing the number of athletes designated to leadership roles allows other athletes a greater variety of knowledge and expertise, personalities to bond with, and more balanced and representative decision-making. Having more individuals fulfil leadership roles fosters greater social and task-oriented cohesion among team members. This happens because athletes are more likely to connect with their leader representatives, thus creating a winning feedback loop that results in a more successful team (Leo et al., 2019).
Based on this research, practical recommendations for coaches to prioritize a shared leadership model include:
Be aware of the many ways in which athletes can lead on a team and what roles they entail (task-oriented, social, external, motivational leaders).
To foster many leaders within a team, concentrate on leadership development efforts for more athletes, for example, team-wide athletic leadership workshops (Duguay et al., 2016).
Invoke a shared leadership structure, with designated task-oriented, social, external and motivational leaders (Leo et al., 2019).
Provide athletes with opportunities to make leadership decisions, for example, having athletes come up with drills and practices or planning team meetings (Gould & Voelker, 2010).
We're all in this together
Coaches are undoubtedly leaders themselves and act as role models and mentors to their athletes. However, coaches can, and should, empower and provide autonomy to their athletes to also become leaders. When examining best coaching practices, a mistake many coaches identified was not allowing their captain or team leaders enough opportunity to facilitate athletic leadership, resulting in missed chances for success (Gould & Voelker, 2010).
So consider this, at the beginning of the 2017 to 2018 NHL season, the Vegas "Golden Misfits" were given 500‑to‑1 odds to win the Stanley Cup. And yet, the Golden Knights became the first franchise in NHL history to sweep a postseason series in its first season and make it to the Stanley Cup finals (Kaplan, 2018). An essential, competitive differentiator contributing to this newly formed team's success may have been the shared leadership and their "23‑leader mindset." Given this, it should be top of mind for coaches to implement a shared leadership structure and support the formal and informal task-oriented, motivational, social, and external leaders within their team. Doing so will optimize team functioning and improve success over the season (Leo et al., 2019). As Reilly Smith accurately stated, winning takes all of us!
---
About the Author(s)
Emma Schotanus is in the fourth year of her undergraduate degree in Kinesiology at Queen's University. She enjoys getting outdoors and she danced competitively for many years. After graduating, Emma plans to continue her education and become a physiotherapist.
Luc Martin, Ph.D., is an associate professor in the School of Kinesiology and Health Studies at Queen's University. His research interests lie in the areas of positive youth development and team dynamics in sport. Emma completed this blog as an assignment in his KNPE 363 Team Dynamics course.
References
Duguay, A.M., Loughead, T.M., & Munroe-Chandler, K.J. (2016) The development, implementation, and evaluation of an athlete leadership development program with female varsity athletes.  The Sport Psychologist, 30 (2), 154-166. http://dx.doi.org/10.1123/tsp.2015-0050
Fransen, K., Puyenbroeck, S.V., Loughead, T.M., Vanbeselaere, N., Cuyper, B.D., Broek, G.V., & Boen, F. (2015). The art of athlete leadership: Identifying high-quality athlete leadership at the individual and team level through social network analysis. Journal of Sport and Exercise Psychology, 37(3), 274-290. http://dx.doi.org/10.1123/jsep.2014-0259
Gould, D., & Voelker, D.K. (2010). Youth sport leadership development: Leveraging the sports captaincy experience. Journal of Sport Psychology in Action, 1(1), 1-14. DOI: 10.1080/21520704.2010.497695
Kaplan, E. (2018, June 12). Fifteen days that defined the Golden Knights' season. ESPN. https://www.espn.com/nhl/story/_/id/23762995/nhl-remembering-vegas-golden-knights-ridiculous-inaugural-season
Khurshudyan, I. (2018, November 27). No captain, my captain: Tradition-rich NHL teams are no longer giving players the 'C'. The Washington Post. https://www.washingtonpost.com/sports/2018/11/27/no-captain-my-captain-tradition-rich-nhl-teams-are-no-longer-giving-players-c/
Leo, F.M., García-Calvo, T., González-Ponce, I., Pulido, J.P., & Fransen K. (2019). How many leaders does it take to lead a sports team? The relationship between the number of leaders and the effectiveness of professional sports teams. PLoS One, 14(6), 1-23. http://dx.doi.org.proxy.queensu.ca/10.1371/journal.pone.0218167
Price, M.S., & Weiss, M.R. (2013). Relationship among coach leadership, peer leadership, and adolescent athletes' psychosocial and team outcomes: A test of transformational leadership theory. Journal of Applied Sport Psychology, 25(2), 265-279. DOI: 10.1080/10413200.2012.725703
Sportsnet (2018, October 2). Canucks announce roster, four alternate captains for 2018-2019 season. https://www.sportsnet.ca/hockey/nhl/canucks-announce-roster-four-alternate-captains-2018-19-season/
Trettenero, B. (2019, April 11). 5 storylines from the 2018-2019 season. Vancouver Canucks. https://www.nhl.com/canucks/news/vancouver-canucks-2018-19-season/c-306669716
---
The information presented in SIRC blogs and SIRCuit articles is accurate and reliable as of the date of publication. Developments that occur after the date of publication may impact the current accuracy of the information presented in a previously published blog or article.