Running with the kids – a new trend for families
May 20, 2015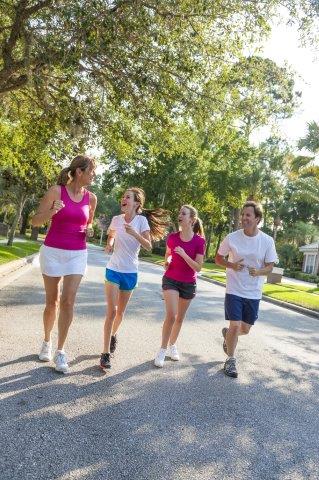 Ottawa Race Weekend is now in sight and is the biggest multi-distance race event in Canada. Whether you walk, jog, or run, it's becoming increasingly common to have kids, parents, and grandparents all signing up for different races and cheering each other on. Sedentary lifestyles are becoming the norm and events like this one can be a way to get everyone excited about running and physical activity by creating positive bonding experiences for the whole family.
How do you determine the right race length for your child?
Age 6 and under: Expectations for kids this age should be kept fairly low. Keep the distances short and unstructured (approximately 100 – 400 meters) with the aim of creating a fun experience that will encourage participation for the future.
Ages 7-10: With a few weeks of pre-race preparation kids this age should be able to at least walk a 5k, which is approximately 45-60 minutes of exercise. If your child does not currently get the recommended amount of fitness, start with some short walks and slowly increase the distance over time. Training together for a 5k, even if it's just walking can be a great joint adventure for you and your children.
Ages 10-13: The majority of kids this age can complete a 10k run as long as they put in a bit of training first. Prepping for a 10k is relatively the same for any beginner; start off slowly and work up the distance, time, and pace gradually. Get someone to show them proper running form to create good habits and minimize the chances they will sustain an injury.
Scotiabank Ottawa Kids Marathon for CHEO – If you're an Ottawa resident, your children can participate in the kid's marathon which supports the Children's Hospital of Eastern Ontario (CHEO). Training for the event starts at school as youth chalk up the kilometers by participating in running or other school sports. For every half hour of activity, one kilometer of the 'marathon' is scratched off. After filling out 41kms, students complete the marathon on race day by running the final 1.2kms.  It's a great initiative that adds excitement and a sense of accomplishment for kids after completing the race.
As with any form of physical activity, everyone should be equipped with the right gear; this means proper, well-fitted running shoes, moisture wicking clothing, sun hats, sunscreen, snacks and water. If you have enough family members participating, split yourselves into groups with some running one day while others cheer and then change roles.  As long as you place the emphasis on fun and participation, you will increase the likelihood that you will all have a good time the day of the event and hopefully start a new family tradition.
References from the SIRC Collection:
Goodsell T, Harris B. Family Life and Marathon Running: Constraint, Cooperation, and Gender in a Leisure Activity. Journal Of Leisure Research. 2011 First Quarter 2011;43(1):80-109.
King C. Kids who run with their parents. Run For Your Life: R4YL. April 2009;(23):64-67.
Never a Better Time for Family Fitness. Running & Fitnews. March 2014;32(2):1-2.
Thomas-Conwell A. A RACE FOR EVERYONE (INCLUDING THE FAMILY!). Ultrarunning. July 2013;33(2):58-62.
Zucker Z. FAMILY FUN AND FESTIVITIES. Ultrarunning. December 2010;30(7):14-17.
---
---
The information presented in SIRC blogs and SIRCuit articles is accurate and reliable as of the date of publication. Developments that occur after the date of publication may impact the current accuracy of the information presented in a previously published blog or article.