RELATIONSHIP BETWEEN AMATEUR ATHLETES' LEISURE LIFESTYLE AND SPORT DROPOUT
May 18, 2016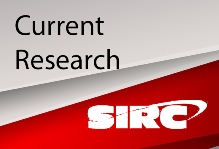 SIRC is pleased to be working together with Sport Canada to share current research on topics informing policy and promoting quality sport programming. This week we are sharing highlights of a recent article explores the RELATIONSHIP BETWEEN AMATEUR ATHLETES' LEISURE LIFESTYLE AND SPORT DROPOUT.
Leisure Lifestyle and Dropout: Exploring the Experience of Amateur Athletes in Competitive Sport. MacCosham, Bradley; Patry, Philippe; Beswick, Colleen; Gravelle, François. (2015). International Journal of Sport Management, Recreation & Tourism 20(b), 20-39.
SIRC Highlights from the research
Ten ex-competitive amateur Canadian athletes representing different sports (hockey, bobsleigh, martial arts, soccer, swimming) were used as case studies, through semi-structured interviews and thematic analysis, to examine the relationship between amateur athletes' leisure lifestyle and their dropout from competitive sport. The athletes involved in this study were pursuing goals of competing in sport at elite levels (e.g., semi-professional, professional, National, and Olympic teams), but withdrew themselves from sport before reaching this level. Three questions provided insight on the perspective of competitive athletes towards sport and a balanced lifestyle: (1) Do amateur athletes perceive their leisure lifestyle as optimal prior to dropping out?; (2) How is casual leisure utilized by amateur athletes during their sport career?; and (3) How does amateur athletes' leisure lifestyle affect their perception of sport? Findings were organized under these three themes.
Perception of Leisure Lifestyle Preceding Dropout
Feedback from the participants indicates that they saw their participation in competitive sport as a central focus of their lifestyle consuming most of their free time. They indicate that casual leisure activity outside of their sport was extremely difficult due to the demands of training and competition and thus their lifestyle became less optimal as they neglected balancing alternate casual leisure activities. The result of which led to a perceived unbalanced leisure lifestyle prior to dropping out of competitive sport. The most common casualty of neglected casual leisure time was the social aspect, also identified as the most significant and important of their leisure lifestyle, since the participants saw the social aspect of casual leisure as a significant lifestyle balancing factor. This perception increased as the demands of sport required to achieve senior levels of play also increased.
Utilization of Casual Leisure
Despite the participants perceiving their leisure lifestyle as being unbalanced between their sport and outside activities of interest, they did recognize the important role of participating in casual leisure activities outside their sport. They saw that when they were able to integrate the social aspect of casual leisure activity into their schedule it did prove to be beneficial. They indicated that social support was essential to helping them cope with difficulties and challenges in their sport career. They also saw the social aspect as a way to escape during difficult or stressful times by allowing them to take a temporary break from thinking about sport and helped them maintain their well-being. In addition, a few participants saw travelling as an important aspect of casual leisure as it also provided a coping mechanism and useful for escapism. Travelling was also identified as a coping mechanism after sport dropout as well. Other participants identified engaging in other sports outside of their competitive sport as another useful coping tool. Overall, despite having to sacrifice participating in casual leisure activities, when they were able to participate in them they were recognized as beneficial for coping, regeneration, helping to change perspective, escapism, and to maintain well-being.
Leisure Lifestyle and Perception of Sport
After dropping out of competitive sport, participants saw their lifestyle as much more balanced, closer to an optimal leisure lifestyle. Continuing to play recreationally in the sport in which they had formerly been highly competitive changed their perspective on that sport due to a better balanced lifestyle. With time and fewer pressures of the sport, participants had a sense of renewed enjoyment in the sport. Some had felt negatively or resentfully about their sport prior to dropout, and post-dropout, being able to incorporate it on a more casual basis allowed for a more positive perception of the sport despite not reaching the elite goal they had set.
In general participants indicated the following reasons as factors increasing their desire to drop out of competitive play: being cut from teams, conflicting with coaches and organization members, being out-skilled, and lack of playing time. Transitions also proved to be a factor in dropout, in this study transition from junior to senior level of sport and the difficulties adapting influenced dropout decisions. Occasional participation in casual leisure activities (travelling, other sports, social conversation with friends and family) were seen as effective coping mechanisms to balance the heavy investment required for competitive sport. Casual leisure activities were also useful for regeneration, providing a buffer to stressors, and helpful for escapism. Social relationships were used as a coping mechanism during difficult times for the competitive athlete.
Suggestions for further study:
Athletes' perceptions of their leisure lifestyle during their athletic career. How do coaches, trainers, and policy makers develop amateur athletes and LTAD frameworks? What is the significance of athletes' values outside of sport?
The inclusion of casual leisure to help prevent dropout from competitive sport, including the measurement of casual leisure benefits, and best practices for facilitating casual leisure within competitive sport programs.
Closer examination of competitive athletes' training and competition schedules in terms of creating an environment to help balance competitive sport and well-being focused activities.
---
---
The information presented in SIRC blogs and SIRCuit articles is accurate and reliable as of the date of publication. Developments that occur after the date of publication may impact the current accuracy of the information presented in a previously published blog or article.