Recruit a friend! The benefits of a workout buddy
May 6, 2015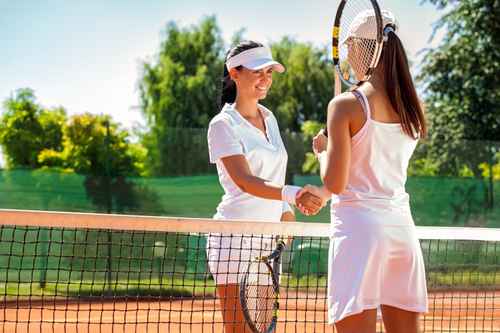 Sometimes motivating yourself to workout can be tough and even the most dedicated person has days where they would rather sit on the couch and watch a movie. That's why recruiting a workout buddy to join you in your chosen activity is one of the smartest moves you can make and may be the difference in whether or not you succeed in your goals. When you are first choosing a partner to train with, it's a good idea to pick someone that is close to your current fitness level regarding strength, athleticism and endurance. By starting off on even footing you avoid one or both of you getting frustrated; for example, one person gets discouraged because they can't keep up and the other may feel they are being held back.
Setting Challenges and Achieving Goals
If you wish to see success in your fitness endeavours (and who doesn't?), it's commonly recommended that you set some goals so you can accurately measure how far you've come and map out where you wish to go. It doesn't matter if you are just starting out or are a seasoned athlete, accomplishing goals is a fantastic motivator and will usually get you to aim higher next time. Having someone to share these successes with makes blowing those challenges out of the water that much sweeter.
Motivation and Support
Having someone in your corner will help you push through when things feel tough and can add a much needed boost to your confidence. All of us can get discouraged, when you have a bad workout or didn't meet the goal you set to achieve, your partner can be there to offer advice, encouragement, and support on days you don't feel 100%.
Accountability
When you are solely responsible for getting your body out the door, it can be easy to let yourself off the hook. Having a partner or a few friends that are counting on you to show up to class or to pick them up, helps you stay on track and committed to your fitness goals. It's the best way to avoid those conversations in your head about whether or not you should go work out.
Injury Prevention
When you have a friend along, you're both in the position to help each other out in spotting slips in technique or form which will encourage you both to perform your exercises properly. If you are lifting weights, your partner can easily act as a spotter for you.
Last but not least – it should be fun!
One of the best things about having someone join you in your training is just that – you're not alone. Exercising with others can be great for your social life. Simply chatting on your way there and back or encouraging each other during a difficult workout builds camaraderie and makes physical fitness something to enjoy; which makes sticking to it easier, rather than something you're supposed to do.
References from the SIRC Collection:
KIMBALL N. PACE A FRIEND WITHOUT JEOPARDIZING YOUR RELATIONSHIP. Runner's World. November 2013;48(11):88.
Kislevitz G, Bean A. Partners in running. Runner's World. October 1996;31(10):23.
Norman D. Everyone wins in Small Group Training. Australasian Leisure Management. January 2015;(108):52-56.
Robinson R, Patterson I, Axelsen M. The "Loneliness of the Long-Distance Runner" No More. Journal Of Leisure Research. December 2014;46(4):375-394.
van de Pol P, Kavussanu M, Ring C. The Effects of Training and Competition on Achievement Goals, Motivational Responses, and Performance in a Golf-Putting Task. Journal Of Sport & Exercise Psychology. December 2012;34(6):787-807.
---
---
The information presented in SIRC blogs and SIRCuit articles is accurate and reliable as of the date of publication. Developments that occur after the date of publication may impact the current accuracy of the information presented in a previously published blog or article.