Protein – How much does an athlete really need?
May 25, 2016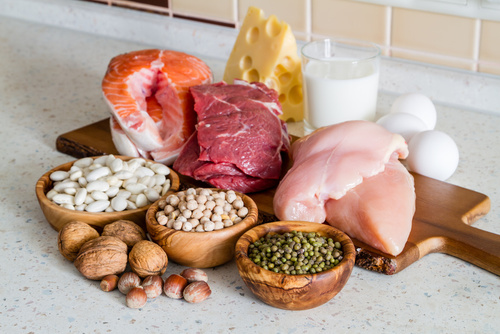 Training and nutrition go hand in hand, as muscle growth happens only when exercise and diet are combined. A question that comes up often among athletes and weekend warriors alike is one that centres around protein intake, specifically how much and are supplements necessary?
Protein, at its most simple, is a combination of amino acids. Amino acids have specific roles in our bodies and are used to help break down food, encourage growth, and repair tissue, along with performing many other body functions. Muscles are naturally damaged during a workout and the amino acids in protein help rebuild tissues and prepares them for the next bout of exercise.
How much protein does an athlete need?
While athletes and recreational athletes may require more than the average office worker, meeting the daily requirements can easily be done through regular food intake. Protein supplements are not usually necessary. A high-performance athlete may benefit from a customized nutrition plan and it's recommended that athletes consult the advice of a sport dietitian for best results.
What are good sources of protein?
Milk and milk products – Milk contains two types of protein: whey (20%) and casein (80%), both are high-quality proteins that contain all essential amino acids that support multiple roles within the body.
Meat, fish, and eggs – Meat and alternatives are major sources of protein and fat. They help ensure that the body functions properly and provide B vitamins and minerals, such as iron, zinc, and magnesium.
Beans, lentils, nuts, and seeds – This category is very important for vegetarian or vegan athletes that compete at high levels. Protein needs vary depending on the type of training or exercise performed and on individual body weight and composition. Meeting protein requirements as a vegan or vegetarian athlete can be done with some dedication and forethought to food consumption in order to avoid nutrient deficiencies.
Research has shown that protein ingestion before endurance exercise promotes muscle repair and growth. A general rule of thumb is to consume protein with a carbohydrate 1-3 hours before a workout. Some good pre-workout snacks include: a peanut butter and banana sandwich, Greek yogurt with berries, oatmeal with low-fat milk and fruit, or a handful of nuts and raisins. Note – There is no current evidence that suggests that consuming more than the recommended amount produces additional benefits to performance.
Protein is essential for recovery and muscle building and optimal amounts are easily acquired through a diet that includes a variety of foods. If you are a healthy person who exercises regularly there is likely no need for a specialized diet, however high-performance (particularly endurance) athletes may wish to connect with a registered sports dietitian to create a workout nutrition strategy.
For a detailed breakdown of recommended daily intake, check out these resources::
References:
Doering T, Reaburn P, Phillips S, Jenkins D. Postexercise Dietary Protein Strategies to Maximize Skeletal Muscle Repair and Remodeling in Masters Endurance Athletes: A Review. International Journal Of Sport Nutrition & Exercise Metabolism. April 2016;26(2):168-178.
Gibala M. Protein and exercise: What does science say?. Handball. November 2012;62(4):64.
Stellingwerff T. Competition Nutrition Practices of Elite Ultramarathon Runners. International Journal Of Sport Nutrition & Exercise Metabolism. February 2016;26(1):93-99.
Westcott W, Martin W, La Rosa Lous R, Stoddard S. RESEARCH UPDATE: PROTEIN AND BODY COMPOSITION. Fitness Management. May 2008;24(5):50-53.
About the author: Michelle is an information management specialist with many years focusing on sport and fitness research and education. Michelle has been sharing her expertise with SIRC for over 3 years.
---
---
The information presented in SIRC blogs and SIRCuit articles is accurate and reliable as of the date of publication. Developments that occur after the date of publication may impact the current accuracy of the information presented in a previously published blog or article.