We are family: How sport programming can support military families after illness and injury
November 10, 2021
"I think the whole notion is that it's the family that serves and it's the family that heals together through something like this. Nobody does it alone. So I think it's recognizing the whole family and how they've had to work together to get to this point or to heal."

Invictus Games family member
Remembrance Day is important for commemorating the men and women who currently serve or have served Canada. While we reflect on their contributions and sacrifices, and proudly wear our poppies, we often overlook military families.
When someone serves in the military, their whole family serves in the military. Likewise, when someone is injured (physically or mentally), their whole family must undergo the recovery process, reimagining life plans, reconfiguring family roles and sacrificing for their loved one's health. As sport professionals, part of our support for military personnel often includes considering types of sport programming that may promote physical and mental recovery following service-related illness and injury. However, military families rarely get similar support.
Through our research with the Invictus Games, we've seen that sport programs have great potential to support the healing and recovery of military families. The Invictus Games is an international adaptive sport competition for service members and Veterans with physical and mental illnesses and injuries. Uniquely, it integrates family programming and support into program delivery. Below, we highlight strategies that can be adapted for different types of sport programs to support military families. We identify 3 strategies from our research with Invictus Games staff, competitors and families.
Strategy 1: Recognition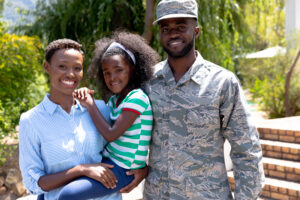 When a service member becomes ill or injured, families report feeling like a burden to their nation and experience trouble finding support. However, through speeches, family activities, special trips and nearby accommodations, families at the Invictus Games Toronto 2017 felt seen and recognized as integral to the military community. One family member describes the acknowledgement she heard during the speeches as helping her to reflect on her importance and ease her worries:
"I never really thought about what I did as serving … When a Veteran or when a soldier goes to war or is deployed, so is the family. I never thought of it that way. And that acknowledgment really helped me…[and] took a huge weight off my shoulders."
Direct recognition can significantly affect families' sense of worth and importance to their competitor and their nation. For example, to make sure a competitor's child didn't feel overlooked during the Games in Toronto, volunteers threw the child a birthday party that many competitors, families, volunteers and staff attended. And at the Games in Sydney, staff and volunteers helped a couple renew their vows.
The Invictus Games also validated day-to-day hardships that family members experience. Well-trained volunteers provided caregiving services so that families could spend time together, take day trips, and celebrate their competitor. The Games also openly recognize and discuss the families' recovery journey and how vital family and friends are to competitors' successes. A competitor's wife described how Invictus staff "recogniz[ed] the whole family and how they've had to work together to get to this point or to heal." External recognition is validating and uplifting for families and military personnel, translating into a positive impact on the family and competitor's quality of life.
Tips for recognizing family in sport programming:
Include family in programming and celebrations, as appropriate, such as an end-of-season barbecue
Directly address families' contributions in speeches and announcements at games, events, newsletters and on social media
Acknowledge key family commitments and celebrations, such as anniversaries or birthdays
Strategy 2: Appreciation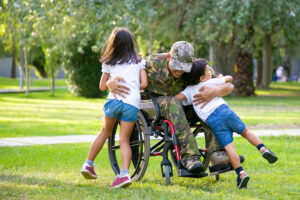 Families are integral to military personnel's recovery from acquired illness, injury or disability. Families often take on important caregiving or social support roles, and in some cases financial responsibilities. However, these contributions are often overlooked or considered a given. Sport programs can create a welcoming environment in which families are openly embraced and appreciated by staff, volunteers and the local community.
At the Invictus Games, families report feeling equally as important and celebrated as the competitors themselves. In the words of one family member:
"…[all involved in the Invictus Games] just embraced us and said, 'You are huge. You're not a hindrance to us. We appreciate you….' it was just a lot of love and energy, and it was really inspiring."
There, families are verbally appreciated and they're also provided with accommodations, meals, transportation, and day trips to exciting local attractions near the training and the Games. Families are the backbone of competitors' physical and psychological support system throughout their recovery journey. It's essential to express gratitude for the challenges families face in adapting to caring for their competitors' acquired disability. Simple, meaningful gestures of gratitude can positively influence the family's well-being and the competitor's quality of life and sport performance.
Tips for appreciating family:
Say "thank you" often to family and friends
Organize and host family-oriented activities, such as a friendly match for families and competitors, or day trips in the surrounding area
Include family in celebrations and gift-giving
Strategy 3: Belonging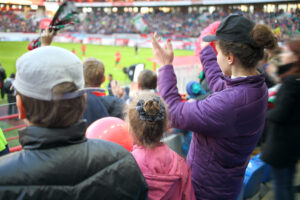 A hallmark of the Invictus Games is helping families feel they're part of the team by cultivating a sense of belonging within the family, the teams and the international military community. Families receive special jerseys and accommodations near training and competition sites. Families may reconnect by sharing quality time away from medical appointments and the challenges of daily life.
The Games also present an opportunity for competitors to reconnect with family members they haven't seen recently. Meanwhile, as supporters, the family members can witness firsthand their competitor's development and success after months or years of healing from illness or injury. Together, they could reflect on and appreciate how far their competitor has come. As one participant stated:
"I kinda took it all in and I look over my kids or my husband and I just say this is really special for us. Um sometimes life gets busy or we're just dealing with the day-to-day frustrations and the injury but we're able to just like say this is what brought us here."
Service members' families feel a sense of camaraderie. Whether from a brief conversation during an event or long-lasting friendships formed over the course of the Games, families connected with one another within and across international boundaries. Shared experiences help bring families together and feel less alone in the recovery journey. A spirit of belonging is foundational to the Invictus Games message of celebration of recovery.
Tips for promoting a sense of belonging:
Invite family to practices, games and team events
Reserve priority "VIP" seating for family
Order team uniforms, kits or team apparel for families
Final thoughts
Military personnel and their families alike benefit when people recognize, appreciate and cultivate a sense of belonging for military families in adaptive sport programs. Not only can these approaches support the recovery of parents, spouses, siblings and children, but our research suggests the service member or Veteran will also experience improved physical, psychological and social outcomes when their family's well-being is supported. While strategies may differ for various program types or sizes, or for particular sports, each strategy is important for creating sport environments promoting recovery.
This research was funded by the Invictus Games Toronto 2017 Organizing Committee. The research team is currently continuing their work with the Invictus Games, funded by Forces in Mind Trust, a £35 million funding scheme run by the Trust using an endowment awarded by the Big Lottery Fund.
---
About the Author(s)
Celina H. Shirazipour, Ph.D., is an assistant professor at Cedars-Sinai Medical Center. She is also a research consultant for the Invictus Games Foundation.
Jessica Capaldi, M.A., is a clinical research associate at Cedars-Sinai Medical Center.
Amber Duong, B.S., is a first-year medical student at the University of California Irvine, School of Medicine, and former research intern at Cedars-Sinai Medical Center.
Alice B. Aiken, Ph.D., is a professor in the Faculty of Health at Dalhousie University, in Halifax, Canada. She is also the Vice President, Research & Innovation at Dalhousie.
References
Duong, A., Roberts, L., Cramm, H., Latimer-Cheung, A. E., Aiken, A. B., & Shirazipour, C. H. (2021). Examining best practices for family members' integration in parasport as a path to rehabilitation for adults with acquired disabilities. Journal of Sport & Exercise Psychology.
Shirazipour, C. H., & Aiken, A. B. (2019). Exploring the impact of an international military parasport competition on military families. Paper presented at American Public Health Association 2019, Philadelphia, PA, November 2019.
---
The information presented in SIRC blogs and SIRCuit articles is accurate and reliable as of the date of publication. Developments that occur after the date of publication may impact the current accuracy of the information presented in a previously published blog or article.