How youth athletes can support their own life skill development through sport
February 22, 2023
Sports help to develop crucial skills on and off the court, field, or ice. Participating in sports can help youth athletes stay physically healthy, build positive relationships with coaches and other players and learn valuable skills. 
While coaches often play a critical role in supporting athletes' development, it is also important to consider how athletes can support their own development. In this blog, we provide 3 strategies to help athletes take ownership of their own life skills development through sport participation. 
Defining life skills
Life skills are abilities or characteristics, such as goal setting, emotional control and self-esteem, that can be developed through sport and transferred to non-sport settings (Gould & Carson, 2008). The ability to use life skills in another context is known as "life skills transfer" (Newman, 2020). For example, learning how to problem solve in sport can help athletes when they get into a disagreement with a friend at school or a sibling at home. Developing life skills is not a "one-and-done approach," but rather an ongoing process that requires time, practice and patience.
A few examples of skills athletes can develop and apply through sport include:
1. Leadership
Leadership is often thought of as personal development but can be imagined as advocating for social change and fostering inclusive community efforts (Camiré et coll., 2021). For instance, an athlete can be a leader by standing up for a teammate who is being bullied due to their racial or ethnic background, gender identity or sexual orientation.
2. Teamwork
Traditionally, teamwork is thought of as working cooperatively towards a common goal. However, teamwork can also be thought of  as "learning and experiencing personal growth, social development and socialization" (Lang, 2010, pp. 1 as cited in Camiré et coll., 2021). For instance, meeting and engaging with new teammates of diverse backgrounds can help develop teamwork skills.
3. Resilience 
Resilience refers to the ability to adapt to risk and adversity (Newman, 2020). This skill is especially important, as it can help athletes overcome challenges and setbacks in key periods of their lives (for example, adolescence). In sport, resilience can help athletes cope with setbacks such as injuries or conflicts with other teammates. 
Strategies for athletes to take ownership of their own life skills development 
Below are 3 tips that youth athletes can use to support their own life skills development: 
1. Build positive relationships with key sport figures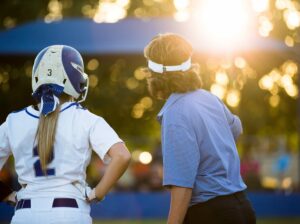 Building a positive relationship with coaches and teammates helps build a foundation for life skills development (Hemphill et coll., 2019). To facilitate a positive learning environment, it is important that athletes feel comfortable and safe.
Athletes can cultivate a comfortable environment by engaging in conversation with peers and caring adults to find common interests and goals. Positive relationships with coaches, instructors and parents can help athletes develop important life skills, such as trust, and instill a sense of belonging (Hemphill et coll., 2019).  If an athlete has developed a network of trust, they are more readily able to speak to a caring adult, such as a coach, if they have concerns about interpersonal dynamics (for example, bullying) on the team.
2. Practice reflexivity within and outside of your sport
Being self-aware and reflective means knowing yourself. What skills or strengths do you bring onto the court, field or ice? Self-awareness also helps one recognize and identify what skills you want to work on.
One way athletes can practice reflexivity is through journaling. There is no right or wrong way to journal. To start, it might be helpful for athletes to draw or write down key words of how they felt during practice, or think about what skills they were developing. This will help athletes to think about where they can apply their life skills from sport to a new environment (Newman et coll., 2018). For example, since being on the basketball team a youth athlete learned great leadership skills and can confidently lead a group huddle. This leadership skill can be transferred to a school environment where they start a food drive to help other members of the community.    
3. Try applying your new skills beyond sport
In tip 2, we recommended that athletes engage in a reflection and think about connections where they can apply the life skills that they've developed through sport. Now, it's time to take initiative and put those developed skills into action (this is also known as "life skill transfer").
Athletes can do this by looking for initiatives and connections within their community and school. For example, through the soccer team, an athlete met new teammates with various backgrounds that positively challenged their perspectives. This experience has allowed the athlete to develop great teamwork skills. The athlete feels able to transfer this skill into a social justice club at school, where they continue to meet and work with classmates of diverse backgrounds and experiences.
Final thoughts
Athletes play a crucial role in their own life skills development and transfer process. While the focus of this blog is on sports and athletes, these tips and examples can be applied by individuals in any type of recreational setting.
Remember that although these life skills are developed within sport, they can be used in a variety of environments outside of sports. As youth athletes continue to enter different milestones of their lives, they can continue to think of connections where the skills developed through sport can be applied in their everyday lives.
---
About the Author(s)
Mandisa Lau is a fourth-year undergraduate student in the Bachelors of Recreation and Leisure Studies, where she was involved in an independent studies course, under the supervision of Corliss Bean, PhD. Mandisa plans to pursue a graduate degree in the Master of Arts, specializing in Recreation, Sport, and Community in Fall 2023.
Corliss Bean, Ph.D., is an Assistant Professor in the Department of Recreation and Leisure Studies. Her research is focused on positive youth development through sport where she works with community organizations from local to national levels to develop, implement, and evaluate programming to foster psychosocial development.
Caroline Hummell is a doctoral candidate within the Faculty of Applied Health Sciences at Brock University, under the supervision of Corliss Bean. Caroline's research interests revolve around sports-based mentorship, program evaluation and positive youth development.
References
Camiré, M., Newman, T.J., Bean, C. et Strachan, L. (2021). Reimaging positive youth development and life skills in sport through a social justice lens. Journal of Applied Sport Psychology, (34)6 1058-1076. https:// 10.1080/10413200.2021.1958954
Gould, D. et Carson, S. (2008). Life skills development through sport: Current status and future directions. International Review of Sport and Exercise Psychology, 1(1), 58-78. https://doi.org/10.1080/17509840701834573
Hemphill, A. M., Gordon, B. et Wright. M. P. (2019). Sport as a passport to success: Life skill integration in a positive youth development program. Physical Education and Sport Pedagogy, 24(4), 390-401. https://doi.org/10.1080/17408989.2019.1606901
Holt, N., Neely, K.C., Slater, L.G., Camiré, M., Côté, J., Fraser-Thomas, J., Macdonald, D., Strachan, L. et Tamminen, K.A. (2016). A grounded theory of positive youth development through sport based on results from a qualitative meta-study. International Review of Sport and Exercise Psychology (10)1, 1-49. https://doi.org/10.1080/1750984X.2016.1180704
Newman, J. (2020). Life skill development and transfer: "They're not meant for playing sports". Research on Social Work Practice, 30(6), 643-657. https://doi.org/10.1177/1049731520903427
---
The information presented in SIRC blogs and SIRCuit articles is accurate and reliable as of the date of publication. Developments that occur after the date of publication may impact the current accuracy of the information presented in a previously published blog or article.