Keeping Girls in Sport: Evaluating the Impact of an Online Coach Education Resource
November 18, 2020
International Day of the Girl is celebrated globally on October 11th, focusing attention on the need to amplify girls' voices, advocate for their rights, and elevate their position in society. Within the Canadian sport and physical activity sector, International Day of the Girl provides a reminder of the persisting challenges girls and young women confront to realizing the benefits of participation, and the opportunities for action.
Current evidence shows that only 39% of Canadian children and youth between the ages of 5-17 years are meeting the physical activity recommendations found in the Canadian 24-hour Movement Guidelines for Children and Youth, with an overall reduction in physical activity involvement between the ages of 12-17 years (ParticipACTION, 2020). Further, gender-related disparities have been highlighted among Canadian children and youth (ages 5-17 years), showing girls' participation is approximately half that of boys (ParticipACTION, 2020). This is concerning given the number of social and physical benefits associated with participation in physical activity and sport, including:
improved cardio-respiratory fitness and reduced risk of cardiovascular disease, breast cancer and obesity;
improved well-being and self-esteem, reduced symptoms of mental health issues; and
improved school attendance (high school and post-secondary) along with greater achievement and an increase in learning and leadership experiences (Staurowsky et al., 2020).
As highlighted in great detail in the Rally Report (Canadian Women & Sport, 2020), withdrawal from sport and physical activity is most prevalent in girls during adolescent years. Specifically, high drop-out rates have been observed around 13-14 years old, at which time girls often withdraw from competitive sport, choosing to engage in non-competitive physical activity at their leisure, or become inactive (Harber, 2010; Eime, Casey & Harvey, 2020).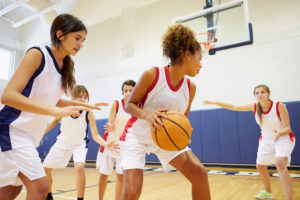 Research suggests the high rates of dropout during this time are influenced by a lack of access to quality sport opportunities; safety and transportation concerns; social factors; reduced enjoyment in sport or decreased quality of experience; financial barriers; shifting life priorities such as school or part-time work; body image concerns; and a lack of female athletes as positive role models (Staurowsky et al., 2020; Eime, Casey & Harvey, 2020). However, with appropriate knowledge and increased awareness, coaches, program leaders, sport administrators, teachers and parents can address these barriers and support sustained, positive sport involvement for girls and young women.
Developing the Keeping Girls in Sport online resource
To help address the knowledge gap, Canadian Tire Jumpstart Charities, in collaboration with Canadian Women & Sport, the Respect Group and the Coaching Association of Canada (CAC), developed Keeping Girls in Sport (KGIS), an online resource that helps coaches and youth activity leaders create safe and respectful environments for female athletes. The KGIS program requires about 90 minutes to complete, and consists of four modules exploring the participation trends of girls in sport, factors influencing drop-out, various types of injuries specific to the female athlete along with prevention strategies, and insights to keep girls engaged. At the beginning of the program, learners are guided through a self-assessment of their coaching or leadership philosophy, which is revisited and reassessed at the end. In this way, the KGIS program provides a comprehensive and insightful educational experience supplemented by the opportunity to engage in self-reflective practice. Launched in October 2018, it was time to ask, "What has been the impact of the KGIS program?"
With support from a Match Grant from the Sport Information Resource Centre (SIRC), researchers in the Faculty of Kinesiology, Sport & Recreation at the University of Alberta collaborated with Jumpstart Charities to explore the uptake and impact of this unique education program. Researchers developed and distributed an online survey to everyone who had completed the KGIS module to understand who had taken the module and collect feedback on the module's content.
Who has completed the KGIS Module?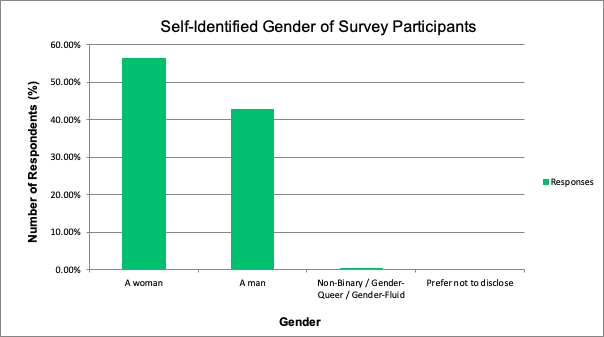 Analysis of the survey responses revealed a number of interesting characteristics about the KGIS participants. The survey was distributed to the 1,548 individuals who completed the KGIS program and a total of 511 responded, a response rate of 33%. Representation of women and men was well matched, with 56% of survey respondents identifying as women and 43% identifying as men. The majority of survey respondents were residents of Ontario (49.8%), with 11.5% from British Columbia; 13.6% from Alberta; 5.6% from Saskatchewan and 6.7% from Manitoba. There was little representation from elsewhere in Canada among our survey respondents, with 3.6% from Quebec and 8.8% from the Maritime provinces. Less than 1% of respondents resided in the North West Territories, Yukon, or Nunavut. This demonstrates the KGIS program has been well promoted and shared within Ontario sport systems, likely because the educational resource was made mandatory by some Ontario sport organizations, such as Ontario Soccer. However, the demographic information made researchers wonder if less population-dense and more remote regions of the country lack representation among survey respondents as a result of reduced girls sport programming in general and therefore, fewer sport leaders who are interested in this training.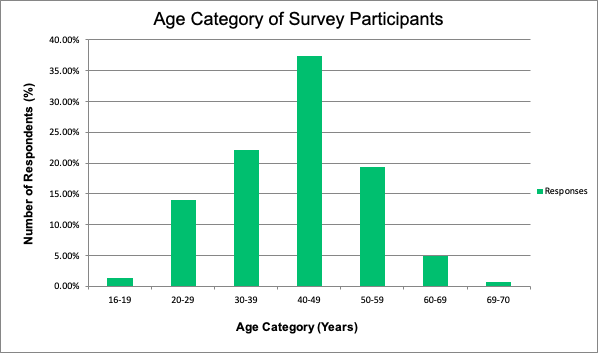 Survey respondents occupied a variety of sport roles, including coach, athlete, mentor, administrator, parent, volunteer, and teacher. Although respondents individually embodied various roles within the sport context (i.e.: one respondent might identify as athlete, coach, and parent simultaneously), 69% of respondents indicated it was their role as a coach that inspired them to take the KGIS online resource. This demonstrates the KGIS program is considered primarily a coach-education tool, despite being beneficial for numerous other roles in sport and physical activity. Participants also represented a diverse range of sports – more than 50 sports were represented including hockey, basketball and ringette. Soccer was the most frequently reported sport across the survey respondents, likely because of the mandated training mentioned above. To increase the reach and impact of KGIS across the country, other sport organizations could consider mandating this unique educational resource to support uptake. Moreover, promoting the KGIS program as a professional development tool for non-coaching leadership roles may also support further uptake.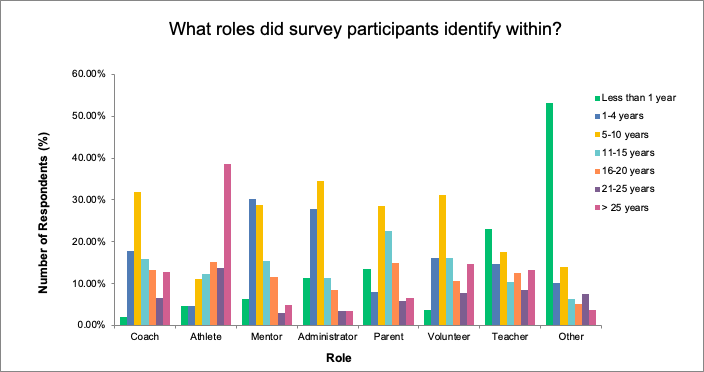 What was the impact of the KGIS module?
Feedback provided in the survey demonstrated the KGIS program was well received, with 99% of respondents rating various attributes of the program (length, quality of interface, accessibility, understandability, and quality of content) as "Good" (22%), "Very Good" (42%) or "Excellent (35%). Respondents described the program as "thought provoking" and said it "helped [to] conceptualize the scope of the issue". Respondents appreciated that the KGIS program offered insight to a perspective different from their own, helping to better understand motivations and barriers experienced by girls and young women. Even those who reported a high level of existing knowledge and experience found the program useful and expressed desire for more widespread uptake across leadership in girls' sport.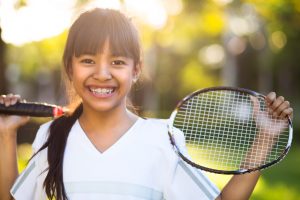 From the survey analysis, two important takeaways emerged relating to the value of the KGIS program. The first related to improved understanding about how to foster positive sport environments for girls. Respondents emphasized factors such as feeling safe, being engaged with coaches and teammates, having fun, and socializing as a way to do so. Within the survey comments, there was warning that creating a "fun" atmosphere can be misinterpreted by some leaders: "Coaches take this as 'we have to play games all the time and never push the girls outside of their comfort zone.' Once girls love a sport, being challenged and competing IS fun to them." Cultivating positive environments that will help keep girls in sport requires attention to the specific physical, emotional and social needs of girls.
The other main takeaway related to exploring the nuanced differences between girls and boys within sport environments. This has previously been highlighted in work by Dr.Vicki Harber, professor emeritus from the University of Alberta's Faculty of Kinesiology, Sport & Recreation, who suggested more effective and supportive sport and physical activity environments for girls can be created, keeping in mind that "women are not men and children are not small adults" (Harber, 2010, p. 2). The KGIS program was commended by survey respondents for recognizing the unique needs of girls and their varying needs throughout their developmental stages.
Next steps
In addition to these key takeaways, recommendations for supplemental and subsequent educational materials were gathered from the survey data and will be useful as future resources are created on this topic. Learnings from the survey results revealed opportunity for broader public health impact of the KGIS program across sport and physical activity leadership that could be realized through updated content focused toward a more diverse audience.
---
To complete the Keeping Girls in Sport online resource, or to share the program with your network, visit https://jumpstart.canadiantire.ca/pages/keeping-girls-in-sport
---
About the Author(s)
Sara Szabo is a MSc student in the Faculty of Kinesiology, Sport & Recreation at the University of Alberta. Her current research is focused on athlete health considerations in para-sport particularly focusing on the concept of recovery among wheelchair athletes. She is also passionate about promoting participation in sport and physical activity for girls and women. Sara is an avid long-distance runner and cross-country skier.
Michael D. Kennedy is an Associate Professor in the Faculty of Kinesiology, Sport and Recreation, University of Alberta and the Director of the Athlete Health Lab. His research aims to understand the influence of the environment and fitness on athlete health and performance especially in females. He is actively involved in coach education at the local and national level and teaches courses in applied endurance training and the biological aspects of fitness. He is actively involved in the endurance sport community as a sport scientist, coach and advocate for improved athlete health. He enjoys mountain biking and cross country skiing with his family.
References
Canadian Women & Sport, The Rally Report, (2020). https://womenandsport.ca/wp-content/uploads/2020/06/Canadian-Women-Sport_The-Rally-Report.pdf
Eime, R., Casey, M., & Harvey, J. (2020). Developing sport for girls and adolescents. In E. Sherry & K. Rowe (Eds.), Developing sport for women and girls (pp. 19-31). Routledge. https://doi-org.login.ezproxy.library.ualberta.ca/10.4324/9780367854201 
Harber, V. (2010). The female athlete perspective. Edmonton, AB.
ParticipACTION. The role of the family in the physical activity, sedentary and sleep behaviours of children and youth. The 2020 ParticipACTION Report Card on Physical Activity for Children and Youth. Toronto: ParticipACTION; 2020. https://participaction.cdn.prismic.io/participaction/f6854240-ef7c-448c-ae5c-5634c41a0170_2020_Report_Card_Children_and_Youth_Full_Report.pdf
Staurowsk, E. J., Watanabe, N., Cooper, J., Cooky, C., Lough, N., Paule-Koba, A., Pharr, J., Williams, S., Cummings, S., Issokon-Silver, K., & Snyder, M. (2020). Chasing Equity: The triumphs, challenges, and opportunities in sport for girls and women. New York, NY: Women's Sport Foundation. https://www.womenssportsfoundation.org/wp-content/uploads/2020/01/Chasing-Equity-Full-Report-Web.pdf
---
The information presented in SIRC blogs and SIRCuit articles is accurate and reliable as of the date of publication. Developments that occur after the date of publication may impact the current accuracy of the information presented in a previously published blog or article.