How to harness the power of team cohesion in sport
June 21, 2023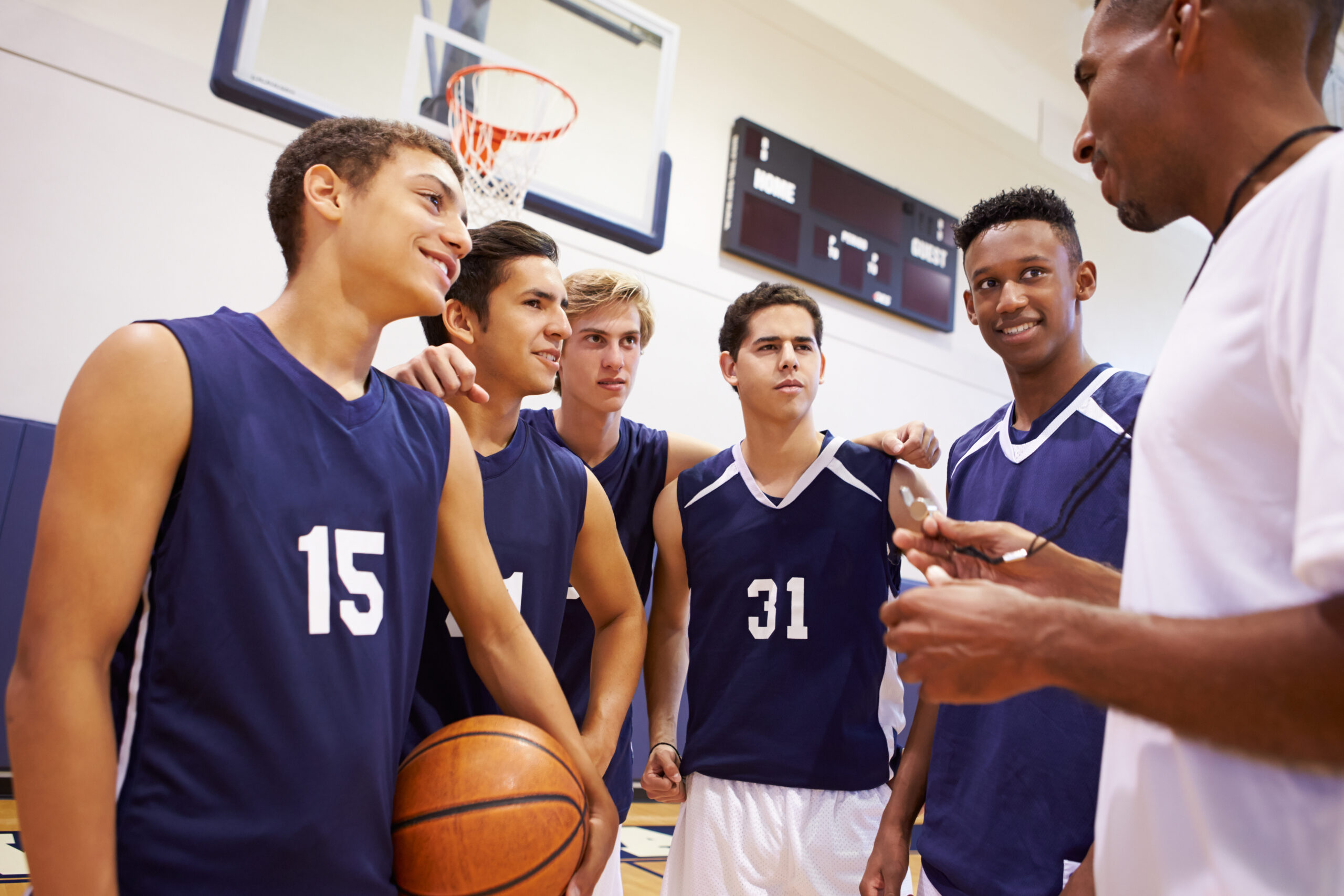 In sport, we often hear athletes and coaches talking about how "united" their team is and the great "chemistry" that they have. Broadly, these terms reflect the concept of cohesion. Cohesion is frequently described as the glue that holds a team together, and as a result, produces positive outcomes for individual athletes (for example, increased player retention and role commitment) and for teams (for example, enhanced performance and collective efficacy).
In this blog, we define cohesion and provide coaches with practical strategies to promote cohesion within the teams they lead.
What is cohesion?
Early research described cohesion as the total forces causing members to remain in a group, including both the attractiveness of the group (for example, high quality friendships) and the ways in which a group can promote the achievement of performance objectives (Festinger et coll., 1963). Researchers have also described cohesion as the resistance to disruption or conflict, in that highly cohesive teams are expected to be more resilient (Gross & Martin, 1952). In sport, cohesion is described as the tendency for team members to stick together and remain united in the pursuit of achieving goals as well as satisfying members' emotional needs (Carron et coll., 1985).
There are many factors that can influence whether a team is cohesive or not. These factors can differ from team to team and change over time (Carron et coll., 1985). Given the complexities of cohesion, it is helpful to consider the specific dimensions that make up this construct.
First, cohesion is rooted in 2 types of beliefs: group integration and individual attractions to the group (Carron et coll., 1985). Group integration refers to beliefs members have about their team as a whole, while individual attractions to the group reflect beliefs members have about their personal benefits of being a team member.
Second, cohesion is made up of task and social components (Carron et coll., 1985). Task cohesion refers to activities that promote task achievement and performance, while social cohesion focuses on the formation and maintenance of positive relationships (Van Vianen & Dreu, 2010).
The individual-group and task-social dimensions of cohesion also interact. At the group level, athletes may reflect on task-related questions such as, "How united is our team in reaching our goals?" or social-related questions, such as "Do our teammates like spending time with one another?". At the individual level, athletes may ask task-related questions like, "Do I agree with the team's game tactics?" or social-related questions like, "Do I feel included in this team?".  
Of note, research shows that adult athletes (aged 18 and older) perceive social and task cohesion at both the individual and group-level, while children and adolescents (aged 9-17) only perceive social and task cohesion (Eys et coll., 2009). As a coach, this means that it is important to promote the engagement in team building activities that are age and developmentally appropriate for your athletes.
Can you have too much cohesion?
Is promoting high levels of cohesion always a good thing? Being part of a group can inherently result in negative social interactions such as the pressure to conform and disregarding specific team members' perspectives. These processes can become even more problematic when a team is highly cohesive (Eys et coll., 2020; Park et coll., 2022). In particular, such problems occur when athletes or coaches place too much emphasis on either task or social cohesion while disregarding the other.
For instance, too much emphasis on only task cohesion may lead to increased pressure, less enjoyment, and decreased social relations (Hardy et coll., 2005). In comparison, an extreme focus on social cohesion may lead to a lack of goal attainment, difficulties in focusing on the task at hand or socially isolating specific members (Hardy et coll., 2005; Rovio et coll., 2009).
Despite these concerns, the benefits of achieving a highly cohesive team seem to outweigh any of the potential consequences. Moreover, it is likely key that to promote a highly cohesive, well-functioning team, one must find a balance between social and task cohesion.
Strategies for coaches
To maximize the benefits associated with cohesion, a coach should undertake activities that are both task and socially oriented. Recommendations are provided below on how to go about promoting a cohesive team. While children, adolescents, and adults may perceive cohesion differently, these recommendations broadly target the task and social dimensions of cohesion that can be tailored to meet the needs of your athletes (Bloom et coll., 2008; Carron et coll., 1997; Holt et coll., 2008; Paradis & Martin, 2012; Martin et coll., 2013). 
Task
Group-integration

Empower athletes to create team goals together to assist with buy-in
Develop a team contract outlining acceptable and unacceptable behaviour (for example, arriving to practice on time)

Individual attractions

Hold individual meetings with your athletes to ensure they understand, accept and are satisfied with their roles and responsibilities on the team
Provide individualized feedback and instruction to players so that they can contribute to the team's success
Social
Group-integration

Plan team bonding activities such as team dinners or game nights to help foster friendships between teammates
Spend time creating unique cheers, team mantras, or inclusive uniforms to unify team members outside of the sport setting

Individual attractions

Have your athletes create unique handshakes with one another to help with feelings of inclusion, connectedness, and belonging
Have your athlete leaders take the time to learn something personal about their teammates (for example, their favourite hobbies) to ensure they feel valued as not only athletes but people too
Final thoughts
Cohesion is a dynamic and multidimensional construct. Given its complexities, using a variety of exercises and team building strategies that are task and socially oriented helps to ensure that cohesion is being developed purposefully and in the most effective way. So, the next time you see an athlete giving a teammate a high-five, host an athlete check-in meeting, or go out for a team dinner, remember that all of this can serve as the glue to build one cohesive team!
---
About the Author(s)
Erika Degabriele is a fourth-year kinesiology student at Queen's University interested in pursuing a career in healthcare after graduation. Erika is also a member of the Disability and Physical Activity Certificate at Queen's University where she works one-on-one with community members who have both physical and intellectual disabilities.
Cailie McGuire is a teaching fellow and third year PhD Candidate within the School of Kinesiology and Health Studies at Queen's University. Cailie's interests lie within team dynamics and more specifically, exploring how building trust between teammates can promote athlete thriving. Erika completed this blog in Cailie's KNPE 363 Team Dynamics course.
References
Bloom, G. A., Loughead, T. M. et Newin, J. (2008). Team building for youth sport. Journal of        Physical Education, Recreation & Dance, 79(9), 44-47.  https://doi.org/10.1080/07303084.2008.10598246
Carron, A.V., Spink, K.S. et Prapavessis, H. (1997) Team building and cohesiveness in the sport    and exercise setting: Use of indirect interventions. Journal of Applied Sport Psychology,  9(1), 61-72, https://doi.org.10.1080/10413209708415384
Carron, A. V., Widmeyer, W. N. et Brawley, L. R. (1985). The development of an instrument to    assess cohesion in sport teams: The Group Environment Questionnaire. Journal of Sport            Psychology, 7(3), 244–266. https://psycnet.apa.org/record/1986-20987-001
Eys, M., Evans, M. B. et Benson, A. (2020). Group dynamics in sport. 5th ed. Fit Publishing.
Eys, M., Loughead, T., Bray, S. R. et Carron, A. V. (2009). Development of a cohesion        questionnaire for youth: The Youth Sport Environment Questionnaire. Journal of Sport         and Exercise Psychology, 31(3), 390-408. https://scholars.wlu.ca/kppe_faculty/3
Festinger, L., Schachter, S. et Back, K. (1963). Social pressures in informal groups. Stanford          University Press.
Gross, N. et Martin, W. (1952). On group cohesiveness. American Journal of Sociology, 57(1),      533-546.
Hardy, J., Eys, M. et Carron, A. (2005). Exploring the potential disadvantages of high cohesion in sports teams. Small Group Research, 36(2), 166-187.     https://doi.org/10.1177/1046496404266715
Holt, N.L., Black, D.E., Tamminen, K.A., Fox, K.R. et Mandigo, J.L. (2008). Levels of social   complexity and dimensions of peer experiences in youth sport. Journal of Sport and     Exercise Psychology, 30(4), 411-431. https://doi.org/10.1123/jsep.30.4.411
Martin, L. J., Paradis, K. F., Eys, M. A. et Evans, B. (2013). Cohesion in sport: New directions for   practitioners. Journal of Sport Psychology in Action, 4(1), 14-25.     https://doi.org/10.1080/21520704.2012.702710
Paradis, K. F. et Martin, L. J. (2012). Team building in sport: Linking theory and research to          practical application. Journal of Sport Psychology in Action, 3(3), 159-170.         https://doi.org/10.1080/21520704.2011.653047
Park, S., Kim, S. et Magnusen, M. J. (2022). Two sides of the same coin: Exploring how the           bright and dark sides of team cohesion can influence sport team performance.   International Journal of Sports Science & Coaching, 17(3), 519-531.            https://doi.org/10.1177/17479541211042555
Rovio, E., Eskola, J., Kozub, S. A., Duda, J. L. et Lintunen, T. (2009). Can high group cohesion be    harmful? A case study of a junior ice-hockey team. Small Group Research, 40(4), 421-       435. https://doi.org/10.1177/1046496409334359
Van Vianen, A.E.M., Dreu, C.K.W. (2010). Personality in teams: Its relationship to social   cohesion, task cohesion, and team performance. European Journal of Work and           Organizational Psychology, 10(2), 97-120. https://doi.org/10.1080/13594320143000573
---
The information presented in SIRC blogs and SIRCuit articles is accurate and reliable as of the date of publication. Developments that occur after the date of publication may impact the current accuracy of the information presented in a previously published blog or article.