Exercise Offers Protection against Osteoarthritis
October 18, 2017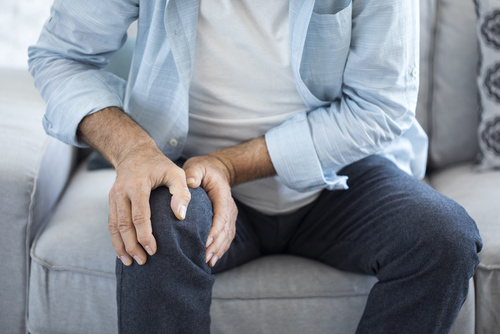 Osteoarthritis is the leading cause of disability among older people. Previously thought to have been the result of joints wearing out, this chronic degenerative joint disease is the outcome of a combination of different factors. Pain, inflammation, stiffness, muscle weakness, and joint instability are all symptoms of the disease and can impact daily quality of life. As both the population age and obesity rates continue to increase, the number of people with osteoarthritis will go up, too.
Osteoarthritis is not something that occurs inevitably with age. There are certain risk factors that we can minimize, and contrary to what some think, exercise is beneficial both before and after disease onset.
Exercise Reduces the Risk of Developing Osteoarthritis
Maintaining a healthy weight
Body weight is the most modifiable risk factor for knee osteoarthritis.
Every extra kilogram of mass creates an additional four kilograms of stress on the knee and six kilograms on your hips.

Even losing a little bit of weight can reduce the load on weight-bearing joints.
Reducing the risk of diabetes
High glucose levels can affect cartilage response to mechanical stress.
Increasing muscle mass and improving muscle function
Muscles provide dynamic joint stability, absorb impact forces, and are responsible for joint movement.
Weak muscles get tired more easily and are slower to react.

With reduced motor control, joints are less stable and more vulnerable.

Exercise can also offer a degree of protection against age-related muscle loss.
Regular, moderate exercise on normal joints doesn't increase risk for osteoarthritis, but rather delays the onset of the disease. Being active is also a key part of treating osteoarthritis.
Exercise Is an Effective Treatment for Osteoarthritis
Exercise can counteract the degeneration and wasting away of muscle cells, as well as the associated reduction in strength and joint motion control.
For those with knee osteoarthritis, following a land-based exercise program reduces pain and improves muscular function.

Strength training and aerobic training both have similar beneficial outcomes.
Combining local strength exercises and general cardiovascular exercise could be best for overall health.

Therapeutic exercise, particularly if it includes strengthening and is supervised, can help treat hip osteoarthritis.
There isn't conclusive data about the effectiveness of aquatic-based exercise.

Starting off exercise in the water could be helpful for obese patients, or those with severe joint pain.
Exercise plays a valuable role in not only the treatment, but also the prevention of osteoarthritis and is beneficial no matter the severity of the disease. Exercise programs should be tailored to the individual and consider patient age, mobility, and any co-morbidities. As well, it is extremely important to consider patient adherence to the exercise program – the most important predictor of long-term results. Exercise will only have beneficial effects for as long as it is continued, and any improvements in mobility, pain, and function will go away if exercise is discontinued.
Sources:
Bennell KL, Hinman RS. A review of the clinical evidence for exercise in osteoarthritis of the hip and knee. Journal of Science and Medicine in Sport. 2011; 14(1): 4-9.
Hunter DJ, Eckstein F. Exercise and osteoarthritis. Journal of Anatomy. 2009; 214(2): 197-207.
Osteoarthritis Prevention: What You Can Do. Arthritis Foundation.
Valderrabano V, Steiger C. Treatment and prevention of osteoarthritis through exercise and sports. Journal of Aging Research. 2011; Article ID 374653.
About the Author: Lily is a fourth-year student in the kinesiology program at Western University, currently interning with SIRC. With a background in synchronized swimming, she continues to be actively involved in sport as a coach and varsity athlete.
---
---
The information presented in SIRC blogs and SIRCuit articles is accurate and reliable as of the date of publication. Developments that occur after the date of publication may impact the current accuracy of the information presented in a previously published blog or article.