Can we better Retain Sport Officials by Asking Them to Do More? The Opportunity of "Stage-appropriate Officiating"
July 11, 2018
Having and keeping enough qualified officials is a challenge for many sport organizations. Could we retain them by asking them to do more? It may seem counter-intuitive, but research into the challenges faced by sport officials and what motivates them suggests "stage-appropriate officiating" may provide an opportunity to retain officials while supporting quality sport experiences for young athletes.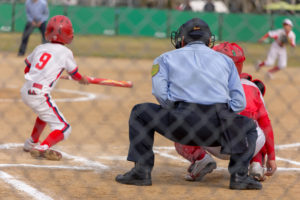 Canadian sport organizations consistently report difficulty in recruiting and retaining key volunteers. Sport officials are key human resources, whether volunteer or paid, and organized competition depends on them. The job of an official is technically and often physically demanding, requires extensive training and experience, and involves a high degree of stress related to decision-making (Mascarenhas, Collins & Mortimer, 2005) and addressing complaints and more aggressive behaviours from players, coaches and spectators (Ackery, Tator & Snider, 2012). It is not surprising that there is a high attrition rate among new officials, with claims by some sources that Canadian hockey loses up to 10,000 officials every year (Gollom, 2014).
Drs. Susan Forbes and Lori Livingston (2016) of University of Ontario Institute of Technology report "drop out from the amateur officiating ranks is a persistent, pervasive, and global problem. Annual attrition rates of up to 20–30 percent in most sports require an ongoing investment of time, effort, and money in recruiting and training new officials". Given this situation, the main focus of sport organizations has been on recruiting officials and supporting them long enough to develop expertise and effectiveness. Academic research has centered on the stress experienced by officials and the factors surrounding officials' decisions to remain in their jobs, while a smaller research stream has examined the development of officials and the key capacities needed for effectiveness. Are organizations supporting and developing their officials in ways the research suggests are effective?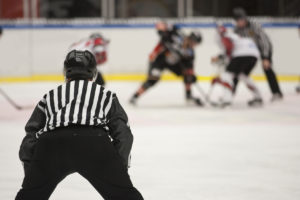 Considering hockey officials who had discontinued participation, Forbes and Livingston (2013) found that "new, inexperienced officials were more likely to cite stress/psychological factors (e.g. verbal abuse, threat of abuse), while experienced long-serving officials were more likely to indicate career or family demands as their primary reason for leaving officiating". Further, "…officials who had discontinued their participation felt negatively about their local hockey associations with respect to the lack of (1) opportunities to move up the ranks; (2) appropriate fee structures to pay them what they deserve; (3) assistance to help them perform their duties to the best of their abilities (e.g., training); (4) consideration given to officials' best interests when making decisions that affect them; and (5) appreciation for their efforts" (Forbes and Livingston, 2013). This supports similar findings about "perceived organizational support" (POS) reported by the same authors (Livingston & Forbes, 2016). In theory, when an individual believes that an organization values their contributions and cares about their well-being, POS is high and they are more likely to commit to the organization; but, when POS is low, absenteeism and drop out are more likely. Thus, to retain young officials, sport organizations should do more to protect them from abuse, whereas to keep more experienced older officials, organizations should offer more support, such as investing in ongoing development and offering more opportunities to give feedback and participate in decisions.
Could asking officials to do even more help them feel more engaged and supported? On the face of it, asking volunteer or low-paid part-time officials to do more work seems like a way to drive them away, not bring them closer. At the same time, the research offers insight. Many researchers have looked at motivation and intention to continue in sport officials, and most agree that "love of the sport" is a key motivator for entry into sport officiating (Auger et al., 2010; Gray & Wilson, 2010; Bernal, Nix & Boatwright, 2012; Cuskelly & Hoye, 2013; Forbes & Livingston, 2013). What if, by integrating officials more closely into athlete development and quality sport, their ability to help the sport they love and POS both increased, and abuse decreased?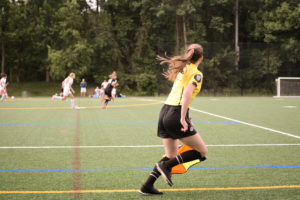 Following the Long-Term Athlete Development Framework, many organizations in Canada now offer modified sport competition for early-stage youth participants. These include shorter games/races, games/races on smaller surfaces or courses, and other rule and equipment modifications. In keeping with this, officials in some sports are asked to officiate differently in youth competitions, for example by allowing young competitors "another try" (e.g. after a failed soccer throw-in) or giving verbal advice (e.g. "You have to keep both feet on the ground") rather than strictly enforcing the rules. However, in Sport for Life's observation this is not universal across Canadian sport, and in many sports the officials are not trained or supported by policies and rules to offer "stage-appropriate officiating". For example, during the FUNdamentals and early Learn to Train stages, when the emphasis is on athlete skill development, officials could "guide and remind" athletes; during late Learn to Train, officials could "warn then enforce"; and in the Train to Train stage, officials could enforce the traditional rules of the sport. Taking this approach would make the official-coach relationship more collaborative and potentially less confrontational, and create a new level of official-organization dialogue about how best to support the development of young athletes. It would also offer officials more insight into why development-based rule changes are needed, and tap their insight and experience on how best to implement changes.
It may seem counter-intuitive to expect that asking sport officials to do more would engage them, not drive them away. Yet research findings suggest that officials are motivated by love of their sport and retained by being engaged and supported in their work by sport organizations. Bringing officials into a team approach to offer quality sport through long-term development might prove surprisingly effective.
Webinar Recording:
A Framework for Officiating Development Programs
---
About the Author(s)
Paul Jurbala is the Director of Knowledge of the Sport for Life Society. He also runs his own consulting and management business, communityactive consulting, where he develops strategic and governance plans, Long-Term Athlete Development plans, and competition reviews for national and provincial sport and multi-sport organizations. Paul holds an M.Sc. degree in Exercise Physiology and a Ph.D. in Sport Management.
References
Ackery, A. D., Tator, C. H., & Snider, C. (2012). Violence in Canadian amateur hockey: The experience of referees in Ontario. Clinical journal of sport medicine, 22(2), 86-90.
Auger, D., Fortier, J., Thibault, A., Magny, D., & Gravelle, F. (2010). Characteristics and motivations of sports officials in the province of Québec. International Journal of Sport Management Recreation & Tourism, 5, 29-50.
Bernal, J. C., Nix, C., & Boatwright, D. (2012). Sport Officials' Longevity: Motivation and Passion for the Sport. International Journal of Sport Management, Recreation & Tourism, 10.
Cuskelly, G., & Hoye, R. (2013). Sports officials' intention to continue. Sport Management Review, 16(4), 451-464.
Forbes, S. L., & Livingston, L. A. (2013). Changing the call: Rethinking attrition and retention in the ice hockey officiating ranks. Sport in Society, 16(3), 295-309.
Gollom, M. Referees chased away by verbal and physical abuse: amateur officials often receive threats and sometimes physical attacks. CBC News July 03, 2014 http://www.cbc.ca/news/canada/referees-chased-away-by-verbal-and-physical-abuse-1.2694572
Gray, C. E., & Wilson, P. M. (2008). The relationship between organizational commitment, perceived relatedness, and intentions to continue in Canadian track and field officials. Journal of Sport Behavior, 31(1), 44.
Livingston, L. A., & Forbes, S. L. (2016). Factors contributing to the retention of Canadian amateur sport officials: Motivations, perceived organizational support, and resilience. International Journal of Sports Science & Coaching, 11(3), 342-355.
Mascarenhas, D. R., Collins, D., & Mortimer, P. (2005). Elite refereeing performance: Developing a model for sport science support. The Sport Psychologist, 19(4), 364-379.
---
The information presented in SIRC blogs and SIRCuit articles is accurate and reliable as of the date of publication. Developments that occur after the date of publication may impact the current accuracy of the information presented in a previously published blog or article.