"That's a Blue for you": Referee experiences managing concussion injury risk in Canadian amateur rugby
July 13, 2022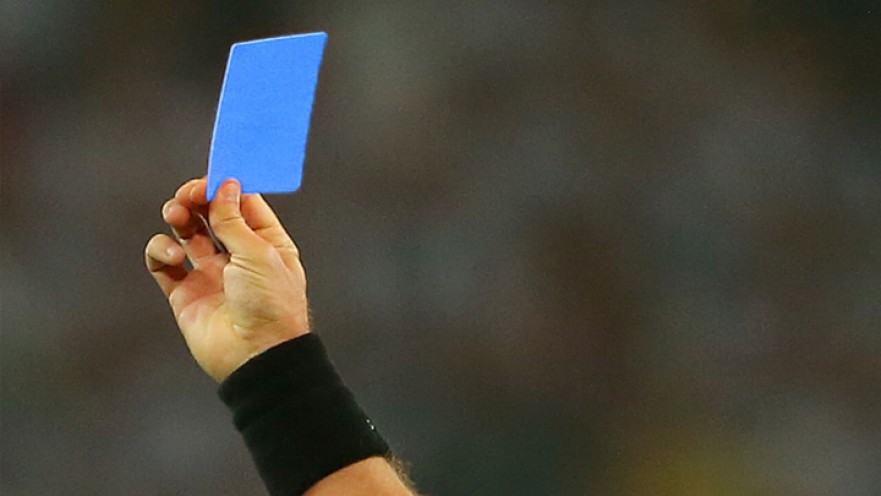 People who are into sports like soccer and rugby are familiar with yellow and red cards. When an official presents a player with a yellow card, that's a warning that they've committed an offence on the playing field. A red card means the player must leave the field immediately and can no longer take part in the game.
A blue card is a new addition to rugby's card system.
"'That's a Blue for you': Referee experiences managing concussion injury risk in Canadian amateur rugby" is a SIRC Match Grant funded project. The project is spearheaded by a partnership between Rugby Canada, Rugby Ontario, and the University of Toronto. The Match Grant program is an integral part of SIRC's mission to connect researchers and sport organizations by supporting the completion of research projects over the 2020 to 2021 year.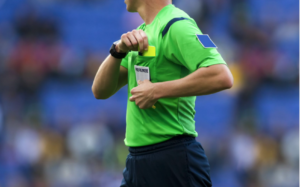 The "That's a Blue for you" project studied rugby match officials' experiences with the newly implemented Blue Card concussion risk management tool (Blue Card tool). In this blog, we introduce the research project and share findings as well as recommendations for managing concussion risk.
Yellow, red and … blue?
The Blue Card tool is for preventing and managing concussions. Its purpose is to prevent athletes and participants from returning to play without medical clearance after a suspected concussion. First introduced in New Zealand, the blue card was adopted by Australia and France afterward. World Rugby Law 3.22 and Law 3.24 established the blue card. Those laws state, "if, at any point during a match, a player is concussed or has a suspected concussion, that player must be immediately and permanently removed from the playing area."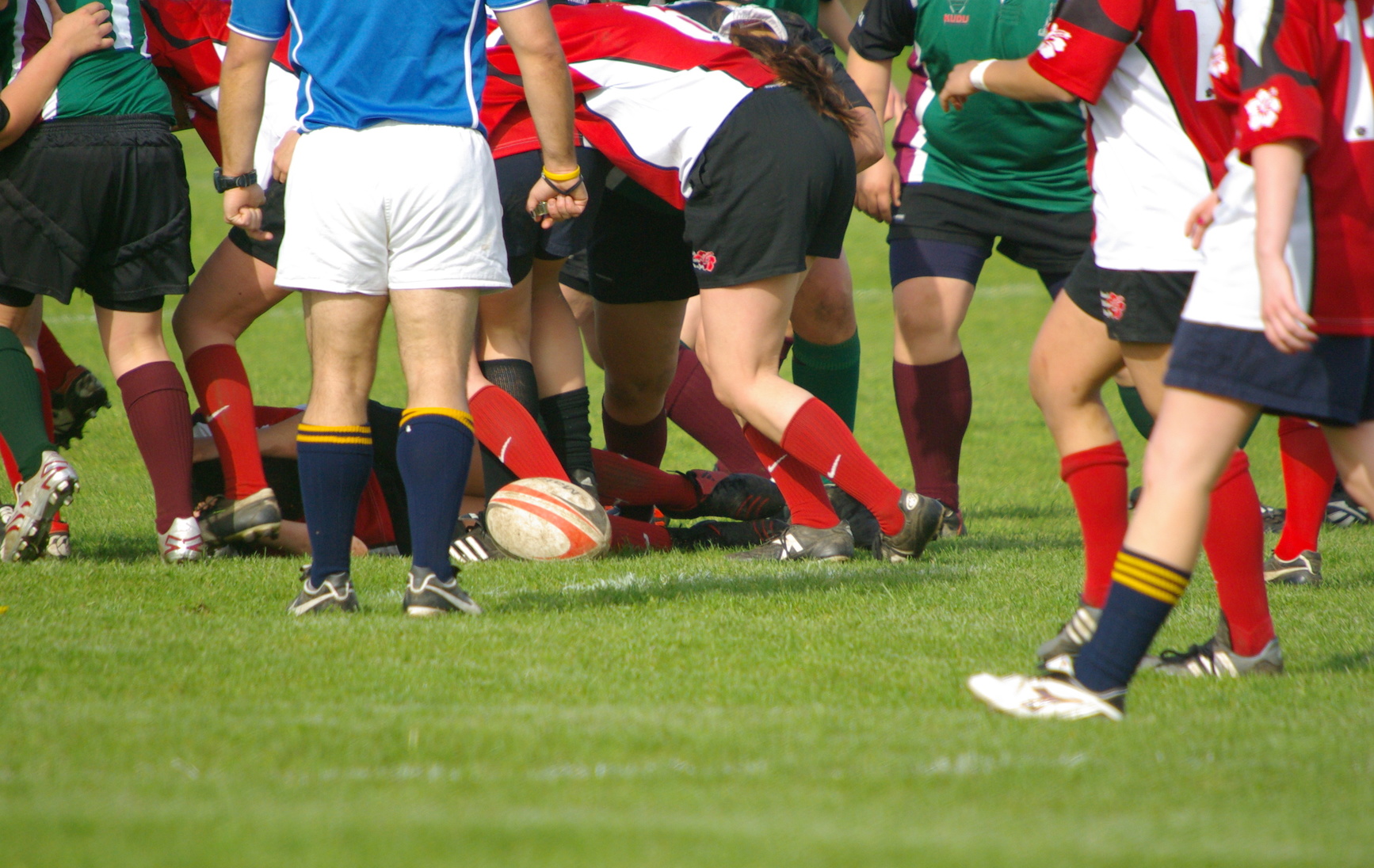 Like yellow and red cards, blue cards are initiated by an official. The blue cards are for when there's a suspected concussion. "It signals to everyone what is going on, allows us to record it, and makes sure that all individuals involved are following proper return to play rules," says David Bushell, Coordinator and Match Official Development at Rugby Ontario. In this way, the Blue Card tool acts as another way of enforcing Rowan's Law and ensuring organizations are prioritizing athlete and participant welfare.
The Blue Card tool is now employed for all rugby activities in Ontario. Despite this, gaps still exist in our understanding of the blue carding experience for stakeholders.
The perfect match for addressing the gap
Match officials play a big role in risk management. As another card is added into the mix, officials may find themselves in a tough place. "We've pinned the officials into, potentially, an uncomfortable space," says Ryan Jones, Manager of Rugby Development at Rugby Canada.
Bushell adds, "Taking anyone out of the game is going to change the game, and we want to make sure that people are prepared to have those difficult conversations."
Jones and Bushell stressed the importance of providing organizations with strategies to ensure every member's wellbeing is considered. Part of this was making sure that officials felt supported and confident with the new system to protect their wellbeing as well as player safety.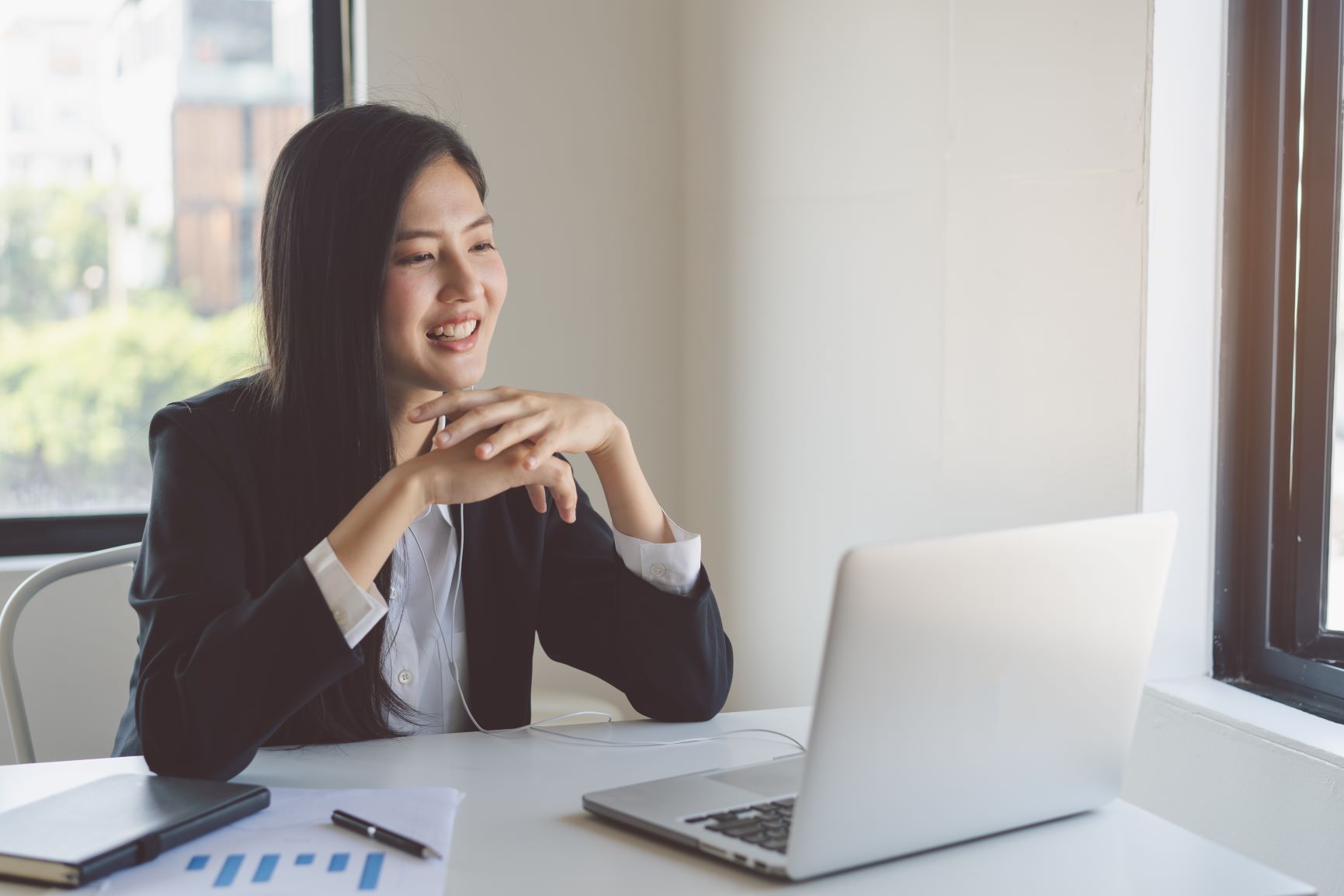 Following their organizations' mandates to be evidence-informed in all that they do, 19 registered rugby officials in Ontario participated in online interviews about their experiences. In particular, researchers emphasized Canadian female rugby officials' experiences.
What officials say about concussion management
From interviews with officials, 6 themes surfaced:
Concussion knowledge: Officials reported varying levels of concussion knowledge in terms of the cause, severity, signs and rehabilitation of sport-related concussion injury.
Network of responsibility: Other members of the rugby community may be brought in to support the decision-making process. Additional structure supports their decision-making and subsequent game management.
Blue card: Most interviewees raised concerns about the liability of those who are responsible for implementing the process. Officials were also concerned others might attempt to avoid or abuse the system. They also mentioned concerns about official abuse.
Gendered experiences: Interviewees who identified as female officials discussed how the additional work to prove themselves as competent could have implications for game management, and as a result, injury management.
Role coherence: Officials noted that adopting the Blue Card tool continues to formalize their role in managing injuries.
Reflective practice: Officials identified individual and collective reflection as important parts of their professional development process and ongoing learning. Online modules are a minimum standard approach for development, according to interviewees who noted officials would benefit from group reflection and discussion.
Recommendations for sport organizations
From their research project and experiences, the partners provided 5 recommendations for moving forward with concussion management strategies such as the Blue Card tool:
Standard practices
Where possible, ensure consistency between levels of competition. The Blue Card tool should be implemented across sports and especially at lower levels of competitions, university and college meets, and high school games.
Language
Consider a standard pre-game script (particularly for novice referees) to help build their confidence with the Blue Card tool. Training and communications about the Blue Card tool should use clear language to address liability concerns for match officials.
Training and support
Provide opportunities for video examples demonstrating blue carding and group learning with referees who have mixed levels of experience. Formal opportunities for mentorship will help ease the burden on novice officials.
Role clarification
Clarify how these new responsibilities fit into the match official role at different levels of competition. And establish support for officials from other members of the rugby community.
Gendered experiences
Give additional consideration for female officials. This could tie into extra training and the previously mentioned support from other members of the rugby community. Having female representation across all levels of rugby competition may support further recruitment.
Final reflections on partnership research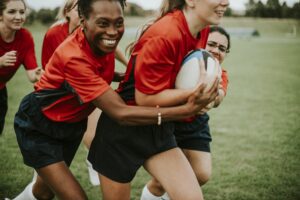 The partnership succeeded in more ways than one. The findings from the research project served to be of significant use for Rugby Canada and Rugby Ontario in understanding the experiences of officials and making changes to improve their experiences. Additionally, the 3 partners highlighted the positive aspects of partnership research overall.
"Michael Jorgensen worked with us to figure out what our needs were… He's been an ongoing partner and part of our task force now. [Concussion management] is an ongoing process, and he's been a key part of that, giving us an evidence-based approach to things as opposed to us just going with what we think and how it must be," says Bushell.
The benefits extended both ways. Jorgensen, a University of Toronto doctoral candidate and lead researcher on the project, reflected on how streamlined this type of research was compared to the years it can take to go through academic routes: "I think for me the big thing is being able to see the research have an impact a lot quicker than it might have through other formal or different types of channels. This was able to come to life right away and have an impact right away."
By way of the partnership, we can expect to see a more colourful card system in Canadian rugby. Most importantly, this research project has helped to ensure this new Blue Card tool does its job to prevent and manage concussions by providing officials with the support and resources they need.
Learn more about the Blue Card system or SIRC's Match Grant partnerships.
---
About the Author(s)
Jennifer Coletti, M.Sc., is a research assistant for SIRC and recently completed her master's degree in the field of sport psychology. Her love of sport and aspiration to provide positive sport experiences for all participants stems from her personal experiences as a competitive soccer player. She is continuing to chase her love of learning and sport by pursing her Ph.D. at Queen's University's Performance Lab for the Advancement of Youth in Sport.
---
The information presented in SIRC blogs and SIRCuit articles is accurate and reliable as of the date of publication. Developments that occur after the date of publication may impact the current accuracy of the information presented in a previously published blog or article.