Active Parks, Active People?
July 12, 2017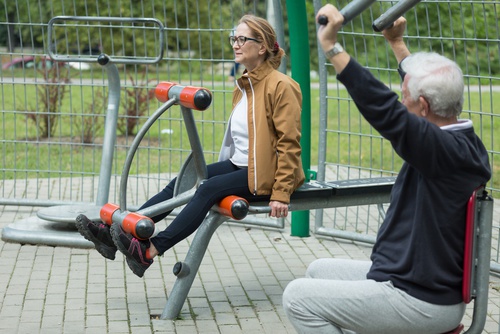 One of the top recommended strategies to increase physical activity is to increase public access to places where people can engage in physical activity. Installing free outdoor fitness equipment to create "active parks" is one way some cities have targeted increasing opportunities for adults and seniors to get fit. While there are many benefits to active parks or outdoor gyms, making the most of them involves more than just installation of the equipment – especially in smaller cities.
Active parks have long been popular in Europe and Asia and the trend has expanded across the world. (Find a park near you!) They include things like pull-up bars, ellipticals, lat pulldown machines, leg press machines, balance beams, and more. In large cities, introducing outdoor fitness equipment can increase the popularity of the park, as well as the levels of moderate-to-vigorous physical activity among adults. Besides providing a venue for people to work on musculoskeletal fitness, an area often neglected in favour of cardiovascular exercise like walking or biking, outdoor gyms can help older adults improve coordination and balance. There is also an important social aspect to the public workout space, increasing social interactions among visitors and building a stronger sense of community. In Japan, for example, some parks feature government-funded classes that combine social time with activity.
Outdoor fitness parks are successful in large cities but it seems that in smaller cities, installing fitness equipment in parks requires extra effort to ensure that people actually use it. Based on direct observations of active parks in smaller cities and the recommendations of local residents, there are several ways to make outdoor gyms more popular:
Provide exercise instructions on the equipment, and examples on-site of a well-rounded workout using multiple machines
Market the park and its potential health benefits outside the park, and advertise within the park to make it clear the installations are exercise equipment
Introduce programming to show residents how to use the equipment
Hold drop-in fitness classes to increase the social element
Outdoor gyms are free, local, and available 24/7 to the whole community. They are a great way to target cost and time constraints and help adults and seniors meet daily recommended physical activity guidelines. Researchers have acknowledged that interventions that change the built environment have a much more positive effect on physical activity when combined with physical activity programming. In many cities, installing the equipment is insufficient: proper marketing and outreach, including a human element to teach and encourage equipment, and community programs are warranted to be able to reach the full potential of active parks.
Outdoor Fitness Equipment for Beginners
Cardio Walker/Elliptical/Upright Cycle/Hand Cycle:
Cardiovascular exercise machines
Great for warming up at the start of your workout
Try 10 minutes for a warm-up, or longer if you want to target endurance
Strengthens the front of the thighs (quadriceps), the back of the thigh (hamstrings), and the bum (glutes)
Sit on the seat and push away from the platform with your feet
Try two rounds of 15 repetitions
Strengthens abdominal muscles
Hook your feet under or behind the bottom bar and lift and lower your upper body, keeping your bum on the bench
Try two rounds of 10 repetitions
Strengthens upper body and abdominal stabilizing muscles
Grip the hand holds and push the bars away from your body
Try two rounds of 10 repetitions
As you get stronger, try increasing the number of repetitions and/or the number of sets (rounds) you complete. There are many exercises you can do with outdoor fitness equipment; see how you can put it all together with these sample workouts.
Sources:
Centers for Disease Control and Prevention. (2011). Strategies to Prevent Obesity and Other Chronic Diseases: The CDC Guide to Strategies to Increase Physical Activity in the Community. Atlanta: U.S. Department of Health and Human Services.
Cohen A. (2010). Playgrounds for seniors popular in Europe, Asia, and North America. Athletic Business.
Cohen DA, Han B, Pitkin Derose K, Williamson S, Marsh T, McKenzie TL. Physical activity in parks: A randomized controlled trial using community engagement. American Journal of Preventative Medicine. 2013; 45(5): 590-597.
Copeland JL, Currie C, Walker A. (2017). Outdoor fitness equipment in public parks: Is it an effective physical activity intervention? Alberta Centre for Active Living.
Copeland JL, Currie C, Walker A, Mason E, Willoughby TN, Amson A. Fitness equipment in public parks: Frequent of use and community perceptions in a small urban centre. Journal of Physical Activity and Health. 2017; 14(5): 344-352.
Hunter RF, Christian H, Veitch J, Astell-Burt T, Hipp JA, Schipperijn J. The impact of interventions to promote physical activity in urban green space: A systematic review and recommendations for future research. Social Science & Medicine. 2015; 124: 246-256.
Pike W. (2014). Outdoor gyms: a how-to guide. The Guardian. 
---
---
The information presented in SIRC blogs and SIRCuit articles is accurate and reliable as of the date of publication. Developments that occur after the date of publication may impact the current accuracy of the information presented in a previously published blog or article.