10 Tips for reducing the risks of ski and snowboarding injuries
December 10, 2013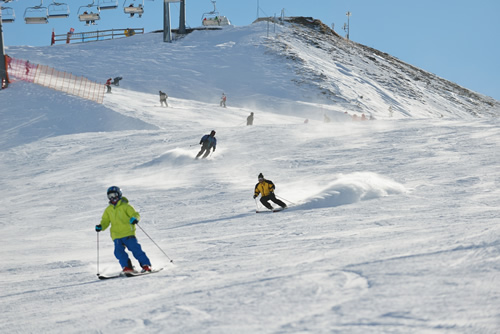 Winter is here and skis and snowboards are being polished up for weekends spent on the hill. Both skiing and snowboarding are excellent winter activities for adults and youth to enjoy as a recreational pastime or competitively. Propelling yourself down a mountain at high speeds does have its share of risks, so we're sharing some tips for keeping yourself and your family safe on the hill this holiday season.
Wear proper protective equipment such as helmets, goggles and wrist guards
Ensure your equipment has the proper fit and know how to properly care for it – loose or poorly adjusted bindings increase the risk of foot, ankle and lower leg injuries
If you are a beginner, get some lessons from a professional before tackling the hill
Be aware of your surroundings, many serious injuries result from colliding with trees, poles or other skiers and snowboarders
Be aware of the weather and slope conditions – the lowest risk of snowboard injury is on deep snow, such as powder, fresh snow or groomed slopes
Ski and snowboard on hills that are at your ability and skill level
Stay on designated marked trails
Never go out on the hill alone
Learn how to fall. Relax and if on skis, keep your knees together. Cruciate ligament knee injuries are one of the biggest problems in skiing.
Skiing and snowboarding are physically taxing to the body, be honest about your fitness levels and do some training before you hit the slopes. When you are out there, be sure to warm up and cool down at the beginning and end of your day.
There is a 35% reduction in head injury risk with helmet use while skiing or snowboarding – Think First Canada
Skiing and snowboarding are great winter sports which can offer fun and exercise for the whole family. With a little preparation, injuries can be avoided with some professional instruction, properly fitted protective equipment, and a little common sense.
---
References
Bladin C, McCrory P, Pogorzelski A. Snowboarding injuries: current trends and future directions. Sports Medicine. 2004;34(2):133-138.
Fuselli P, Hagel B, Stanwick R. Vancouver Charter: bringing ski and snowboard helmet legislation to Canada. Injury Prevention. September 2, 2010;16:A88.
Kim S, Endres N, Johnson R, Ettlinger C, Shealy J. Snowboarding Injuries: Trends Over Time and Comparisons With Alpine Skiing Injuries. American Journal Of Sports Medicine. April 2012;40(4):770-776.
Kim S, Lee S. Snowboard Wrist Guards-Use, Efficacy, and Design. Bulletin Of The NYU Hospital For Joint Diseases. April 2011;69(2):149-157.
Langan M. Ski and snowboard injuries – reducing the risks. Sportex Health. December 2000;(7):33-35.
Rebecca M H. Are there risk factors for snowboard injuries? A case-control multicentre study of 559 snowboarders. British Journal Of Sports Medicine. September 2010;44(11):816-821.
Sakamoto Y, Sakuraba K, Ohbayashi O, Kawakita K, Inoue T. Snowboard and skiboard injuries in recent years: a comparison with ski injuries. Japanese Journal Of Clinical Sports Medicine. April 2006;14(2):218-227.
---
The information presented in SIRC blogs and SIRCuit articles is accurate and reliable as of the date of publication. Developments that occur after the date of publication may impact the current accuracy of the information presented in a previously published blog or article.