10 Tips for Avoiding Winter Sports Injuries
December 2, 2014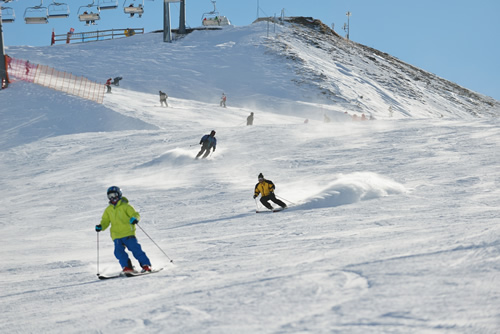 There are many excellent winter activities for adults and youth to enjoy as a recreational pastime or competitively. Cold temperatures, icy surfaces and high speeds can be a risky business though, so we're sharing some tips for keeping you and your family safe outdoors this holiday season.
Wear proper protective equipment such as helmets, goggles and wrist guards.
Ensure your equipment has the proper fit and know how to properly care for it – loose or poorly fitting equipment increases the risk of injuries.
Children and beginners should take lessons from a certified instructor before tackling a new sport.
Be aware of your surroundings, many serious injuries result from colliding with trees, poles or other recreational athletes. Know the whereabouts of fences, rocks, open water, and ice patches so they can be avoided.
Be aware of the weather and trail or slope conditions – deep snow, such as powder, fresh snow or groomed slopes/trails significantly lower injury rates.
Know your ability and skill level and stick to trails and slopes that work best for you. This is difficult for children (they may not have the experience or judgment to determine their skill level), so the parent should help them with this assessment.
Whether you are hiking, snowshoeing, tobogganing, skiing or snowboarding – never go out on the hill alone and stay on designated marked trails.
Learn how to fall. This may seem counter-intuitive but knowing how to fall safely and correctly takes time to learn and is a huge part of injury prevention. If you feel yourself falling, try to land on your side or buttocks. Don't fight the fall, try to roll somewhat naturally, and allow your head to turn in the direction of the roll.
Pace yourself. Most sports are physically taxing to the body, be honest about your fitness levels and do some training before you head out. When you are out there, be sure to warm up and cool down at the beginning and end of your day.
Many people injure themselves at the end of the day when they are tired from hours of physical exertion. If you are tired or in pain, resist the urge to 'go for a last run', call it a day and get some rest.
Winter sports such as skiing, snowboarding, tobogganing, and skating can be exhilarating and offer fun and exercise for the whole family. With a little preparation, injuries can be avoided with some professional instruction, properly fitted protective equipment, and a little common sense.
References from the SIRC Collection:
1. Dickson T, Gray T, Downey G, Saunders J, Newman C. Profiling Australian Snowsport Injuries: A Snapshot from the Snowy Mountains. Journal Of Sport & Tourism. November 2008;13(4):273-295.
2. Hébert-Losier K, Holmberg H. What are the Exercise-Based Injury Prevention Recommendations for Recreational Alpine Skiing and Snowboarding?. Sports Medicine. May 2013;43(5):355-366.
3. Marovino T, Moreau B. Beating the Winter Injury Blues. Physical Therapy Products. November 2012;23(8):16-19.
4. Ogrodzka K, Ridan T, Krużel J. INJURIES OF THE KNEE JOINT IN CHOSEN WINTER SPORTS DISCIPLINES. Medicina Sportiva. September 2011;15(3):132-139.
5. Safety Tips On Winter Sports. Fitnessdigest.Us. Winter2013 2013;5(1):1-4.
---
---
The information presented in SIRC blogs and SIRCuit articles is accurate and reliable as of the date of publication. Developments that occur after the date of publication may impact the current accuracy of the information presented in a previously published blog or article.