February 11, 2021
Career-Best Results for Isabelle Weidemann & Valérie Maltais at World Championships
Weidemann and Maltais finish fifth and eighth in women's 3000m; Jordan Belchos 10th in men's 5000m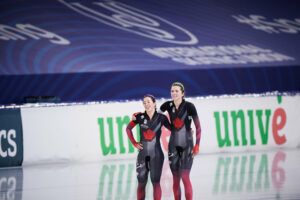 HEERENVEEN, NETHERLANDS – Canadian long track skaters Isabelle Weidemann and Valérie Maltais earned career-best results in the women's 3000m to kick off the ISU World Speed Skating Championships in Heerenveen, the Netherlands.
Weidemann was the top Canadian on Thursday, racing to a career-best fifth-place finish in the women's 3000m with a time of 4:00.965. It was the fifth time the Ottawa native reached the top-10 in the distance at the World Championships, having previously ranked as high as seventh in 2019. Weidemann ends the season as the country's top long distance skater, thanks in part to fifth and sixth place results during the two World Cups.
Teammate Maltais (Saguenay, Que.), who was paired with Weidemann in the race, cracked the 3000m top-10 for the first time in her career. She posted a time of 4:03.008 – two seconds faster than her season's best – which ranked her ninth overall, surpassing her previous best of 12th in 2019. Meanwhile, Penticton's Abigail McCluskey, who was competing in the distance for the very first time at the World Championship level, finished 18th overall (4:12.252).
Dutch skater Antoinette de Jong (3:58.470) was crowned world champion, narrowly defeating six-time winner Martina Sáblíková of the Czech Republic (+0.10), as well as teammate Irene Schouten (+1.28) of the Netherlands.
In the men's 5000m, Canada's lone competitor Jordan Belchos finished 10th overall with a time of 6:21.990. It was the fourth time the 31-year old from Toronto earned a top-10 result in the distance at the World Championships, having previously finished fifth (2020), eighth (2017) and ninth (2019).
Nils van der Poel of Sweden skated a new personal best time of 6:08.395 en route to a gold medal. He was joined on the podium by Patrick Roest of the Netherlands (+1.65) and Sergey Trofimov of Russia (+4.62).
The ISU World Championships continue tomorrow, where the 500m and Team Pursuit titles will be up for grabs. Canadian sprinters Laurent Dubreuil (3) and Heather McLean (1) earned a combined four World Cup medals in the 500m this season, while the men's and women's Team Pursuit squads reached the podium both times the discipline was contested, brining home two gold, one silver and one bronze.
CBC Sports will have live streaming coverage of the races beginning at 8:40 am ET on Friday. Visit the schedule for broadcast and streaming times in your area.
"I'm very happy with the race I skated today. My pairing with Isabelle [Weidemann] was ideal because I knew it would challenge me in a positive way. I skated two seconds faster than I had in the previous two World Cups, so things are off to a great start! It feels good to be back on the ice and I think we're getting more and more comfortable. You want to peak at the World Championships and that's not necessarily how I felt this week, so I tried not worry too much about how my legs were feeling and just focus on the technical and tactical things I knew I needed to do." – Valérie Maltais
"I'm happy with my result. It was much better than my World Single Distance Championship races from last year and much closer to the podium in terms of time. It was a flat race [in terms of lap times] and I'm excited to see where that gets me in the 5000m on Sunday." – Isabelle Weidemann
"I'm not very happy with my race today, but we have a great opportunity ahead of us in the Team Pursuit tomorrow, so I'm shifting my focus to that."– Jordan Belchos
Results
Isabelle Weidemann (Ottawa, Ont.): 5th in 3000m
Valérie Maltais (Saguenay, Que.): 8th in 3000m
Jordan Belchos (Toronto, Ont.): 10th in 5000m
Abigail McCluskey (Penticton, B.C.): 18th in 3000m
CONTACT
Alain Brouillette
Speed Skating Canada
communications@speedskating.ca
613-601-2630