From one mom to another: Tips for being active after welcoming a new baby
May 4, 2022
Becoming a mother is an exciting milestone in a woman's life. Once you welcome home a baby, nothing is ever the same again. While the transition to motherhood comes with many ups and downs, engaging in physical activity is a great way for new moms to protect their physical and mental health. For more information, see Moving women forward, a blog post about becoming active after childbirth.
As a research team, we've been exploring postpartum women's perspectives of physical activity engagement. To fully understand the challenges that new mothers face, we went to the experts: mothers. We asked moms, who were 6 to 12 months postpartum, for advice they would give to other new moms about being physically active.
In this blog, we outline key considerations for new moms based on the advice of the postpartum women in our research. We also offer tips for returning to movement with the aim of optimizing physical and mental health during the postpartum period.
1. Reframe physical activity as something that benefits your mind and body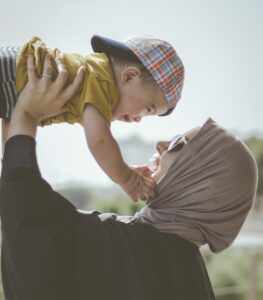 Small amounts of physical activity, even 10 to 15 minutes worth, can benefit both your physical and mental health (Teychenne et al., 2020). Many women discussed how challenging it is to start being physically active. Yet once they started, physical activity was invaluable to their mental health. They recommended mothers reframe physical activity as something they do for both their minds and bodies. Researchers have found that being active outdoors, and preferably in nature,  can be even more beneficial (Gladwell et al., 2013).
Exercise can also be empowering for mothers. Motherhood comes with many personal and societal expectations that can feel overwhelming (Bean & Wimbs, 2021), and the responsibility of caring for a newborn and other children can be consuming. Making time for oneself through physical activity can calm negative thoughts and provide a break from caregiving responsibilities, giving space for moms to feel accomplished, powerful and connected to their bodies (Lloyd et al., 2016).
Movement tip for new moms:
Reframe physical activity as something that you do for your mind and body. Research shows, when moms feel healthy and happy, they also feel like better parents (Hamilton et al., 2010).
2. Take it slow when jumping back in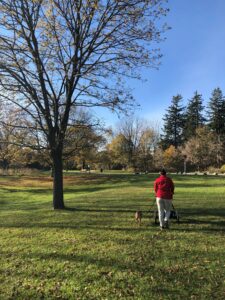 Returning to physical activity postpartum should be a gradual process. Many of the mothers we spoke with shared that they hadn't returned to their pre-childbirth levels of physical activity. Despite receiving clearance at the standard 6‑week, post-partum check-up, they didn't feel ready to resume regular physical activity.
The women we spoke to also said they managed expectations of how much physical activity they could do by listening to their bodies. While they were excited to move again, physically overextending themselves led to pain and delays in recovery. Checking in with their healthcare team was also an important part of their return to movement journey.
Movement tips for new moms:
Try low-impact, low-intensity activities, like walking, swimming or stretching when getting back into physical activity.
Listen to your body. Adjust the volume or intensity of your activity based on how you feel. If something feels "off," consult your physician or physiotherapist.
3. Be creative: Don't wait for the "stars to align"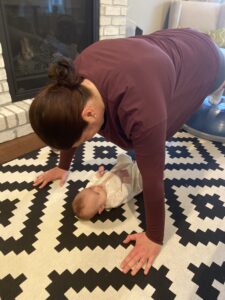 For many mothers, making the time for physical activity after childbirth requires flexibility and creativity. Before having children, the women in our research were accustomed to exercising in structured ways. These mothers had expectations of returning to their pre-baby routines, leading to stress and demotivation when those routines were hard to manage.
When the moms in our research reframed physical activity from structured exercise to "moving your body," they found it easier to be active. Instead of waiting for the "stars to align," they integrated movement into their daily routines by napping their infant in the stroller so they could get a walk or run in or through engaging in housework, errands and childcare. Likewise, allowing for flexibility around when, where and how they engaged in movement helped to follow their infant's unpredictable schedule. Doing so lessened feelings of guilt or stress during times when the moms missed scheduled exercise or when it looked different than originally planned (Dixon, 2009; Lloyd et al., 2016).


Movement tips for new moms:
Fit in small bouts of physical activity throughout the day as "exercise snacks," especially if it's difficult to find a large block of time for exercise (Islam et al., 2022).
Incorporate your child or children into your physical activity routine. For example, you could exercise at home while your baby is doing tummy time or at the playground while they're having their own fun!
Remember, physical activity isn't a one-size-fits-all prescription! Try a variety of activities, from exercising at the gym to gardening at home to joining a sports team. Go with activities that you find satisfying, meaningful and enjoyable, while also fitting with your lifestyle.
4. Grant yourself grace: Practise self-compassion
The women in our research described motherhood as a rollercoaster, with many "ups and downs." It's important to allow space for patience and grace while returning to movement because postpartum bodies are healing and adjusting to a new routine.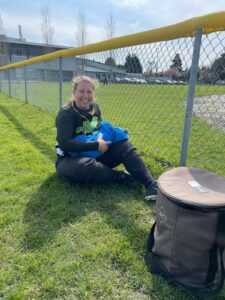 After giving birth, a safe return to physical activity happens slowly and with caution, which requires some patience (Evenson et al., 2014). Mothers often report feeling frustrated, stressed or confused about returning to exercising (Currie, 2004). Part of this process includes replacing the "bouncing back to pre-baby body" mindset with focusing on physical movements that your body is currently capable of.
But remember, you're not alone on this journey! In addition to consulting with medical professionals about returning to movement, connect with other mothers to hear and share stories. These connections can be critical in combating the guilt and self-doubt that often (and unfortunately) go hand-in-hand with motherhood.
Movement tips for new moms:
Be patient. Focus on what your body can do today, rather than what it used to do before (or during) your pregnancy. Just like for your child or children, you need to take baby steps. In your case, they're for your return to movement postpartum.
Remember that you're not alone on this journey. Talk to your healthcare providers, family and friends, and other mothers for support and shared learning.
5. Leverage support from your loved ones
The people closest to new mothers, including spouses and family members, see and may also experience the various changes that happen when a new baby arrives. Most moms agree that this support system is critical.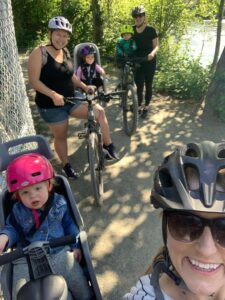 Family and friends are important sources of emotional support. For example, women often need to reconsider what it means to be physically active during and after their pregnancies. This can be as much of a mental shift as a physical one. During this period, loved ones can offer encouragement and compassion as you navigate the transition. They can also help you to be accountable to your physical activity goals (Bean & Wimbs, 2021). Take a read of another blog post to see how team sport can also be a great source of support for postpartum women.
But emotional support only goes so far. Other types of support are needed to minimize the barriers that new moms face to being physically active. Other types may include childcare and household support, such as running errands, doing chores and preparing meals. When family and friends take on childcare and household responsibilities, then the mental (and physical) load for mom is reduced, which allows mom the time and energy to meaningfully engage in movement (McKeown, 2021).
Movement tips for new moms:
Build your support system before baby arrives. Identify family and friends who can provide you with the types of support you'll need, from encouragement and accountability to meal prep and childcare.
Don't be shy to ask for what you need. Asking for help shows others that we trust and rely on them. It isn't a sign of weakness to ask for help. What you need in that moment might be a nap, so that you can meaningfully engage in physical activity later. And that's okay.
From one mom to another…
The return to movement doesn't need to be a daunting task. When you focus on your well-being, listen to your body, get creative, practice self-compassion and lean on your support system. You might find that moving your body is easier than you think. This way, moms can be happy and healthy, helping their babies be happy and healthy, too.
---
About the Author(s)
Corliss Bean, Ph.D., is an assistant professor in the Department of Recreation and Leisure Studies at Brock University. Her research involves working with individuals and community organizations to develop, implement and evaluate quality programming that fosters physical and psychosocial development. As a new mother, Corliss is living and experiencing firsthand the challenges and adjustments of engaging in physical activity. Corliss enjoys being physically active outdoors with her young son, husband and dog.
Iris Lesser, Ph.D., is an assistant professor in the School of Kinesiology at the University of the Fraser Valley and a Certified Exercise Physiologist. She enjoys participating in physical activity in her local natural surroundings in Chilliwack, BC, with her daughter and husband. Professionally, Iris is interested in innovative strategies using social support and outdoor physical activity to increase physical activity in the clinical population.
Talia Ritondo, M.A., is a recent master's graduate from Brock University in Leisure Studies. Her research focuses on postnatal, physically active leisure and sport participation through a critical feminist lens. She is also Brock's Gender and Sexual Violence Education Coordinator, which allows her to work closely with sport teams on campus to promote gender equity and inclusion in sport. Talia is a competitive volleyball player, who also enjoys weightlifting, baking, and playing video games and board games.
References
Bean, C., & Wimbs, R.-L. (2021). Running from (with) mom guilt: Exploring experiences of being a mother and training for and running marathons. Leisure/Loisir, 45(2), 245–267. https://doi.org/10.1080/14927713.2021.1874831
Currie, J. (2004). Motherhood, stress and the exercise experience: Freedom or constraint? Leisure Studies, 23(3), 225–242. https://doi.org/10.1080/0261436042000251987
Dixon, M. A. (2009). From their perspective: A qualitative examination of physical activity and sport programming for working mothers. Sport Management Review, 12(1), 34–48. https://doi.org/10.1016/j.smr.2008.09.002
Evenson, K. R., Mottola, M. F., Owe, K. M., Rousham, E. K., & Brown, W. J. (2014). Summary of international guidelines for physical activity after pregnancy. Obstetrical & Gynecological Survey, 69(7).
Gladwell, V. F., Brown, D. K., Wood, C., Sandercock, G. R., & Barton, J. L. (2013). The great outdoors: How a green exercise environment can benefit all. Extreme Physiology & Medicine, 2(1), 3. https://doi.org/10.1186/2046-7648-2-3
Hamilton, K., & White, K. M. (2010). Understanding parental physical activity: Meanings, habits, and social role influence. Psychology of Sport and Exercise, 11(4), 275- 285. https://doi.org/10.1016/j.psychsport.2010.02.00
Islam, H., Gibala, M. J., & Little, J. P. (2022). Exercise snacks: A novel strategy to improve cardiometabolic health. Exercise and Sport Sciences Reviews, 50(1), 31–37. https://doi.org/10.1249/JES.0000000000000275
McKeown, J. K. L. (2021). Carrying the mental load: Examining implications for families, women's leisure, and gender justice. In D. E. Trussell & R. Jeanes (Eds.), Families, sport, leisure and social justice: From protest to progress. (pp. 47–58).
Lloyd, K., O'Brien, W., & Riot, C. (2016). Mothers with young children: Caring for the self through the physical activity space. Leisure Sciences, 38(2), 85–99. https://doi.org/10.1080/01490400.2015.1076362
Teychenne, M., White, R. L., Richards, J., Schuch, F. B., Rosenbaum, S., & Bennie, J. A. (2020). Do we need physical activity guidelines for mental health: What does the evidence tell us? Mental Health and Physical Activity, 18, 100315. https://doi.org/10.1016/j.mhpa.2019.100315
---
The information presented in SIRC blogs and SIRCuit articles is accurate and reliable as of the date of publication. Developments that occur after the date of publication may impact the current accuracy of the information presented in a previously published blog or article.