Thinking about Reconciliation on National Indigenous Peoples Day
June 20, 2018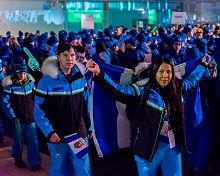 June 21st is National Indigenous Peoples Day, celebrated annually since 1996. It is intended as a day for all Canadians to recognize and celebrate the unique heritage, diverse cultures and outstanding contributions of First Nations, Inuit and Métis peoples.
National Indigenous Peoples Day coincides with the summer solstice, a time when many Indigenous communities have celebrations due to the significance of the summer solstice as the longest day of the year. Sport and physical activity is often an important part of these celebrations. Central to the belief system and worldview of many Indigenous communities across Canada is a whole-health approach that encompasses spiritual, mental, physical and emotional health. It is this belief system that intertwines sport and culture for Indigenous people, and the blurs the lines that separate sport, culture and physical activity in many non-Indigenous communities – just ask a powwow dancer, a lacrosse player, or a paddler participating in Tribal Canoe Journey.
The engagement of Indigenous peoples as participants and leaders has been identified as a priority by many organizations in Canada's sport and physical activity system. For some, growing interest has been fueled by a commitment to equity, or by good business sense given Indigenous people are the fastest growing population group in Canada. For others, it's been the findings and Calls to Action from the Truth and Reconciliation Commission that have sparked action.
Sport and the Truth and Reconciliation Commission
The Truth and Reconciliation Commission of Canada (TRC) is a component of the Indian Residential Schools Settlement Agreement mandated to inform all Canadians about Indian Residential Schools and document the truth of survivors, families, communities and anyone affected by the residential school experience. The process of reconciliation is designed to repair the damaged relationship between Indigenous and non-Indigenous peoples in Canada. The process builds on Canada's commitment to the United Nations Declaration on the Rights of Indigenous Peoples, which sets a minimum standard for the survival, dignity and wellbeing of Indigenous peoples. In 2015, the TRC released 94 Calls to Action to advance Canadian reconciliation, intended to mobilize all levels of government, organizations, and individuals to make tangible changes in Canadian society.
There are five Calls to Action centred on sport and reconciliation:
Provide public education that tells the national story of Aboriginal athletes in history.
Ensure long-term athlete development and growth and continued support for the North American Indigenous Games.
Amend physical activity and sport legislation so that policies are inclusive of Aboriginal people.
Ensure national sports policy, programs and initiatives are inclusive and establish:

stable funding and access reflecting diversity of Aboriginal culture and traditional sport activities,
an elite athlete development program,
programs for coaches, trainers and officials that are culturally relevant for Aboriginal peoples, and
anti-racism awareness and training programs.

Call upon the officials and host countries of international sport events to ensure Indigenous peoples' territorial protocols are respected and local Indigenous communities are engaged in all aspects of planning and participation.
Building relationships with Indigenous Peoples
The following tips can help non-Indigenous organizations build strong relationships with Indigenous communities:
Educate yourself about the issues, and advocate training for all staff and volunteers – e.g., the Kairos blanket exercise is an interactive learning experience about the history of Indigenous people in Canada described by many as "eye opening".
Examine organizational policies to remove any discriminatory practices and proactively support inclusion.
Partner with Indigenous organizations, within and outside of sport, to gain expertise and build respectful linkages.
Make decisions with the community to avoid decision-making based on assumptions and stereotypes – communities have diverse needs, interests and experiences.
Take part in the local Indigenous community to build organizational and personal relationships – join in solstice celebrations, or search out Indigenous Friendship Centres located in many urban centres.
Recommended Resources
– Truth and Reconciliation Commission and the National Centre for Truth and Reconciliation
– Aboriginal Sport Circle – Canada's national voice for Aboriginal Sport
– Coaching Association of Canada's Aboriginal Coaching Modules
– Motivate Canada's Gen7 Program
– North American Indigenous Games Council and Toronto 2017 North American Indigenous Games  
About the Author – Marcia Trudeau-Bomberry is Anishinaabe from Wiikwemkoong Unceded Territory on Manitoulin Island. She was CEO of the Toronto 2017 North American Indigenous Games (NAIG) Host Society, and was involved with the establishment of the provincial sport body for Indigenous people in Ontario. Marcia lends her knowledge and understanding of the Indigenous sport and physical activity landscape to volunteer positions at the community and federal levels. She is a mother to three daughters.
---
---
The information presented in SIRC blogs and SIRCuit articles is accurate and reliable as of the date of publication. Developments that occur after the date of publication may impact the current accuracy of the information presented in a previously published blog or article.