The Paradox of Integration: Building a Panacea or Exacerbating a Partition?
February 10, 2016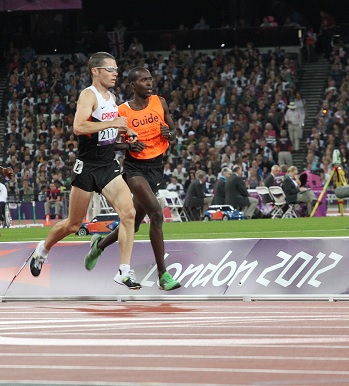 Canada prides itself for celebrating difference. In recent years, NSO's too have embraced diversity by welcoming athletes with disabilities through a policy of integration intended to level the playing field and elicit podium success. Although this progressive approach aims to streamline sport delivery and technical services for high performing para athletes, the flip side is that less athletes with disabilities may be entering and remaining within the sport system.
Historically, disability was understood as a medical phenomenon linked to illness or injury (Hahn, 1985). Disability sport would develop out of rehabilitation medicine to be administered either by illness and disability organizations or by disability sport groups like the Canadian Wheelchair Sports Association, or Canadian Blind Sports Association. Participants were encouraged to try sports in non-threatening environments, often alongside peers with similar disabilities (Legg, 2011, p6). Although many of these participants would feel empowered as athletes, they would often fail to become high performers because of a lack of elite coach support.
As disability came to be understood not solely as a health challenge but as an interaction between an individual's body and their society, it became apparent that greater equity could be achieved through the removal of environmental and social barriers (World Health Organization online). Beginning in the early 1990's, disability sport adopted a sport model premised on the idea that anybody could participate in mainstream sport (Legg, 2011, p16). Sport Canada and other international agencies began to fund NSO's to deliver programs for athletes with disabilities. By the early 2000's, the change was complete in Canada, with only those sports not practiced by able-bodied athletes, such as goalball played among blind athletes, still administered by disability sport organizations (Legg, 2011, p16).
Elite athletes with a disability today enjoy unprecedented support and opportunities. Canadian sport culture has evolved such that these athletes can:
Benefit from high level coaching while training alongside able-bodied athletes;
Take advantage of cutting edge science in maximizing performance;
Pursue incentives such as Sport Canada funding, sponsorships, and media notoriety;
Achieve performances comparatively far superior to their predecessors.
Yet paradoxically, Canada is falling behind among Paralympic nations vying for the podium. At the 2004 Athens Summer Games, Canada finished third overall and garnered 72 medals. Contrast this with finishing twentieth at London 2012 with just 31 medals. To be fair, we have improved on the winter side, albeit against a relatively narrow field of mainly Nordic nations.  More notable though is that athletes from nations such as Brazil and China have emerged to redefine the summer Paralympic landscape in recent years.
Our sport system has placed a premium on its aging cohort of best performers, without effectively mobilizing a next generation capable of taking their place. In lieu of programs formerly extended to prospective athletes by disability sport groups, the Canadian Paralympic Committee and NSO's have tried to fill the void with information or talent identification events. More often than not though, attendees do not continue on within a competitive program. It's far more daunting for a wheelchair track athlete to approach her local able-bodied club than it would be for her to join a disability sport group for example.
I have lived through this process of integration as a long-time national team athlete in the sport of Para Athletics. For me, the key to remaining involved in competitive running as a young person was the supportive environment created by teachers at the high school which I attended in the mid 1990's along with other blind students. Without the subsequent coaching and support I received within the mainstream system, I probably would not have gone on to compete internationally. Conversely though, its unlikely that I would have ever caught the running bug in the first place without a 'safe' environment in which to test the waters of being an athlete alongside others like me. And indeed, research conducted in 2013 by a team of investigators led by Kathleen Martin Ginis from McMaster University points to the role that educational initiatives and personal contact, as well as discussion groups and counselling can play in influencing behavioural changes towards physical activity among individuals with a disability.
Canada has responded to evolving perceptions of disability by taking a well-intentioned step towards integrating athletes with a disability. Although considerable structural changes have taken place towards aligning our sport system in recent years, true integration must encompass the social and emotional dimension too. Athletes with disabilities come with unique needs, strengths, motivations and vulnerabilities which are sometimes overlooked within the mainstream sport system. Additionally, many coaches and sport administrators may feel unsure of their role in relation to the athletes with disabilities with whom they are being asked to work. Yet our new Minister of Sport and Persons with Disabilities, Carla Qualtrough, herself a Paralympian from the disability sport era, is uniquely placed to spearhead government efforts to enhance participation and high performance pathways for athletes of all abilities.
Integration may still be a work in progress; yet as I begin to contemplate the end of my own competitive career, I'm optimistic that we will begin to see more spaces within which aspiring athletes with disabilities might emerge in the years to come. Enhanced collaboration between able-bodied and disability sport organizations is surely a vital step towards ensuring better sport alignment (System Alignment and Integration online). In this way, we can hope to harness the lessons of the rich past towards strengthening the continuum of participation and high performance for our next generation.
References:
Hahn, Harlan. "Towards a Politics of Disability: Definitions, Disciplines and Policies". Independent Living Institute. Accessed online, January 11, 2016. www.independentliving.org/docs4/hahn2.html#definition
Legg, David. "Special Report: CS4L for Athletes with a Disability". Prepared for Canadian Sport for Life, 2011. Accessed online, January 8, 2016. http://canadiansportforlife.ca/resources/special-report-cs4l-athletes-disability
"System Alignment and Integration". Canadian Sport for Life. Accessed online, January 11, 2016. http://canadiansportforlife.ca/athletes-disabilities/system-alignment-and-integration.
World Health Organization. "Disabilities". Accessed online, January 12, 2016. www.who.int/topics/disabilities/en/
About the Author
Jason Dunkerley has proudly represented Canada at 4 Paralympic Games, winning 5 medals in middle distance track events against other blind runners. He has been a member of the national Para Athletics team since 1998, and away from the track, has sought to promote inclusive physical activity so that more people with disabilities might catch the physical activity bug. Along with his guide runner, Josh Karanja, Jason hopes to represent Canada at the Rio de Janeiro Paralympics in 2016.
---
---
The information presented in SIRC blogs and SIRCuit articles is accurate and reliable as of the date of publication. Developments that occur after the date of publication may impact the current accuracy of the information presented in a previously published blog or article.