The cheater's high: why do athletes cheat?
July 21, 2014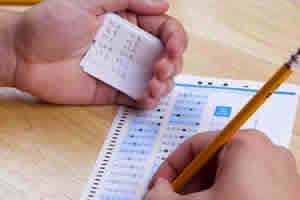 Athletes train to be able to compete at their best with integrity, honesty and the hope their opponents have done the same, although sometimes this is not the case. Cheating is nothing new; resorting to anything to get an edge on your opponent, has long been part of the history of sport. Whether it is performance enhancing drugs, shaving points, or sports betting, the dark side of our will to win can tarnish the image of the athlete or their chosen sport.
The Cheater's High is a study published by the American Psychological Association, which concluded that cheating could paradoxically trigger positive feelings among those who participated in the act. They found that participants who cheated had more positive feelings than those who did not. In an experiment involving math and logic questions, cheaters were overall more satisfied than those who followed the rules or had the chance to break the rules. As long as no one was hurt they did not feel guilty but rather, noted a boost from getting away with it.
Another study looking at why students cheat concluded that after cheating once, students did not view it as immoral the second time. The research also found that if a student sensed others were using deceptive means during testing, their chances of doing the same increased as well. This is similar to when an athlete will sometimes rationalize their unethical behavior on the basis that their opponents were doing the same.
Cheating terms in sports:
Corking – When a baseball player inserts cork into the interior of a baseball bat, to make it lighter. A lighter bat allows a hitter to catch up to pitches.
Match fixing – When players, coaches, team officials or referees manipulate the results of a match, usually to help out gamblers.
Falsified birth certificate – Athletes falsify their birth certificate in order to appear younger or older in order to be eligible to participate in certain sporting events.
The notoriety an athlete can achieve by becoming a champion can sometimes lead them to unethical behavior. The problem with cheating, especially in sports, is that it eliminates the possibility of having an equal playing field. Not only does it take away fair competition from the clean athletes, it also deceives the fans of the true winner.
References Available from SIRC Online Collection:
1. Broshuis G. Restoring Integrity to America's Pastime: Moving towards a More Normative Approach to Cheating in Baseball. Texas Review Of Entertainment & Sports Law. Spring2013 2013;14(2):119-146.
2. PALOU P, JAVIER PONSETI F, GARCIA-MAS A, et al. ACCEPTANCE OF GAMESMANSHIP AND CHEATING IN YOUNG COMPETITIVE ATHLETES IN RELATION TO THE MOTIVATIONAL CLIMATE GENERATED BY PARENTS AND COACHES1,2. Perceptual & Motor Skills . August 2013;117(1):290-303.
3. POTGIETER J. CHEATING: THE DARK SIDE OF SPORT. South African Journal For Research In Sport, Physical Education & Recreation (SAJR SPER). October 2013;35(2):153-162.
4. Ribock J. THE NCAA: ENABLING CHEATING SINCE 1910 BY INADEQUATELY PUNISHING CHEATING COACHES. Mississippi Sports Law Review. Spring2012 2012;2(1):389-409.
5. Šukys S. ATHLETES' JUSTIFICATION OF CHEATING IN SPORT: RELATIONSHIP WITH MORAL DISENGAGEMENT IN SPORT AND PERSONAL FACTORS. / MORALINIO PATEISINIMO IR SPORTININKŲ ASMENINIŲ VEIKSNIŲ SĄSAJOS SU APGAULĖS SPORTINĖJE VEIKLOJE VERTINIMU. Education. Physical Training. Sport. November 2013;3(90):70-77.
6. Zaksaite S. The Interrelation of Micro and Macro Factors That Contribute to Cheating in Sports. Sport & EU Review. October 2012;4(2):9-23.
---
---
The information presented in SIRC blogs and SIRCuit articles is accurate and reliable as of the date of publication. Developments that occur after the date of publication may impact the current accuracy of the information presented in a previously published blog or article.