#ThanksCoach – Celebrating National Coaches Week 2018
September 25, 2018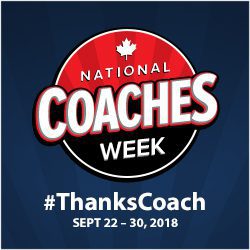 September 22 – 30, 2018, marks the fourth annual National Coaches Week – an opportunity to celebrate the tremendous positive impact coaches have on athletes and communities across Canada.
There are many reasons why people get involved in coaching sport:
as parents, we want to spend time with our child in an active way;
as individuals, we want to volunteer and get involved in our community;
as teachers, we have taken on extra-curricular school activities;
as athletes, we want to pursue our passion in a different direction and give back to our community;
as fans, we simply love sport and want to give coaching a try.
NCCP – the foundation of coach education in Canada
The Coaching Association of Canada (CAC) is committed to raising the skills and stature of coaches, and ultimately expanding their reach and influence. Through its programs, the CAC empowers coaches with knowledge and skills, promotes ethics, fosters positive attitudes, builds competence, and increases the credibility and recognition of coaches. The National Coaching Certification Program (NCCP) was launched in 1974, and is the largest adult continuing education program in Canada. The NCCP is designed to give coaches from the grassroots to international level the skills and confidence to succeed.
Free eLearning during National Coaches Week!
To celebrate National Coaches Week, the CAC is pleased to offer free eLearning. Whether you're new to coaching, or you're an experienced coach looking for a refresher or simply furthering your knowledge, there's an NCCP eLearning module that's just right for you!
1. Coaching Initiation in Sport
The Coach Initiation in Sport online module is designed as an important introduction to the key coaching concepts and educational tools that are the foundation of the NCCP. The module remains an excellent informational resource for coaches, which they can revisit at any time after its successful completion.
Coach Initiation in Sport is a valuable resource for:
Parents new to coaching;
New coaches;
Experienced coaches new to the NCCP;
Athletes transitioning to coaching;
Experienced NCCP coaches who need professional development, or a refresh on the fundamental principles of the NCCP; and
Sport administrators who work with the NCCP and coach development.
It will take approximately 1 hour to complete this eLearning module. Click HERE to learn more about Coach Initiation in Sport.
2. Making Head Way in Sport
Concussions can occur while participating in any sport or recreational activity. Designed to help you gain the knowledge and skills required to ensure the safety of your athletes, this multi-sport module will cover:
What to do to prevent concussions
How to recognize the signs and symptoms of a concussion
What to do when you suspect an athlete has a concussion
How to ensure athletes return to play safely
Making Head Way is available in 6 different versions, including a multi-sport version and five sport-specific versions (soccer, snowboard, speed skating, freestyle ski, and football).
You should expect to spend 60-90 minutes completing this eLearning module. Click HERE to learn more about Making Head Way in Sport and get Concussion Smart today!
3. Coaching Athletes with a Disability
Coaching Athletes with a Disability NCCP training provides coaches the knowledge to deliver quality, positive sport experiences for athletes, specifically with behavioural, intellectual, physical, and sensory disabilities.
Coaching Athletes with a Disability NCCP training will provide coaches the ability to:
Explain the benefits of sport participation for persons with a disability;
Communicate effectively and respectfully with, and regards to, persons with a disability;
Design positive, safe, and inclusive sport experiences for persons with a disability; and
Consider next steps in their professional development related to coaching persons with a disability.
It will take approximately 45 minutes to complete this eLearning module. Click HERE to learn more about Coaching Athletes with a Disability NCCP training.
Visit the CAC's website for more information about becoming a coach and other coach education opportunities.
---
---
The information presented in SIRC blogs and SIRCuit articles is accurate and reliable as of the date of publication. Developments that occur after the date of publication may impact the current accuracy of the information presented in a previously published blog or article.