Supporting injured athletes and their team: How to use a group dynamics model to protect social cohesion
March 29, 2023
When helping an athlete recover from injury, it is common for those in supporting roles (such as, coaches, practitioners or parents and guardians) to separate the needs of the injured athlete from the larger team. This makes sense, considering the athlete is dealing with the physical, emotional and psychological effects of rehabilitation (Clement et coll., 2015). However, it is important for those in supporting roles not to overlook the impact an injured athlete's absence from training and competition can have on both the individual, and the functioning and performance of their team.
In this blog, we will explain how viewing an athlete's injury recovery from a group dynamics perspective can help the injured individual feel supported and connected to their team during rehabilitation, while also helping the broader team maintain performance.
Understanding team dynamics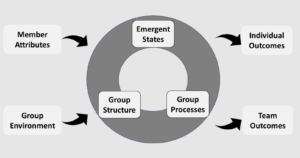 Understanding how different factors in a team environment interact and contribute to team functioning and individual experiences can help when supporting injured team members and buffering detrimental effects on team performance (Adams et coll. 2022).
Elements that contribute to team dynamics include (Eys et coll., 2022):
"Inputs"

This includes characteristics of individual members and the team environment

"Throughputs"

This refers to the structure, processes and perceptions of the group

"Outputs"

This refers to the desirable (or sometimes undesirable) individual or team outcomes
How team inputs are impacted by an injury
Each team member has unique biological (for example, height), social (for example, spiritual beliefs), and psychological (for example, personality) attributes that shape the interactions they have with other team members (McGrath, 1984). Similarly, features of the team environment, such as how many athletes are on the field of play at a time or a team's access to certain resources (like facilities or equipment) also influence the interactions among team members (McGrath, 1984).
When an athlete gets injured, the makeup or structure of the group is forced to change because they are unable to participate in the same ways as when they were healthy. As a result, other team members are presented with new opportunities, altering how the team functions (Surya et coll., 2015; Van Woezik et coll., 2020).
How team throughputs are impacted by an injury
Similar to groups in other domains (such as businesses or the military), sports teams have organizational structure. When an injured athlete is unable to train or compete, it not only affects the team's physical structure (such as who plays what position), but also the psychological structure (for example, roles within the team) (Surya et coll., 2015).
Athletes adopt or are assigned roles based on their abilities, status within the group, or a pattern that emerges in the way they interact with other members of the team (Cope et coll., 2011). Some roles are considered formal (such as captain) and come with well-defined expectations that should be made clear by the coach. Other roles are considered informal (for example, comedian), and come with their own set of expectations that may vary depending on who is filling the role (Cope et coll., 2011). Regardless, when a team member suffers an injury, roles within the team shift.
Coaches can promote a smooth transition by ensuring team members understand what their new roles require of them and revising team strategy to reflect the strengths and weaknesses of the group (Surya et coll., 2015; Van Woezik et coll., 2020). It is also important for coaches, practitioners and guardians of injured players to help them maintain active involvement with the team and feel supported by temporarily providing them a new role (Van Woezik et coll., 2020). Injured players can take on roles such as stats keeper or mentor to younger players.
How team emergent states are impacted by an injury
When all members of the team understand their new roles and feel like they are contributing members, they are more likely to have a positive experience within the team. These perceptions of how we feel as a team member and individual in a team setting are what are referred to as "emergent states." Cohesion is a key emergent state to consider when an athlete is rehabbing an injury. Cohesion refers to how united an athlete feels their team is regarding task and social objectives (Carron et coll., 1988).
Injured athletes are at risk of disengaging with the team when they feel as though they have a diminished role. When athletes feel they are part of a cohesive group, they demonstrate greater coping ability (Wolf et coll., 2015), are more likely to attend games and practices (Carron et coll., 1988) and accept a diminished role (Prapavessis & Carron, 1997), easing the transitions occurring within the team.
Regularly using cohesion-boosting strategies, such as having a shared team mission and keeping the injured athlete involved with the team can buffer the isolating effects of injury, support their reintegration when they are healthy, and help other athletes adjust to their new responsibilities.
In addition, open and effective communication between coach, athlete, sports medicine practitioners, parents and guardians about the rehabilitation process is key to supporting the injured individual. Open and effective communication can help a recovering athlete feel like they have control over their rehabilitation process, foster positive thinking and goal setting, and protect them from rushing recovery (Podlog & Doinigi, 2010).
Evidence-informed tips to support athletes during and after an injury:
Coaches can establish a team mission, values and expectations, and revisit these pillars with the team on a regular basis, including when challenges (for example, injury) arise
Coaches can communicate with each athlete about their role within the team and discuss how roles will shift when an injury occurs (be realistic and adapt role expectations based on the abilities of the athletes)
Coaches and guardians can provide injured athletes with opportunities to stay engaged with the team in new roles while they are recovering (for example, stats keeper or helper during practice)
Coaches, teammates and guardians can provide emotional support (for example, encouragement or empathetic listening) to athletes following their injury
Coaches can coordinate with sports medicine professionals and guardians to protect injured athletes from rushing recovery by fostering realistic goal setting and positive thinking
Conclusion
Considering the framework for team dynamics in sport can help the injured athlete have a smooth transition back to play and maintain team performance in their absence (Eys et coll., 2022). Using team dynamics as a guide, coaches, athletes, practitioners and guardians can keep everyone informed and involved while the injured athlete works their way back to competition.
---
About the Author(s)
Jason Clare is a practicing kinesiologist with the BCAK (British Columbia Association of Kinesiologists) who received his bachelor of Kinesiology and Health Sciences from York University and is currently studying at Vancouver Island University. His work as a Kinesiologist focuses on active rehabilitation for both acute and chronic injuries.
Thomas Leaf, is a Bachelor's of Kinesiology student at Vancouver Island University and youth baseball coach in Nanaimo, B.C. who is aspiring to pursue his Master's degree in the Fall of 2023.
Jordan D. Herbison, Ph.D., is a Professor of Kinesiology in the Faculty of Education at Vancouver Island University. His research has focused on optimizing group environments to promote leadership, participation opportunities, and individual experiences in sport and rehabilitation settings
References
Carron, A. V., Widmeyer, W. N., Brawley, L. R. (1988). Group cohesion and individual adherence to physical activity. Journal of Sport & Exercise Psychology, 10, 119-126. https://doi.org/10.1123/jsep.10.2.127.
Clement, D., Arvinen-Barrow, M. et Fetty, T. (2015). Psychosocial responses during different phases of sport-injury rehabilitation: A qualitative study. Journal of Athletic Training, 50(1), 95-104. https://doi.org/10.4085/1062-6050-49.3.52
Cope, C. J., Eys, M. A., Beauchamp, M. R., Schinke, R. J. et Bosselut, G. (2011). Informal roles on sport teams. International Journal of Sport and Exercise Psychology, 9, 19–30.
Falcão, W. R., Bloom, G. A. et Loughead, T. M. (2015). Coaches' perceptions of team cohesion in paralympic sports. Adapted Physical Activity Quarterly, 32(3), 206-222. https://doi.org/10.1123/APAQ.2014-0122
Jowett, S. et Chaundy, V. (2004). An investigation into the impact of coach leadership and coach-athlete relationship on group cohesion. Group Dynamics, 8, 302-311. https://doi.org/10.1037/1089-2699.8.4.302
McEwan, D. et Beauchamp, M. R. (2014). Teamwork in sport: A theoretical and integrative review. International Review in Sport & Exercise Psychology, 7, 229-250. https://doi.org/10.1080/1750984X.2014.932423.
McGrath, J. E. (1984). Groups: Interaction and performance. Prentice-Hall.
Podlog, L., Doinigi, R. (2010). Coach strategies for addressing psychosocial challenges during the return to sport from injury. Journal of Sports Science, 28, 1197-1208. https://doi.org/10.1080/02640414.2010.487873.
Prapavessis, H. et Carron, A. V. (1997). Sacrifice, cohesion, and conformity to norms in sport teams. Group Dynamics, 1, 231-240. https://doi.org/10.1037/1089-2699.1.3.231.
Surya, M., Benson, A. J., Balish, S. M. et Eys, M. A. (2015). The influence of injury on group interaction processes. Journal of Applied Sport Psychology, 27, 55-62. https://doi.org/10.1080/10413200.2014.941512
Van Woezik, R. A., Benson, A. J. et Bruner, M. W. (2020). Next one up! exploring how coaches manage team dynamics following injury. The Sport Psychologist, 34(3), 198-208. https://doi.org/10.1123/tsp.2019-0148
Wolf, S. A., Eys, M. A., Sadler, P. et Kleinert, J. (2015). Appraisal in a team context: Perceptions of cohesion predict competition importance and prospects for coping. Journal of Sport & Exercise Psychology, 37(5), 489-499. https://doi.org/10.1123/jsep.2014-0276
---
The information presented in SIRC blogs and SIRCuit articles is accurate and reliable as of the date of publication. Developments that occur after the date of publication may impact the current accuracy of the information presented in a previously published blog or article.