Sport and Physical Activity to De-Stress the Holidays
December 20, 2017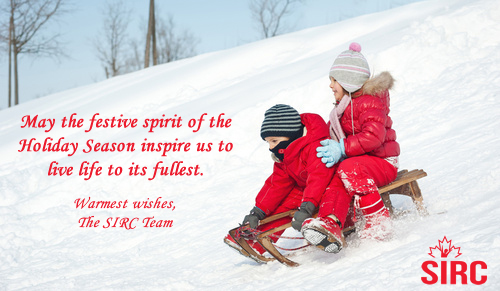 From our team to yours, wishing you all the best of the holidays and a Happy New Year! We look forward to empowering sport through knowledge in 2018.
The holiday season is a wonderful time of year when family and friends get together to celebrate the joys life brings. For some, however the holidays can be a stressful time planning and/or attending social events, finishing up the year's work, trying not to overeat those holiday treats or trying to fit in that last minute holiday shopping. Being active through sport or exercise is an excellent way to help manage stress, even the experts agree that being active is the best long-term way of decreasing stress levels.
Here's a few active things you can do to relieve your holiday stress:
Exercise regularly. Research shows that physical activity not only boosts your fitness and energy levels but by releasing endorphins can also elevate your moods. Being active increases your heart rate, oxygen levels and increases blood circulation. Make sure to fit in your regular exercise routine, it not only keeps you on track, but helps expend negative energy that may be building due to anxiety. Exercise can also help relieve some of those sugar cravings that add to your stress levels.
Healthy eating. When things get busy, plan some health meals ahead of time and either make sure you have the ingredients on hand or make meals in advance so you have them handy in the freezer. Eating healthy foods and snacks on hand means you can balance out those sweet treats and other indulgences you wish to partake of. Keep in mind it isn't bad to treat yourself, moderation being the key.
Active gatherings. Make one of your social events a sporting event. Gather your friends and loved ones around a skating party or rent a sheet at a local curling club and get the gang together. Tobogganing is another great group activity. Even a good old snowball fight outside can get the heart rate up and boost anyone's mood.
Get outside with a friend or loved one to reconnect. Go snowshoeing, cross-country skiing, or take a long hike with someone you enjoy. Being outdoors clears the mind and by taking a partner, you can take a few moments to connect one-on-one to catch up and let them know how important they are to you.
Mind-body exercise. Add in some yoga or Tai Chi even if it is only for a short time. Not only will this help you stretch out any tightness that it building it can help you get in tune with what stress is doing to your body and mind and then help you work those kinks out. The breathing and calming techniques combine with the strength and flexibility exercises help balance out outside stressors.
Relaxation breaks. While not active in and of itself, it is important to take a few minutes out of your busy schedule to stop and check in with yourself. Whether it is taking a few minutes to have a hot cup of tea, coffee or hot chocolate, or just a minute to do some relaxation breathing or meditation, taking "me time" is an important part to managing your stress level. Try some positive self-talk or simply remind yourself to enjoy the season. At the same time make sure to get enough sleep.
Take your exercise with you. If you are travelling these holidays, don't stress out about finding the closest gym. Taking some small, simple exercise equipment with you can help you fit in exercise at your own convenience. You can do quick 15-20 minutes circuits with simple equipment and the furniture around you to get both cardio and strength training in.
Add exercise to the "To Do" List. Don't let the sheer volume of your To Do List add to your stress levels. By remembering to add in exercise, sleep, and healthy eating you are improving your ability to have the energy and right frame of mind to accomplish all those other things on your list.
Stress in and of itself can be a health risk. During the holiday season anxiety and the heightened emotion of the season may trigger overeating, increased alcohol consumption, arguments with those close to us, skipping out on exercise, not getting enough sleep and neglecting the needs of yourself while focusing on others. It is important to take care of both your physical and mental health during this time and being active can address both of these. So take some time out of your busy life and take care of yourself by getting active. Help yourself get the most out of the joy of the season!
---
References
(2017). 7 ways exercise can make the holiday season less stressful and more cheerful. ParticipACTION.
(2011). Ways to be Active When the Whole Family Gets Together for the Holidays. SPARK
Balzarini, D. 5 Ways to Stay Active During the Holiday Season. ACTIVE.
Bennett, C. (2009). 7 Tips to Relieve Holiday Stress. Psychology Today.
Hatfield, H. 4 Stress-Busting Moves You Can do Anytime. WebMD.
---
The information presented in SIRC blogs and SIRCuit articles is accurate and reliable as of the date of publication. Developments that occur after the date of publication may impact the current accuracy of the information presented in a previously published blog or article.