Powered by the People: the Magic of Crowdfunding in Sport
November 28, 2018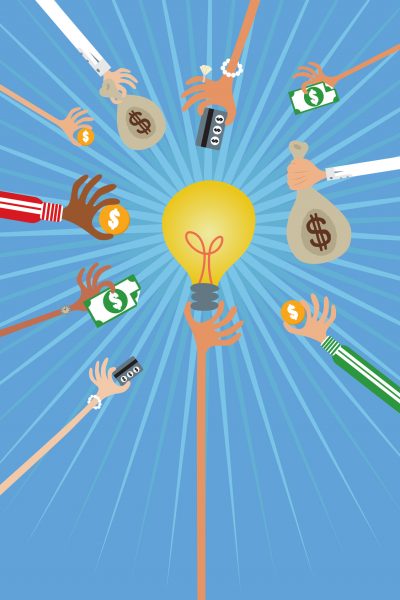 Funding for sport is changing and government support is increasingly more difficult to obtain, but the money is out there – it just needs to be found. A relatively new fund development tool is crowdfunding. Think about it, a crowdfunding campaign is similar to sport – it's time sensitive, there's a very clear goal, it's competitive, and best done together. Whether it's at the national level for travel to represent our country, at the educational level to pay for training camps, or at the grassroots level to afford extra equipment, crowdfunding has a great return on investment.
Crowdfunding as a fund development tool leverages the passion of a community.  In all areas of giving, it is important to connect supporters to the individual. Who specifically is being helped? Why do they need the money? And, most important, where will the donor's money go? Crowdfunding provides the perfect platform to answer these questions – it is direct, it is personal, and the outcome of the campaign is clear.
The benefit of crowdfunding is that it can be implemented within all levels of sport, tweaking strategies to appeal to specific target audiences. When an organization leverages this tool as part of their fund development strategy, it has the power to transform the philanthropic conversation within its community of supporters.
High Performance
As an RCAAA (Registered Canadian Amateur Athletic Association), most federations and other sport organizations are able to provide tax receipts for donations. This is a great resource to kick start crowdfunding initiatives. Beyond crisis fundraising (e.g. for athletes who've lost funding), sport federations can use crowdfunding as a strategic tool to raise funds to support annual operations –kick starting grassroots programming or ensuring athletes have everything it takes to make it to the podium. Rowing Canada Aviron supported NextGen athletes to chase their Olympic dreams by crowdfunding through the #RCANextGen campaign, which has raised over $100,000 in two years to directly reduce athlete assessment fees. This campaign united the Canadian rowing community to support the up and coming athletes that they care so deeply about, and contribute to securing the future of the sport while also positioning the organization philanthropically.
Athletic Departments
Crowdfunding can also be an effective strategy for university and college athletic departments. Crowdfunding is well-suited for athletes, requiring little more than an honest, clear-cut emotional appeal with a very specific goal – no postage fees, printing costs, or special gimmicks. Involving student-athletes in driving a crowdfunding campaign allows them to take ownership over a project that is often very specific to their team needs – nationals, training camps, or new equipment – and when done right, can exceed their goals (for example, see this campaign from McGill University).
Community Sport
Crowdfunding is a powerful tool to rally the community around a cause, and provides an opportunity for them to support wonderful initiatives in their own backyard.
Take Kory-Antony Roy-Lagacé, a 15-year-old boy who suffers from a serious and rare disease that attacks his immune system. A talented hockey goalie for the Bantam BB Bleu et Or in Québec, his symptoms often prevent him from attending school, hockey practices and games. Enter crowdfunding. With the help of a local family foundation, Kory's friends and family were able to set up a crowdfunding campaign to raise money for a hyperbaric chamber that helps to manage his pain and energy and allows him to participate regularly in his school and hockey activities for several months consecutively. With the support of a few great individuals who were driven to lead this campaign, they raised $10,000 in ten days. A quick peek at the donor list and you'll see other local foundations that support sport-related initiatives backed the campaign. The goal and need were clear, the communication strategy was put in place, and the leaders ran with it.
Where to begin?
Crowdfunding campaigns can be broken down into three sections:
1. Silent Phase – In the silent phase, potential projects are being vetted, priorities confirmed, team leaders identified, strategies developed, and leadership gifts (if possible) secured. Use this time to select a platform (e.g. Fundrazr) that suits your needs and keep in mind that fees are typically tied to funds raised, so the risk is fairly low.
2. Activation Phase – The activation is go time. Solicit the identified audience, activate strategies, and sustain momentum with updates, monitor goals, and build up to a big finish!
3. Post-Campaign Phase – This is actually the most important part of the campaign. Why? Because typically crowdfunding brings in new donors and retaining donors is a lot easier (and cheaper) than acquiring new ones. So thank them, and even more importantly report back on the impact the project had
Best practices to keep in mind:
Build a solid team – Who is the ideal team to work with? This can include everyone from coaches, volunteers, alumni, coaches, athletes, parents and the community. Be clear and set expectations – this team needs to be willing to put in the work!
Pay attention to details – The campaign will need to include a project overview, campaign goal(s), messaging, giving levels, communication and social media plans, potential challenges, and a donor relations plan. Pro tip: try building out donation options as a shopping list that donors can browse.
Secure lead gifts and buy-in – Use the silent phase to identify lead donors, secure gifts and get buy-in – aiming to secure about 25% of campaign goal before the launch. Members of the campaign team should be the ones to make the first gifts, ideally staff and coaches will too – it's hard to ask for money for a campaign if it's not internally supported first!
Think big picture – The marketing and communications strategy is the root of success. Develop a strong, clear, and compelling case for support using pictures and videos to add a human element. Peer to peer asks are more successful, so be sure to divide and conquer amongst the team, with each person committing to share within their network.
Don't lose the momentum – Campaigns tend to generate a lot of initial excitement and then plateau so keep the campaign fresh and engaging by adding updates (video and pictures) as well as including challenges to hit the next milestone. Pro tip: aim for 1 update/week and 3-4 social media posts/week.
Say thank you – Campaigns are typically time sensitive so make sure that you report back to your donors immediately by thanking them and demonstrating the impacts of the contributions. Even if the campaign supports a project that takes place later in the year, don't forget to show them how they helped!
Have a retention strategy – Campaigns are a great way to identify new, lapsed, recurring and potentially major donors, so make sure to have a proper retention strategy. Each donor segment will require tweaks within the retention strategy so don't miss this opportunity to build out a donor base!
Remember, there are always going to be causes to support – each year the number of charities and groups of individuals looking for donations grows. So how will you stand out and ensure you reach your goal? The key to success is to get your house in order before you jump in because it is very hard to recover once your campaign has lost steam. It happens all too often with groups who incorrectly assume that you can just put up a campaign and it takes care of itself, so remember – you get out of it EXACTLY what you put into it.
---
About the Author(s)
Samantha Rogers is co-founder of Relate Social Capital, a leading sport philanthropy firm that focuses on strategizing, creating and executing fund development and community engagement programs that cultivate and grow revenue generation strategies within all levels of sport. Samantha also founded the Sport Philanthropy Collective – an international non-profit council to advance sport philanthropy and support organizations using sport for good.
---
The information presented in SIRC blogs and SIRCuit articles is accurate and reliable as of the date of publication. Developments that occur after the date of publication may impact the current accuracy of the information presented in a previously published blog or article.