Performing in a Pandemic: The Resilience and Leadership of Canadian Athletes
October 4, 2020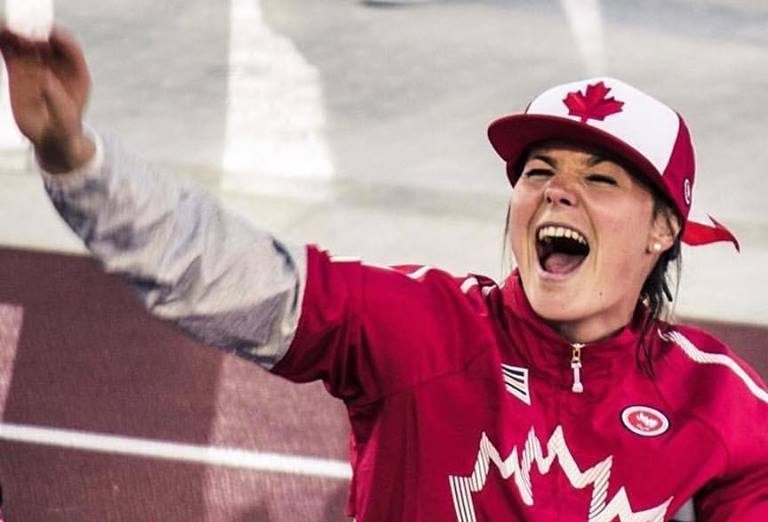 This article is the first in a special series that explores how Canadian sport leaders are adapting and innovating to safeguard the well-being of athletes preparing for the Tokyo Olympic and Paralympic Games and other major games during a global pandemic. Read the second article here.
---
Following the previously unthinkable decision by the International Olympic Committee (IOC) and the Host Organizing Committee to postpone the Tokyo 2020 Olympic and Paralympic Summer Games, Chef de Mission for Team Canada at the 2020 Olympic Games, Marnie McBean, penned an open letter to Canadian high performance athletes. While acknowledging the devastation and disappointment, she encouraged them to do what they have always done: "… figure things out and thrive."
"Your plan was thrown in the garbage, but your goal was not."

– Marnie McBean, Olympic Chef de Mission
The 3-time Olympic gold medalist knows firsthand the kind of dedication and sacrifice it takes to succeed at the highest levels of international sport. She battled through her fair share of setbacks and disappointments, including a back injury that forced an early retirement just ahead of the 2000 Sydney Olympics. But she would also be the first to admit that she never had to face anything as daunting and complex as the COVID-19 pandemic.
Growing unrest
In the weeks leading up to the March 24th announcement, athletes from many countries had become increasingly vocal with concerns about the risks of continued training and competition in the midst of a rapidly spreading health crisis, the likes of which the world had never seen.
Among the most prominent advocates was five-time Olympian Hayley Wickenheiser, a member of the IOC's Athletes' Commission and a practicing Canadian physician. The former captain of the National Women's Hockey Team called it "insensitive and irresponsible" to continue to push for delivery of the Olympics and Paralympics as scheduled, while cases of COVID-19 escalated at an alarming rate across Canada and around the world.
Working actively behind the scenes and in front of the media microphones, determined Canadian athletes made it clear that there was only one decision to be made: Withdraw from Tokyo 2020.
Canada the first to withdraw
Late on the evening of March 22nd, Canada stepped forward as the first country to declare it would not send athletes to the Tokyo Olympic and Paralympic Games.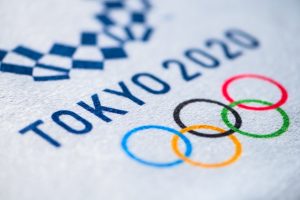 "In hindsight, it was a no-brainer, but we actually took a lot of flack in the first few days," according to Dr. Mike Wilkinson, Chief Medical Officer for the Canadian Olympic Committee (COC). "If we were truly committed to putting the health and well-being of our athletes first, then ethically there was no way we could ask them to continue to train and compete in a world consumed by COVID-19."
On March 24th, Japanese Prime Minister Shinzo Abe started his morning with a call from Canadian Prime Minister Justin Trudeau – reportedly one of many world leaders to make the case for a delay. The decision to postpone the Games for one year was announced later that evening. It is the first time in the modern Olympic era that the world's biggest and most expensive sporting event has been postponed.
Considering the massive economic and public health impact of the pandemic, Canadian officials believed it was the only prudent decision to make. Nonetheless, the ripple effects have been widespread and as unique as the athletes who have been so deeply affected: from pressing reset on meticulous training plans, to adapting to a new reality where familiar facilities were suddenly and completely off limits. On a personal level, a new and unexpected paradigm had some athletes saying it was time for an internal "gut check" to gauge whether the competitive fire still burned. There was also the very real and pragmatic question of whether they could afford to finance another full year of intensive training in pursuit of their athletic dreams.
The ripple effects
The IOC has indicated that the Tokyo Games will go ahead, with or without COVID-19. Vice-president, John Coates, has declared that the event will start on July 23rd, 2021, although many details remain unknown, such as whether or not spectators will be allowed into the sport venues.
Canadian officials continue to work diligently through contingency plans for every conceivable scenario. "We have to expect that the Games will look and feel different," notes Dr. Wilkinson, "and that major multi-sport events are going to be different from now on."
Moreover, he cautions that Tokyo is only the first event on a jam-packed international sport calendar that will see more major games in a shorter period of time than ever before. Over the next quadrennial, that list includes the 2020 Tokyo Games in 2021; the 2022 Olympic and Paralympic Winter Games in Beijing, followed that summer by both the Commonwealth Games in Birmingham, England, and Les Jeux de la Francophonie in Kinshasa, Democratic Republic of Congo; the 2023 Pan and Parapan Am Games in Santiago, Chile; and the 2024 Paris Olympic and Paralympic Games.
"Understandably, everybody is focused on preparations for Tokyo, but our winter athletes are actually facing the biggest issues right now as they look to qualify this winter for Beijing," he adds. "A lot of those events are supposed to take place in China which will require a ton of contingency planning and detailed logistics."
Game changer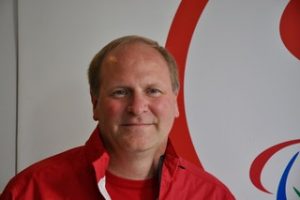 "It's been a tremendously difficult time for the athletes," says Dr. Andy Marshall, the Chief Medical Officer for the Canadian Paralympic Committee (CPC). "But the reality is that the vast majority of our high performance athletes have been affected by the very same issues as millions of other Canadians. They feel isolated and stressed out, unable to be with family and friends, and frustrated by all the uncertainty. And when you realize that most athletes don't make a living through sport, they're also worried about making ends meet."
Beyond these factors, Dr. Marshall points out that the health impact is potentially life-changing for these finely-tuned athletes. "For the average 20-year-old Canadian, they might equate COVID with getting the flu," he explains. "But if I'm an elite athlete, and I'm suffering with symptoms for weeks or months, or the virus causes even a five percent decrease in my lung or cardiac capacity, what does that mean for my chances of competing against the best athletes in the world?"
Besides being cut off from training facilities, coaches and teammates, Canadian athletes are mourning the loss of competition – the one activity that defines them more than anything else. The global pandemic has forced these uber-competitive, type A personalities to practice something that may not come naturally – patience.
"It's probably the longest I've ever gone in my athletic career without having a race," slalom kayaker Michael Taylor told CBC Radio. "But I've enjoyed working out in my parents' dining room," he says with a laugh, "which I've turned into a makeshift gym."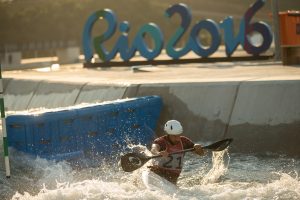 The recent postponement of the Niagara 2021 Canada Summer Games 2020 serves as yet another reminder of the impact of COVID-19 on the Canadian sport system. "All of our athletes, coaches and volunteers are top of mind for us in deciding to postpone the Games. No doubt this decision will be disappointing for those who have been training and preparing for the 2021 Games, but we hope to find their understanding and support," said Evan Johnston, Chair of the Canada Games Council Board in a press release. "We made this difficult decision now, after careful consideration, to protect the health of Canadians and give all stakeholders more time to adjust their preparations. We will be reviewing options for new dates for the Canada Summer Games to take place during the summer of 2022 in the Niagara Region."
At Canada's universities and colleges, varsity programs have been scrapped for the fall season. And for athletes who had their sights set on international competition at the Winter World University Games in Lucerne, Switzerland, it's a cruel double-whammy.
The Games, organized by the Fédération Internationale du Sport Universitaire (FISU), are the largest winter multi-sport event after the Olympics. The winter edition had been scheduled to run from January 21st to 31st, 2021, with student athletes from 50 countries, including Canada, invited to compete. But growing fears of a second wave of coronavirus cases across Europe forced organizers to shelve the event for at least a year.
"After more than four years of preparation it is a painful decision, but in the end an easy one," Organizing Committee President, Guido Graf, said in a statement. "The health of all the participants has always been the top priority in our evaluations."
The Winter Universiade were to be the first opportunity for Canadian medical and technical experts to assess protocols and practices in a multi-sport environment. "We were hoping to put in practice a series of contingencies to deal with every possible scenario we could think of," says Antoine Atallah, General Manager of Major Games Canada, who oversees the planning of health services for Team Canada. "Even with the postponement of the Games, we are still planning for different scenarios while learning from sports organizations and competitions worldwide where protocols in place are working to keep athletes and their support staff safe. Such benchmarking and best practices will help us in our planning for all Games in 2021, including the Olympics and Paralympics."
"Necessity is the mother of invention"
Despite the devastating disappointment for Canada's best summer athletes, many have taken Marnie McBean's advice to heart and "figured things out."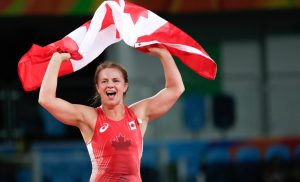 For Erica Wiebe, a gold medalist in wrestling at the 2016 Rio Olympics, it all boils down to one question: "What can I do today and what can I control today?" Cut off from training facilities, Wiebe told CBC Radio she accepted an offer to work out in a friend's garage with equipment on loan from Canadian Sport Institute (CSI) Calgary.
"It's tough to not know anything really, but for me it's always been about taking back control of the process and really empowering myself," says Wiebe who has qualified for Tokyo. "As athletes, we're empowered with the gift to always try to be present in the moment."
Canadian athletes embraced Plato's contention that "necessity is the mother of invention," as access to facilities was cut off almost overnight.
"YouTube was full of examples of athlete ingenuity," notes Dr. Wilkinson of the COC. "They built their own squat racks out of used lumber, installed tether lines in backyard swimming pools, built homemade obstacle courses and climbing gyms. It's been really inspiring."
Compounding the many physical challenges have been the less visible and often more difficult mental aspects of a global pandemic and the associated lockdown.
"I think mental performance issues have become far more prominent because athletes need skills and tools to deal with the anxiety, disappointment and, most of all, the unknown," says the CPC's Dr. Marshall. "Like never before, we've seen athletes take advantage of mental health services through their national sport organizations and the network of sport institutes across the country. Nobody wants to see them suffering, but this experience will build resilience and develop new coping skills that will help them in competition and in life."
For Stephanie Dixon, Chef de Mission for Canada's 2020 Paralympic Team, athletes have been riding a roller coaster of emotions as they come to terms with the impact of the pandemic. "We face such high expectations," says the 19-time Paralympic medallist. "Athletes can feel that they are supposed to be laser-focused on training and performance goals 24/7. But at a time like this, athletes need to know that it's okay to be feeling what they're feeling: disappointed, disconnected, angry, grateful. Whatever it is, it's all okay."
For the athletes hoping to join Dixon on Team Canada's Paralympic Team in Tokyo, the challenges can be even more daunting while, at the same time, oddly familiar.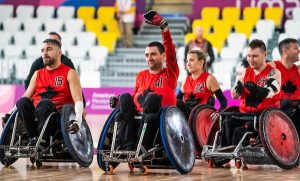 "For Paralympic athletes, coaches and support staff, preparing for a major international competition during a pandemic is basically 'more of the same,'" suggests Andy Van Neutegem, PhD, Director, Performance Sciences, Research and Innovation at Own the Podium. "I've been working closely with para athletes for more than 15 years. Planning and preparation are always more complicated – pandemic or not – and full of contingencies."
Van Neutegem says there are unique considerations when putting together training and travelling plans for athletes with disabilities. Many have compromised immune systems and underlying health conditions that make them more vulnerable to illnesses and infections.
"In some ways, para athletes may be better equipped to cope with all of the twists and turns," adds the CPC's Dr. Marshall. "They have to think about these things all the time – hygiene protocols, access to transport and facilities, assessing risk – it's all part of life for a high performance para sport athlete. In a way, you could say that some of our athletes have been preparing their whole lives for the pandemic."
What's not so familiar, he adds, is the burning frustration of watching competitors in other countries who have far greater access to training and competition than Canadians do.
"When you're so totally focused on achieving a goal and you see your competitors enjoying what feels like an unfair advantage, it can put you in a pretty negative head space," he explains. "But the valuable part in all this is learning to concentrate on those things within your control and worrying less about what you can't. It's a great mental skill that'll help the athletes in competition and in every other aspect of their lives."
Return to training and competition
The disparity between pandemic restrictions in different parts of the world has also surfaced some complex ethical issues. If athletes in another country have more opportunity to train and compete, explains Van Neutegem, it's tempting for Canada's high performance athletes and coaches to consider travelling to these other locations so they don't end up falling behind their international rivals.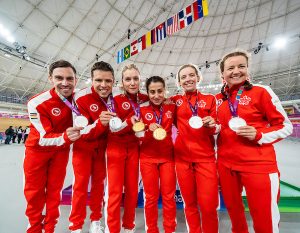 "You have to understand the kind of internal pressure these athletes are feeling, and the years and years they've invested in preparing for an Olympic or Paralympic Games," he says. "But at the same time, if an athlete decides to leave for another country with lax public health restrictions, how does that jive with Canada's commitment to ethical sport and to ensuring the health and well-being of our athletes? It's a real dilemma."
One of Canada's leading athlete advocates has observed a growing concern that the playing field is tilting in some sports because of unequal access to training and competition in different parts of the world. Seyi Smith, Chair of the Canadian Olympic Committee Athletes' Commission, says it is a valid concern, but there is nothing that athletes can do about it. "Sure, there may be competitors in your sport who are back to a full training schedule and maybe even competing while you're struggling to find ways to keep up," he says. "But there's nothing we can do about what's happening in other countries. As athletes, we have to focus on what we can control and make smart decisions that don't put our health at risk."
Even in the middle of a global health crisis, Smith doesn't think athlete preparations will change all that much. "Canadian athletes have faith in themselves and in the process that will get them ready for Tokyo. I don't think the coronavirus is going to knock them too far off course."
Medal hopefuls like diver Jennifer Abel echo that sentiment. "Instead of pushing back on what life has brought on all of us, I made the commitment to accept what is and cherish what lies ahead. Training is what keeps me focused and what makes me feel alive. I have found a way to stay in shape at a slower pace in the comfort of my home. Right now, that's all I need."
In an ironic twist, the COVID-19 pandemic has actually been a blessing for some athletes. With all competition sidelined, it's an opportunity to take a step back, evaluate and invest time in areas that don't normally get enough attention.
"Early on, we chose to focus on gaps and issues that might have been on the back burner for a long time for some athletes," says Dr. Wilkinson. "For some, it was treating a nagging injury. For others, it was a biomechanics issue, a strength deficit, or a gap in mental preparation. In my work with Canada's national rowing team, I've seen athletes make significant progress in areas we've been trying to address for years."
Dixon says that she's aware of athletes drawing on a wide variety of practices and resources, from meditation to yoga, music, poetry and mindfulness. "I'm encouraging our para athletes to befriend what they're facing, to accept and acknowledge the anxiety and to be okay with those feelings. It becomes easier, then, to move past it and focus on preparations for Tokyo."
Shot putter Brittany Crew is another Canadian athlete choosing a "glass-half-full" perspective on the delay caused by the pandemic. Featured on Athletics Canada's People Behind the Performances podcast, she described news of the delay as "devastating" because she was on track to throw really well in Tokyo. "So, to be delayed another year, it was kind of like a kick in the face." Upon reflection, Crew now believes that having more time to prepare is in her best interests. "This is just going to give me another year to get stronger, to get faster, and to refine my technique a little bit more and maybe work on some mental performance. So, I think it's a blessing in disguise and I think it's going to work to my advantage."
Figuring things out and thriving
For Canada's best summer athletes, the coronavirus pandemic has turned their lives upside down, forcing a re-write of detailed training and competition plans, and piling on layers of unsettling stress. While some athletes continue to wrestle with the anxiety and uncertainty, others are heeding the advice in Marnie McBean's open letter to "figure things out and thrive."
"Your (story) … includes all the work and competition that led up to the global COVID-19 shutdown, it includes everything that you've been doing since February and it will include everything that will come in the next year," McBean wrote. "No matter what happens, continue to figure out a story that you'll be proud to share. Continue to believe that you are capable of more. Continue to build a better, stronger and healthier you."
---
About the Author(s)
Derek Johnston is the President of Face Value Communications Inc. Over the last 20 years, Face Value has supported more than 20 different national and multi-service sport organizations with strategic communications advice, facilitation and executive coaching. As a volunteer, Derek has served on Team Canada Mission Staff at multiple Major Games in places like Australia, Malaysia and the UK, and has coached soccer and triathlon for a total of 25 years.
As SIRC's Manager of Content Strategy, Sydney Millar solicits, supports and curates content from researchers, experts and thought leaders from the broad sport and physical activity sector, and provides leadership on key national projects. Sydney keeps active cycling and cross country skiing around Gatineau Park.
Peter Morrow is SIRC's Communications Specialist, leading the dissemination of SIRC's research, information and resources into the sport community level. He is a multi-sport athlete involved in soccer, hockey, golf and tennis.
---
The information presented in SIRC blogs and SIRCuit articles is accurate and reliable as of the date of publication. Developments that occur after the date of publication may impact the current accuracy of the information presented in a previously published blog or article.