Nutrition Strategies for Young Athletes
January 8, 2013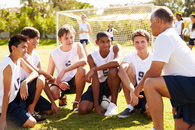 Young athletes need plenty of energy. They need it to grow, to play and to compete. When it comes to active children or teenagers, it can be easy to skimp on nutrition – we all lead busy lives and snacks, high sugar drinks and fast food are usually quick grab-and-go items. Whole grains, dairy, lean meats and fresh fruits are what the body needs to be at its best.
Carbohydrates – Good quality carbohydrates such as, whole grain, high fibre breads, breakfast cereals, and snack foods are essential in providing vitamins, minerals and extra fibre for the body. Combining a whole grain, low GI carbohydrate such as grain bread, crackers or cereal with protein from lean meat, nuts dairy or fish will help to regulate your kids' energy levels.
Picking the right snack foods – To some parents, this may seem a little daunting, with so many products out there making various health claims how do you decide what to give your child? Look for options that contain positive nutritional properties, such as protein, fibre and iron. Good options include yoghurt, cheese and crackers, homemade muffins or snack bars, roasted or plain nuts and flavoured milk.
Hydration – Water should be the drink of choice for all of us, not just our children. Sports drinks, vitamin water and energy drinks all have a high sugar content and generally are not recommended for children. Fruit juice is also high in sugar and should not be consumed more than once a day.
Treats – There is nothing wrong with enjoying an occasional treat, whether it's a popsicle on a hot day, a bit of chocolate or even grabbing that fast food meal. The trouble is that currently, children get all of these treats on a frequent basis. Set aside some 'treat days' for your family so you can all enjoy a little indulgence plus getting the added benefit of teaching your child how to regulate their food intake.
It's important that a young athlete to eat healthy, doing so helps them increase their stamina, energy and overall health. Careful attention to a young person's nutritional needs is also a great start to establishing a lifetime of healthy eating.
References from the SIRC Collection:
1. Astrup A. Dietary strategies for weight management–the importance of carbohydrates. Australian Journal Of Nutrition & Dietetics. March 2, 2001;58(1):S9-S12.
2. Bar-Or O. Nutritional Considerations for the Child Athlete. Canadian Journal Of Applied Physiology. December 2, 2001;26:S186-S191.
3. Griffin J. NUTRITION FOR THE SERIOUS YOUNG ATHLETE — THE PRACTICAL APPROACH. Sportex Dynamics. July 2007;(13):7-10.
4. Meyer F, O'Connor H, Shirreffs S. Nutrition for the young athlete. Journal Of Sports Sciences. December 2, 2007;25:73-82.
5. Patel A, Hampton K. Encouraging Consumption of Water in School and Child Care Settings: Access, Challenges, and Strategies for Improvement. American Journal Of Public Health. August 2011;101(8):1370-1379.
6. Rowland T. Fluid Replacement Requirements for Child Athletes. Sports Medicine. April 2011;41(4):279-288.
7. Sports Nutrition for Young Athletes. IDEA Fitness Journal. October 2008;5(9):95.
---
---
The information presented in SIRC blogs and SIRCuit articles is accurate and reliable as of the date of publication. Developments that occur after the date of publication may impact the current accuracy of the information presented in a previously published blog or article.